Climate change is creating dangerously high temperatures that put human health at risk. But some communities are disproportionately affected by extreme heat.
This summer was a scorcher. From Seattle, San Francisco, and Portland to Salt Lake City, Dallas, Chicago, Fort Lauderdale, and Manchester, New Hampshire, cities across the U.S. experienced record-high temperatures. And a worsening climate crisis means temperatures aren't cooling off, either. Over the Labor Day holiday, an oppressive heat wave settled over California, pushing the state's electricity grid to the brink, leaving tens of thousands without power and putting public health at risk.
But the toll of extreme heat isn't levied evenly. While older adults, children, and infants are considered vulnerable populations, studies show that low-income communities, minorities, and outdoor workers are disproportionately affected by intense heat caused by climate change.
We all know that sticky, stifling feeling on a hot, muggy day, but because of environmental racism and redlining — a discriminatory real estate practice implemented in the 1930s — some know it all too well.
A 2020 study found that in 97 of the U.S.' most populous cities, the majority of low-income communities in those cities — which are made up primarily of people of color — are hotter than their wealthier, whiter neighbors. A phenomenon known as urban heat islands. Due to little or no government investment, these communities often have fewer shady trees and more concrete and asphalt that absorb heat and release it slowly. According to one study, 37 cities in previously redlined communities have about half as many trees as the highest-rated predominantly white neighborhoods on those maps. A stark contrast, these historic urban heat islands are up to 20 degrees hotter than neighboring rural communities.
Read more: How Environmental Racism Makes Urban Heat Islands Worse
"It's like stepping into a parking lot from a park. You would feel that relatively quickly," Vivek Shandas, a professor of urban studies and planning at Portland State University, who co-authored the 2020 study, told NPR. "It was very surprising when we saw that it was a pattern that we were seeing consistently across the country."
The consequences of extreme heat are dangerous, even deadly. Hot days are associated with increased production of ground-level ozone, a pollutant that worsens air quality and affects the respiratory system, especially for those with asthma. And the hotter the area, the more likely the exposure to unhealthy levels of ground-level ozone.
Heat also causes more deaths in the U.S. — around 1,500 — than other severe weather events and is connected to non-fatal health issues like heat stroke, dehydration, loss of labor productivity, and decreased learning.
Those living in urban heat islands are also more likely to work outside. According to an assessment by the Union of Concerned Scientists, Black and Hispanic individuals comprise 40 percent of the U.S. outdoor workforce, putting them at unequal risk of exposure to heat-related health complications both at home and on the job. Nearly three million outdoor workers in the United States already experience the equivalent of seven or more unsafe workdays per year due to extreme heat. With slow or no action to reduce global emissions, outdoor workers' exposure to days with a heat index above 100 degrees will increase three or fourfold by midcentury.
In California, for example, where more than 90 percent of farmworkers are Hispanic or Latino, 17 more days per year are expected, on average, with a heat index above 100 degrees in the coming years. And a new study identified the emergence of an "extreme heat belt" stretching from Texas to Illinois, where the heat index could reach 125 degrees at least one day a year by 2053.
It's not just their health that's at risk — extreme heat threatens the wages of outdoor workers, too. When the heat index reaches 100 degrees, the CDC recommends a reduction in work hours to decrease the potential for heat-related health complications. If the climate crisis continues on its current trajectory, more than 7.1 million U.S. workers would see 10 percent or more of their earnings at risk annually as a result of unbearable heat, with losses expanding as warming continues.
Read more: The Little-Known Federal Program Essential to Environmental Justice
Loss of income has a trickle-down effect. When the weather gets hot, AC units have to work harder to cool your home, resulting in a higher-than-normal electric bill — and, depending on the electricity source, more carbon emissions. For average and high-income earners, the expense is worth the reprieve from the heat. But not everyone can afford to pay a sky-high utility bill when temperatures climb.
"During heat waves, low-income people may be wary of running their air conditioners too much, forcing them to choose between keeping comfortable and spending even more on their power bills," Jenifer Bosco, a staff attorney at the National Consumer Law Center, told Energy Wire.
Little or no access to cooling — which is more common among low-income communities —  increases the risk of heat stress, particularly in humid parts of the country. Heat stress, which occurs when the body is unable to cool itself on uncharacteristically hot days, can lead to heat stroke, heat exhaustion, heat cramps, or heat rashes. 
Hotter temps. Lower income. Higher bills. Rising pollution. Worsening health. If we don't address climate change now, already disproportionately affected populations will continue to be marginalized in a vicious circle of environmental racism. And things are only going to get worse, for everyone.
But there are ways the government, communities, and individuals can prepare for extreme heat, build resilience for the future, and protect the already vulnerable. The Inflation Reduction Act, which puts the U.S. on a path to reducing emissions by 40 percent of 2005 levels, is a start. However, more can be done.
Research whether your state requires companies to adopt workplace heat stress standards and advocate for state-wide adoption if they don't. Talk to leaders in your local government. Propose implementing heat mitigation programs like incentivizing developers to incorporate green or cool roofs into their design plans and transitioning to renewable energy. Or, simply spend a weekend planting carbon-sequestering trees that provide cooling shade when it's sweltering.
Read more: How To Be A Backyard Carbon Farmer
Have feedback on our story? Email [email protected] to let us know what you think!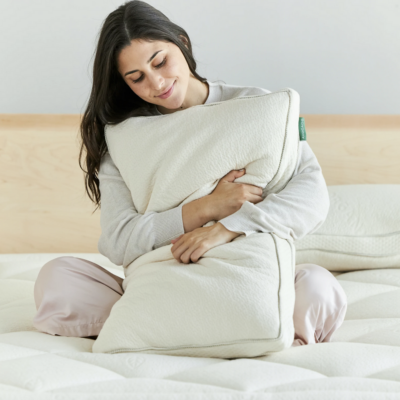 Shop Pillows
The Essential Organic Pillow Collection
Gentle, breathable, non-toxic support.
Buy Now