The food waste and trash that holiday parties create are nothing to celebrate. Here's how to pull off an epic, eco-friendly party.
End-of-the-year holiday parties are a great reminder of how important it is to stay connected with friends and family all year long — not to mention the perfect excuse to dress up and let loose. Unfortunately, festive gatherings produce a lot of waste.
In the U.S., people throw away 25 percent more trash in the time between Thanksgiving and the new year. The damage? Twenty-five million tons of garbage or one million more tons of trash per week compared to the rest of the year.
Still, everyone loves a good party. One could even say they're a lot of the reason for the season. If you're planning on playing host this year, the good news is there are plenty of thoughtful ways to cut down waste and keep your celebration's impact to a minimum.
Here are a few easy swaps for an eco-friendly party with pizzazz and purpose.
Read more: Our 2022 Sustainable Holiday Gift Guide
Invitations
Let's face it, most people misplace physical invitations well before the actual event (and end up contacting the host for the details). If guests do manage to keep their paper invite handy, once the party is over, it gets thrown out. Go paperless instead.
Clue the group chat in about your party with Hobnob, an app that lets you make and send invitations via text — and receive RSVPs instantly. And if you're in charge of a larger event that requires tickets, use the app to manage and receive payments from guests quickly and easily.
Another favorite is Paperless Post, an online platform with an endless selection of tasteful invitation templates for every occasion. Decide which is right for your party, then custom to your heart's content to create an incredibly personal digital invitation.
Drinks and Snacks
If your holiday party includes a full-on meal, shop local as much as possible. Most places have year-round farmers' markets where you can purchase organically grown, in-season produce. Regional farms also often offer ethically raised meats like ham, duck, and turkey specifically during the holidays. Some even deliver. Oh, and be sure to compost all those food scraps you create when cooking.
When it comes to beverages, seek out brands that give back. Order sparkling seasonal wine from One Hope Wine, a wine delivery company that donates 10 percent of every order to a nonprofit of your choice. There's also Dreaming Tree Wines, which specializes in sustainably made California wines and donates a portion of revenues to environmental nonprofits like The Wilderness Society, Living Lands & Waters, and The Nature Conservancy.
For the beer drinkers in your crew, stock the beer fridge with BrewDog, a carbon-negative, Certified B Corp that's leveraging profits to embark on one of the largest reforestation and peatland restoration projects in the UK. Their beers are delicious, too.
Read more: What Is Sustainable Wine?
Décor
Before you succumb to the holiday aisle at Target or get knee-deep in Crate & Barrel's holiday gift shop, rifle through your bin of decorations to see if you can breathe new life into something you used last year. Chances are there's a lot of sparkly or themed decor you can reuse. Who knows, maybe there are even leftover plates and napkins you forgot about.
Thrift stores are another great option for party odds and ends. Trust us — there are definitely incredible vintage table settings waiting for you to discover. And when in doubt, lean on mother nature. Opt outside and host a get-together at a local park or community space. Or, use pine cones and greenery from around your neighborhood to spruce up a centerpiece.
Of course, using sustainable dinnerware is a must. For a small holiday party, use the plates, cups, silverware, and reusable napkins you have at home. If you're hosting something larger, plastic-free compostable, certified organic bamboo party supplies from Bambu are the way to go. The eco-friendly brand offers just about everything you need to set the table, including plates, cutlery, napkins, and tasting spoons.
Give Back
No matter how well you plan, leftover food after a holiday party is inevitable. Don't let it go to waste. Encourage your guests to take home a plate and make a plate for your elderly neighbors. If you still have perfectly good food you don't know what to do with, check out the state-by-state list of food banks and food pantries on Feeding America's website and FoodPantries.org, respectively, to see what you can donate.
Read more: Our Eco-Friendly Guide to Hosting Houseguests
Have feedback on our story? Email [email protected] to let us know what you think!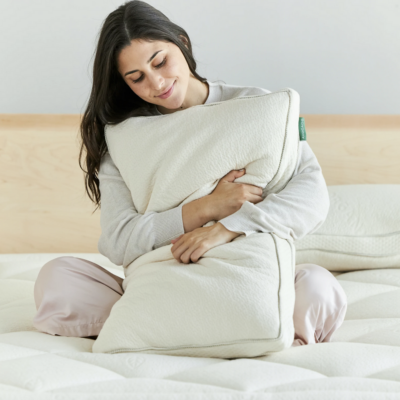 Shop Pillows
The Essential Organic Pillow Collection
Gentle, breathable, non-toxic support.
Buy Now