Organic, sustainable, biodynamic — we break down the labels on your favorite bottle.
Wine is my favorite drink during dinner. It brings out the bubbliness in my personality. Plus, studies have shown that drinking red wine has antioxidant properties and reduces harmful inflammation. Environmental awareness in the wine industry is growing, but all the different labels, like organic, biodynamic, and natural, can be confusing. Pour yourself a glass and let's break it down.
There are wines made with organic grapes and wines that are entirely organic. If just the grapes are organic, that means the winemaker probably added "chemical clarifiers" and sulfites that kill wild yeast and bacteria. Organic wine is defined by the USDA as a process where synthetic fertilizers, pesticides, and other chemicals are entirely excluded. Because organic wine doesn't have synthetic sulfite preservatives, organic wines can have a shorter shelf life.
The idea behind biodynamic wines is to foster a dynamic local ecosystem. These wines meet the same criteria of wines that use organic grapes, but they also must use natural pest controls and harness fertilizer that comes from the farm. Many have animals that contribute to the winemaking process by controlling weeds or producing fertilizer. Biodynamic wines are certified by a nonprofit called Demeter, rather than a government agency. There isn't a lot of science clarifying the benefits of biodynamic wines, but there is no doubt the holistic, ecosystem-forward approach creates unique wines and a healthy relationship with the land.
Natural wines are perhaps the most trendy of the "sustainable" wines. The idea — more of a concept than a regulated category — is to have as little human intervention as possible. Wine in its most pure, fermented grape juice form — no herbicides, pesticides, or lab-grown yeast.
Here are a few other certifications that are good to know about:
Introduced back in 2010, the CSWA requires water efficiency, energy efficiency, pest management, waste management, wildlife habitat, neighbors and community safety, employees, contributions, and a transparent supply chain.
A California based organization established in 2005, Lodi focuses on creating organic sustainable viticulture programs. It introduces wine growers to over 100 sustainable practices while focusing on six main chapters in their work, including business management, human resource management, ecosystem management, soil management, water management, and pest management.
A rigorous wine certification that addresses the three "p's" of sustainability — people, planet, and prosperity. Wineries must provide documents to meet over 50 requirements to achieve a certain percentage score on their assessment.
Established in the Pacific Northwest in 1999, this certification company focuses on using the latest research-based approaches to environmentally and socially responsible winegrowing.
Investing in sustainable wine not only supports local farmers, it also reinforces the idea of following ethical business practices that are good for the people and the planet. Maybe there won't be such a thing called sustainable wine in the future, since our world will be living more sustainably and it will just be, well, wine!
Photos by Aesop Wines on Unsplash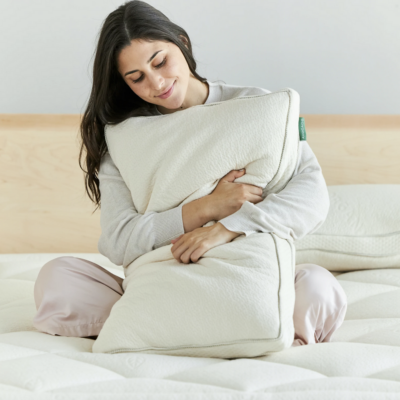 Shop Pillows
The Essential Organic Pillow Collection
Gentle, breathable, non-toxic support.
Buy Now