From organic linens to sustainable bathroom products and eliminating food waste, here's how to keep the planet in mind when hosting houseguests.
The last holiday season was all about keeping things small and intimate. As we get back to slightly larger celebrations this year, it also means a return to hosting houseguests.
You might be feeling a little rusty after all this time or maybe you want to use this year as an opportunity to make your usual routine more sustainable. Luckily, there are plenty of ways to make friends and family feel at home while also being mindful of Mother Nature. We've rounded up all our best tips, tricks, and recommendations in our eco-friendly guide to hosting houseguests. 
Read more: How to Host an Eco-Friendly Party
Stock Up on Clean Bath Products
While it may be tempting to offer mini toiletries, the little plastic bottles are notoriously bad for the environment, even many hotels have ditched them. To create an inviting, spa-like experience that's also better for the planet, consider full-sized products that can be used long after guests leave and feature plant-based formulas without harsh synthetic chemicals. Avocado's Reed + Gwen line of clean bath and beauty products feature safe, meticulously sourced ingredients such as marula oil and chamomile that you'll feel good about sharing with family and friends. Plus, their products come in reusable, recyclable, and compostable containers.
Reed + Gwen
Grounding Dry Body Oil
48.00
Shop
Don't Go Overboard on Groceries
If you love to entertain, there's nothing more exhilarating than having a house full of guests to feed. For avid home cooks, it's the perfect time to try delicious recipes meant for larger parties or to finally splurge on the lux ingredients you've had an eye on. But if you end up overbuying, it can easily lead to food waste. Before you fill up the shopping cart, work out exactly how much you'll be serving and get an idea of everyone's dietary preferences, so you're not loading up on extra bread when you have gluten-free guests, for example!
Read more: What is Zero-Waste Cooking?
Use Organic Textiles
From bedding to towels and robes, it's easy to create a cozy home away from home for your guests while keeping things natural. Not only are organic textiles more enjoyable to sleep and lounge in (read: they're luxuriously soft), the fabrics are typically free of pesticides and chemicals, so everyone can rest easy. Whether it's Avocado's organic cotton towels and organic hemp sheets or Hass's elegant Modal robe, investing in textiles that are crafted from sustainable, natural fabrics is better for your guests and the planet.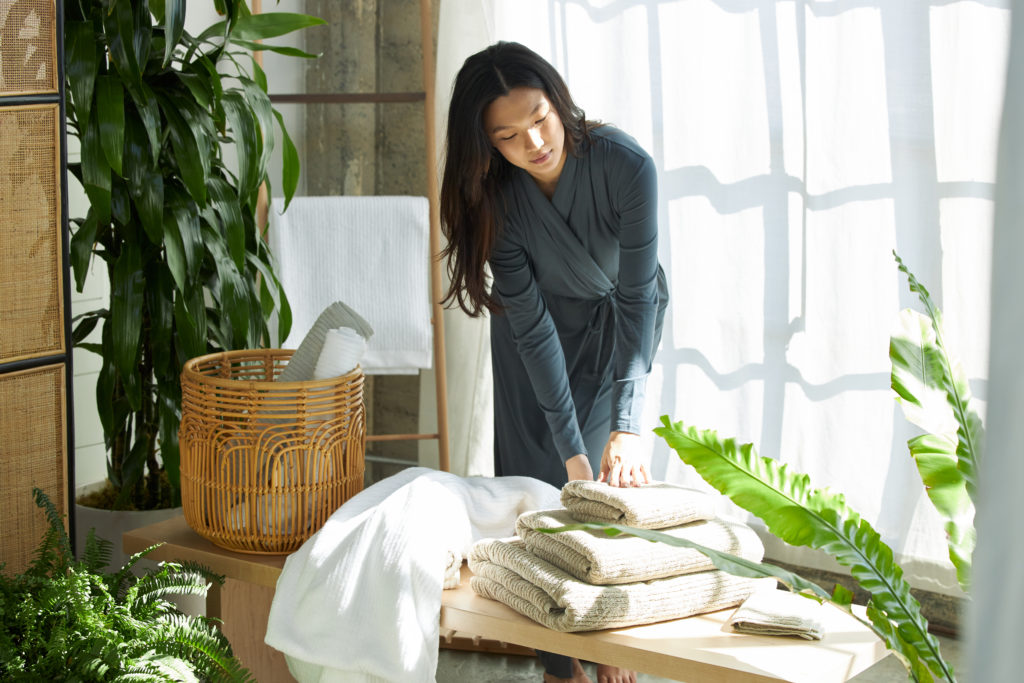 Avocado
Organic Cotton Bath Towels
19.00
Shop
Ditch the Disposables
It's likely your guests will reach for reusable cups and mugs when enjoying beverages inside your home, so extend this eco-friendly habit when you venture out, too. Offer a thermos for early-morning coffee runs and reusable bottles to take on the go. This way, they can avoid unnecessary paper and plastic waste during their trip. The same goes for bags — give everyone access to your collection of totes (we all have them!) for greener shopping trips. 
Read more: How to Actually Remember Your Reusable Coffee Cup
Remind Them to Unplug — Literally!
Your visitors are probably looking for a chance to unplug in a figurative manner, but it's also important to do so literally. Plugged-in phone and battery chargers continue to use energy even when no devices are connected, so provide a quick reminder for everyone in the house before you step out for a fun excursion or settle in for a long meal or game night together.
Don't Forget the Little Things
Thoughtful, small details make the biggest impact. To round out your home hotel experience, set out a soy candle from a brand you love (these from Made by DWC are hand-poured by women in the nonprofit's job training program) or clean chocolate — Vesta's bonbons are not only stunning to look at, they're all made from organic cacao beans and Panela sugar.
Read more: 12 Ways to Reduce Energy Consumption
Did you use some of our tips from our Eco-Friendly Guide to Hosting Houseguests? Let us know by tagging @avocadogreenbrands on Instagram or Facebook.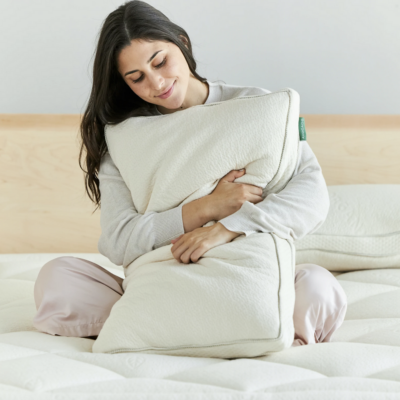 Shop Pillows
The Essential Organic Pillow Collection
Gentle, breathable, non-toxic support.
Buy Now