Introduce the principles of regenerative, organic, and permaculture agriculture to your home garden for thriving plants and healthier soil.
My patio garden, objectively, sucked. It was stunted and picked over by pests. Some of the plants I'd seeded hadn't popped up.
I didn't want much. Some greens, a few peas and tomatoes. Herbs to flesh it out. But it felt like I was struggling, and a walk around the block showed that my neighbors plots were just fine. Was I missing something?
Even though I only had a little bit of land to work with in the pots on my porch, I wanted to grow healthy food for myself and do good by the land. But things weren't going according to plan. So I started researching what made a garden healthy and how I could approach mine differently.
I'd heard about permaculture and regenerative gardening, along with organic and biodynamic practices. But the terms were word salad in my head.
The techniques are slightly different. Organic means you only add natural elements, regenerative focuses on the soil, and biodynamic has an added (though not wholly science-backed) dimension of following moon cycles. However, they're all variations of the same broad principles: taking care of the soil and ecosystems while making sure our food and landscapes are as healthy as possible.
No matter which method you try, there are important lessons we can learn from each method for a healthier, thriving garden — no matter if your plot is a few pots on your windowsill or a backyard of raised beds. Here's how to take a holistic approach to gardening.
Keep the Soil Healthy
Nutrient-rich soil is essential for a healthy garden. If you're starting from scratch, pick up high-quality organic potting soil from a local nursery or garden supply store. Or, make your own from a mix of coconut coir, pumice stones, and compost.
Compost, in particular, is key to soil health — it reduces or eliminates the need for fertilizer, enriches the soil with vitamins and minerals, and helps it retain moisture, which is ideal for hotter climates. Add a bit of compost to your garden over the season or any time you plant something new. You can make your own — and keep your food waste to a minimum — or buy it. Compost is typically sold in garden centers, and, sometimes, at public utilities.
According to regenerative agriculture practices, adding mulch to your garden is great for soil health, too. Sprinkling a layer of this organic material — often made of wood chips or bark dust — among your plants will help keep the soil from drying out while ensuring weeds and pests stay away. Over the season, continue amending your soil, adding new compost and mulch every few weeks to create the optimum environment for your seedlings.
Read more: How Regenerative Agriculture Produces Healthier Soil and Farms
Choose Your Container Well
If your space is limited and a container garden is your best option, be choosy about your pots. Think about what you want to grow before you buy — or tailor your crops to your space. And plants that root deep, like carrots, need room to do so. Before you start your garden, make sure your pots are large enough for your plants and that there's a hole at the bottom so the soil is always well drained.
Know Your Ecosystem
To ensure your garden is a success, and to support local biodiversity, choose varieties that are native and grow well in your region. Tropical fruits, for instance, don't do well in northern climates and could bring in invasive pests or weaken other species. Consider your temperatures, sun exposure, moisture, and seasons, too. The USDA plant hardiness zone map is a good resource for determining which plants thrive in your area and when you should get them in the ground.
Try Companion Planting
Companion planting refers to growing plants that support each other in the same pot or plot. You might have heard of the three sisters: corn, beans, and squash, but there are other plants that help each other out, like tomato, basil, and marigold, or onions, strawberry and chard. They aid one another by fixing nutrients in the soil — which makes the crops more productive — and by fighting off pests that harm the companion plant. It's a great way to both naturally fight pests and make your harvest healthier and more abundant.
Read more: Indoor Farming Is The Future of Agriculture
Support Pollinators and Local Ecosystems
Gardens don't just have to provide healthy food or beautiful blooms. You can plant crops that add value to local ecosystems — and your garden will be happier, healthier, and prettier in the process.
Flowering plants like marigold and lavender are natural pest repellents, while varieties like salvia, aster, and sunflowers attract helpful bees, bugs, and birds. Explore which plants best support your area's habitat, then sow them as companion plants in your vegetable beds, or set up separate pollinator clumps.
Don't Set It and Forget It
Don't simply plant one set of crops in the spring and consider your work done. As plants grow and peak, continue planting more of the same variety, or use the space to plant something that prefers a different season. Gardening is a learning process and every season is a chance to discover something new. Cold season spinach didn't work out for you? Come spring, try again or go for a different leafy green like kale or bibb lettuce.
Manage Weeds and Pests
Holistic gardening practices discourage chemical pest control. So the best way to deal with unwanted visitors is to stay ahead of them. Give your beds a once-over on a regular basis to ensure sneaky vermin haven't gotten to them. And if you're working with a small space, the advantage is you won't have too much to survey.
When it comes to buggy pests like aphids or pill bugs, it's easiest to deal with them when there aren't that many, so make your own non-toxic spray and stay vigilant. Bigger pests like birds and rodents can be held off by physical barriers like netting.
Think Beyond a Single Season
It's rewarding to produce a bumper crop of fruits and vegetables, but the heart of regenerative and biodynamic gardening is the long-term health of your garden. In the winter, plant cover crops to build up soil nutrition, and rotate your beds the following spring to spread the vitamin and mineral wealth. And continue experimenting — your gardening knowledge and skills will only get better with time.
For me, I'm still only a season deep, but since implementing holistic gardening practices, my peas and greens are coming up strong, my basil is plentiful, and I have high hopes for my squash. Along the way, I've learned to be more patient, to work holistically, and to think about my garden in terms of the whole year, not just a single season.
Read more: This Permaculture Garden is Healing a Town
Have feedback on our story? Email [email protected] to let us know what you think!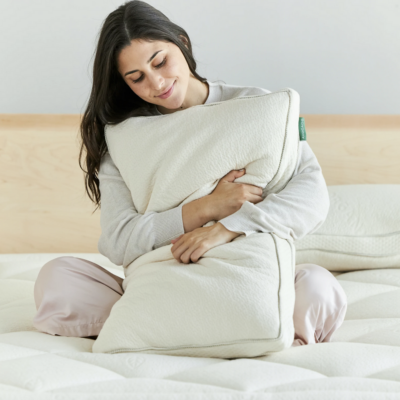 Shop Pillows
The Essential Organic Pillow Collection
Gentle, breathable, non-toxic support.
Buy Now