Who says homeowners get to have all the fun? Renting presents some challenges to gardening, but you can still grow your own food in a rental space.
Gardening season is like Christmas. I practically skip through the local plant nursery as I gather supplies and seedlings. I'm overjoyed to breathe the deep, putrid smell of compost, to plant vine tomatoes in my beds.
It. Is. Heavenly.
But when you're renting, growing your own food isn't always straightforward. I've been the tenant who had a landlord who let me put in a quarter-acre-sized garden and greenhouse, and I've been the tenant with an HOA who fines you if you have so much as a dandelion in your yard.
Having a garden when you're renting has its own challenges, but we have a few tips — even if your landlord isn't working with you.
#1 — Talk to Your Landlord
Your renting record is no time for civil disobedience.
Upset one landlord and you're likely to tarnish your reputation as a tenant who does not play by the rules. And nobody likes renting to those people.
Talk to your landlord before you do anything, and that includes resigning yourself to not being able to put a garden in at all. Most landlords are normal people trying to protect their investments. So long as you treat them and their property with respect, they may be willing to work with you.
#2 — Ask About Raised Beds
Some landlords will be perfectly fine with raised beds, others may take issue with them. Some raised beds are more like tables and don't sit directly on the grass. Most setups, however, will require that you block out the grass below entirely, effectively creating bare patches in the lawn.
Talk to your landlord about this if it's an option for you, and share photos of what you're trying to do. It can be a great way to create an easy to remove garden bed, but may not sit well with a landlord who prizes their lawn.
#3 — Try a Garden Tower
At the end of the day, if you just can't plant in the ground, it's time to get creative. Lettuce Grow (founded by the famously adorable Zooey Deschanel of all people) makes use of small growing spaces, without even requiring you to break ground. The hydroponic tower only requires 4 square feet of space and geniously reduces the amount of water needed to garden.
These systems are expensive, but the setup is a breeze, and keeps you on the straight and narrow with your landlord while allowing you to grow your own food.
#4 — Do Some Container Gardening
If a system like Lettuce Grow's is a bit outside of your price range, you can always get crafty and do some makeshift container gardening of your own. While hanging baskets and window boxes are easy enough to buy, there's also a lot you can do with upcycling.
Old thrift stores are a great place to salvage some creative containers. Look for old colanders, pots and pans, dented watering cans — anything you can find that can hold dirt. Make sure you can drill holes in it to allow the plants to drain though, or you could be looking at issues with root rot.
#5 — Join a Community Garden
If your state is still under quarantine measures, community garden plots may not be allowing use or new members at this point. If you're renting and there are some plots currently available though, it can be a great way to grow food and connect with likeminded members of the community.
Seattle has a P-Patch program where members can lease a plot for themselves in a community garden and use the public space in a private way to grow their own food. The funds help to ensure maintenance of the community gardens and allow you some creative control over the space you decide to acquire (and you don't have to share your food if you don't want to).
LEARN MORE ABOUT P-PATCH GARDENING
#6 — Try An Indoor Garden Kit
If there's no chance you're going to be able to grow anything on your shady apartment balcony, an indoor container garden may be the best way to go.
Indoor gardening systems are notoriously associated with pot growers, but the reality is that this can be a great way to grow food in areas with the least amount of access to gardening space.
Opting for a kit is usually the simplest approach, as lighting and drainage containment can be somewhat of a challenge for the beginner. This kit includes a light and it's a great way to grow indoor greens.
Make sure you keep any indoor gardening setups off the carpet though — there's bound to be a little runaway moisture and humidity from time to time, and the last thing you want is a mildew problem.
#7 — Use Existing Garden Beds
One thing I do to ensure I'm respectful of my landlord's property while growing my own food is to use existing garden beds to mature my plants. I start my seeds indoors, nurture seedlings in container gardens, and when the time is right, I transplant them to available space in my landlord's garden beds.
If you do this, it's important to be careful of any existing plants. Their roots may be sprawling, and planting too close to them could endanger them. Be sure to plant at least 18 inches away from any flowers or shrubs.
If your landscaping is pretty tight and there's not much space, ask your landlord personally if they would mind if you expanded the perimeter of the existing garden beds. It's possible that even just another 12-18 inches could give you the space you need to grow some greens, and they may not mind so long as you do quality work.
Are you growing your own food while you rent? Tell us how you're doing it on Facebook or Instagram and tag us in the post! @AvocadoMattress and #AvocadoGreenMagazine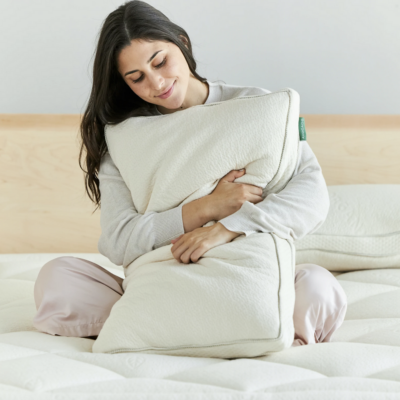 Shop Pillows
The Essential Organic Pillow Collection
Gentle, breathable, non-toxic support.
Buy Now