Ready to level up your salad game? Our zingy Greek-Inspired Chickpea Salad Recipe is the crisp and refreshing creation you've been looking for — just in time for salad season.
While I'll never balk at a bowl of kale, my regular rotation of greens has grown stale. Enter: my vegan Greek-Inspired Chickpea Salad Recipe. Packed with garden veggies and plant-based protein, this fresh and tangy creation has reinvigorated my enthusiasm for salads.
Why You'll Love This Greek-Inspired Chickpea Salad
Vegan and craveworthy: Even though we're holding off on the feta that's typically used in Greek salads, the sun-dried tomatoes we're swapping in provide a rich savory, umami flavor you'll crave.
A few simple ingredients: Seasonal vegetables, tasty herbs, and a cheery vinaigrette may seem simple, but when combined, make for a nourishing salad you'll be excited to eat again and again.
Ready in minutes: You don't need to julienne, pickle, or prep any ingredient in this recipe. This no-fuss meal comes together in less than 15 minutes. Just chop, mix, and enjoy.
Read more: Nutrient-Rich Kale Caesar Salad Wrap Recipe 
Ingredients That Marry Taste And Nutrition
Fiber, antioxidants, healthy fats — this Greek-Inspired Chickpea Salad Recipe has it all without compromising in the delicious department. And adding chickpeas to the mix means you're sneaking in good-for-you protein your body needs.
Feeling adventurous? This recipe makes it easy to add in any ingredient your heart desires. Throw in cooked quinoa for a filling whole grain, top it with pepitas for a protein-rich crunch, or double up on healthy fats with a spoonful of hemp seeds. The variations are endless.
Read more: Our Go-To Lunch Recipe: Tex-Mex Quinoa Salad
Greek Inspired Chickpea Salad (Serves 4)
Ingredients
1, 15 oz. can chickpeas, drained and rinsed
1 pint cherry tomatoes, halved
1 English cucumber, quartered
¼ medium red onion, thinly sliced
⅓ cup kalamata olives, halved
¼ cup sun-dried tomatoes in olive oil, thinly sliced (reserve oil as needed)
1 tbsp red wine vinegar
1 tsp dry oregano
Salt and pepper to taste
Instructions
Add chickpeas, cherry tomatoes, cucumbers, onion, olives, sun-dried tomatoes, vinegar, oregano, and a generous pinch of salt and pepper to a large mixing bowl.
Toss ingredients together until evenly combined. Taste and adjust as needed. Feel free to drizzle additional oil from the jar of sun-dried tomatoes.
Once mixed, cover the salad and place in the fridge to marinate until ready to serve.
Enjoy!
Read more: Our Favorite No-Cook Summer Recipes 
Did you try out our Greek-Inspired Chickpea Salad Recipe? Share it with us by tagging @avocado.green on Instagram or Facebook. You can also follow Catherine @plantbasedrd for more delicious, nutritious recipes.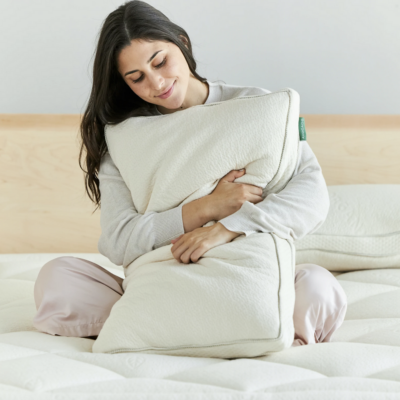 Shop Pillows
The Essential Organic Pillow Collection
Gentle, breathable, non-toxic support.
Buy Now