Our dairy-free and vegan kale Caesar salad wrap recipe delivers powerful flavor and nutrition. 
Healthy greens, cheesy croutons, and rich dressing, it's no wonder Caesar salads are so popular. But the croutons and dressing aren't exactly nutritional powerhouses. The dressing alone is packed with unhealthy saturated fat and cholesterol. So we made a few modifications to create a nutrient-dense wrap inspired by everyone's favorite salad. Don't worry — it still includes all the crunchy, creamy textures and salty, savory flavors we all love.
Why You'll Love This Kale Caesar Wrap
Wholesome ingredients. Our kale Caesar salad wrap recipe switches up traditional Caesar salad ingredients for healthy (but tasty!) alternatives. Think kale instead of romaine, roasted chickpeas in place of croutons, and savory tahini in lieu of the classic dressing.
Super healthy. This recipe's nutrient-dense ingredients include healthy antioxidants, vitamins, and minerals that will keep you full longer, help with inflammation, improve digestion, and protect against chronic illnesses like heart disease.
Dairy-free. Because we're using tahini for the dressing, this wrap is completely vegan and a delicious alternative for anyone dealing with lactose intolerance.
Read more: Sweet And Tangy Broccoli Crunch Salad Recipe
The Nutritional Benefits Of Our Ingredient Swaps
Greens. Romain is certainly a healthy lettuce, but kale is packed with way more essential minerals like iron and calcium — and loads of antioxidants. Kale is considered one of the most nutrient-dense foods on the planet, after all. If you're concerned about how tough kale is, don't worry! You can make the green softer and more palatable by massaging it with the dressing and letting it sit for a few minutes.

Croutons. By swapping croutons — aka rebaked bread — for crispy roasted chickpeas, you'll ditch the carbs and fats for an extra dose of protein and fiber. Plus, by seasoning our chickpeas with familiar crouton flavors like onion and garlic powder you'll forget they're missing in the first place.

Dressing. There's no denying the ultimate comfort component in this salad is the Caesar dressing. The best way to mimic its zesty, tangy taste is by focusing on developing umami flavors. Our recipe achieves this by using ingredients like tahini, capers, and nutritional yeast which include calcium, fiber, and vitamin B to support your metabolism.
Read more: The 5 Best Foods For Brain Health
Kale Caesar Wraps (makes 3 wraps)
Ingredients
Crispy Roasted Chickpea Croutons
1, 15 oz can chickpeas, drained and rinsed
1 tbsp olive oil
1 tbsp nutritional yeast
1 tsp garlic powder
1 tsp onion powder
1 tsp Italian seasoning
Salt
Caesar Dressing
3 tbsp quality tahini
2 garlic cloves, crushed
Juice and zest of 1/2 a large lemon
2 tsp capers + 1 tbsp of caper liquid from the jar
1 tsp Dijon mustard
1 tsp vegan Worcestershire sauce (optional)
3 tbsp nutritional yeast
3 tbsp cold water, as needed
Assemble Wrap
3 whole grain or gluten-free wraps
4 cups of kale, stems removed and roughly chopped
Avocado (optional)
Salt and pepper to taste
Instructions
Preheat the oven to 375ºF.
Dry chickpeas using a clean kitchen towel, then coat them with seasoning ingredients and a pinch of salt.
Place the chickpeas on a parchment lined sheet pan, spreading them out in a single layer with space in between.
Roast for 20-25 minutes, shaking the tray halfway to rotate the chickpeas and ensure they crisp up.
Add kale and dressing ingredients to a bowl. Gently rub or massage the dressing into the kale leaves with your hands until the greens shrink in size and the leaves soften and are evenly coated.
Assemble your wrap!
Lay out the wrap on a large plate. Add a layer of kale and top with crispy chickpeas, avocado slices, and a drizzle of dressing.
Tuck and roll the wrap — enjoy!
Read more: Filling And Flavorful: Spicy Chickpea Salad Sandwich Recipe
Did you try out our Kale Caesar Wrap recipe? Share it with us by tagging @avocadogreenbrands on Instagram or Facebook. You can also follow Catherine @plantbasedrd for more delicious, nutritious recipes.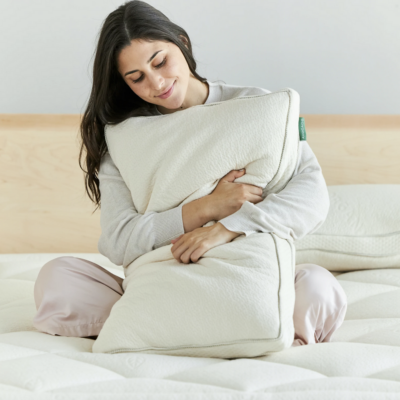 Shop Pillows
The Essential Organic Pillow Collection
Gentle, breathable, non-toxic support.
Buy Now