Our broccoli crunch salad recipe transforms basic veggies into a tasty, tangy, healthy meal you can make in minutes.
A healthy meal doesn't have to be bland and boring. The key to sneaking more veggies into your diet? Make them taste good! Our broccoli crunch salad recipe does exactly that, combining immunity boosting broccoli and vitamin-rich carrots in a mouthwatering sauce that's as delicious as it is nutritious.
Why You'll Love This Broccoli Crunch Salad
Simple ingredients. You likely already have a majority of the necessary ingredients for this recipe at home. It's easy to make, too — all you have to do is chop the broccoli into bite size pieces and toss everything together in a bowl.
Flavorful sauce. I love tahini, and mixing it together with apple cider vinegar and maple syrup infuses these vegetables with a lovely sweet and tangy flavor.
A satisfying texture. While the sauce does soften the broccoli up a bit, don't worry — it still maintains its satisfying crunch.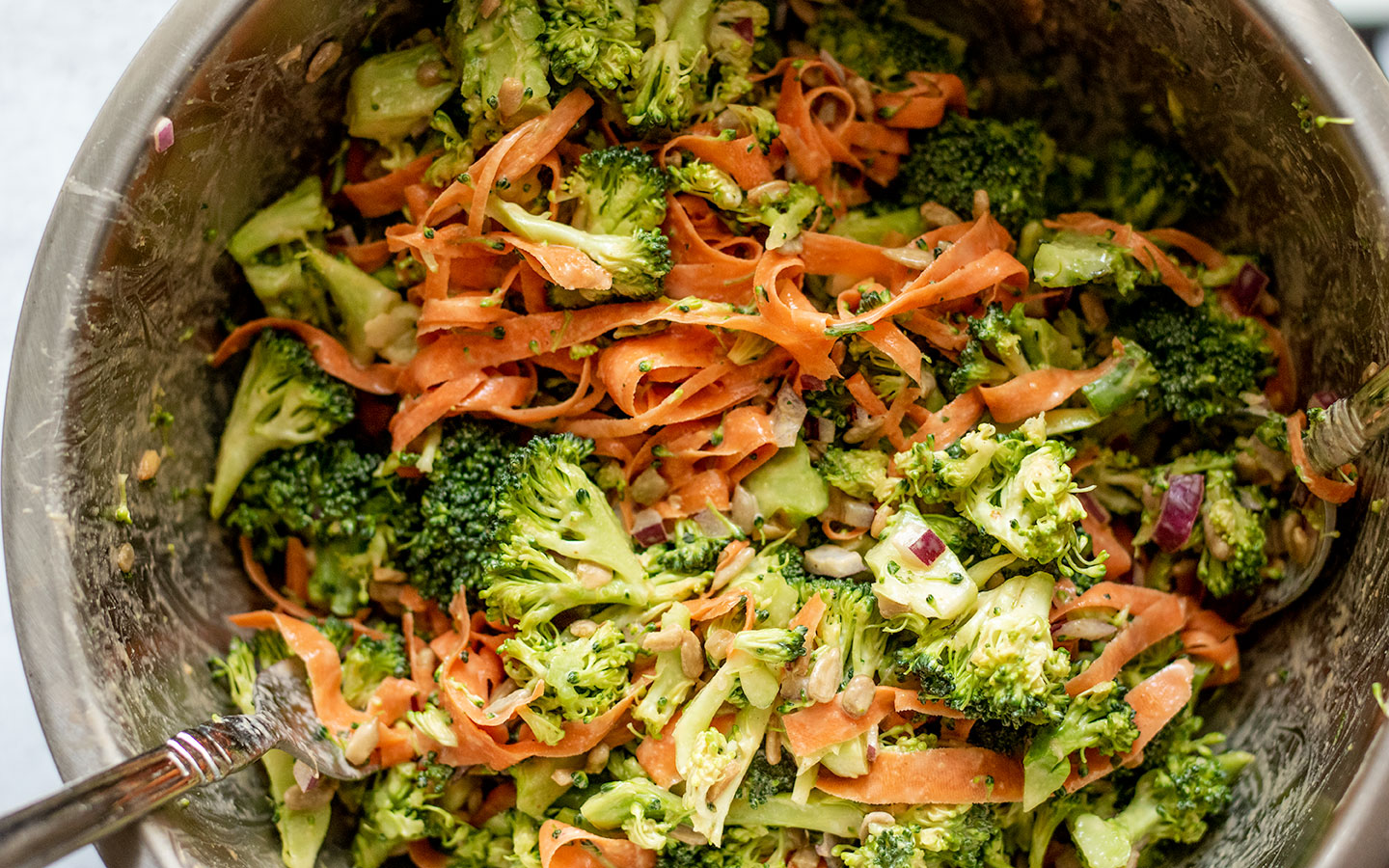 Read more: Quick And Easy 5-Ingredient Vegetarian Chili Recipe
Making Vegetables Tasty
If your goal is to warm up to veggies this year, focus on creating flavors that will help you get excited about eating them. Here are three tips:
Go beyond salt and pepper. While salt and pepper are a good start, think about adding other spices to amp up the flavor. Try smoked paprika for smokiness or fresh herbs like dill or chives to brighten up a meal.
Find fun ways to cook them. You can do much more than steam vegetables. Sauté them in a pan with fresh garlic and ginger. Grill or braise them. Simmer in soups. There are endless ways to bring the flavors to life.
Incorporate veggies into meals. Go rogue and throw in broccoli or a bell pepper or two with your favorite saucy dishes. Or, blend a cup of spinach in a smoothie to make them taste more like a dessert. You'll completely forget you're well on your way to your daily dose of veggies.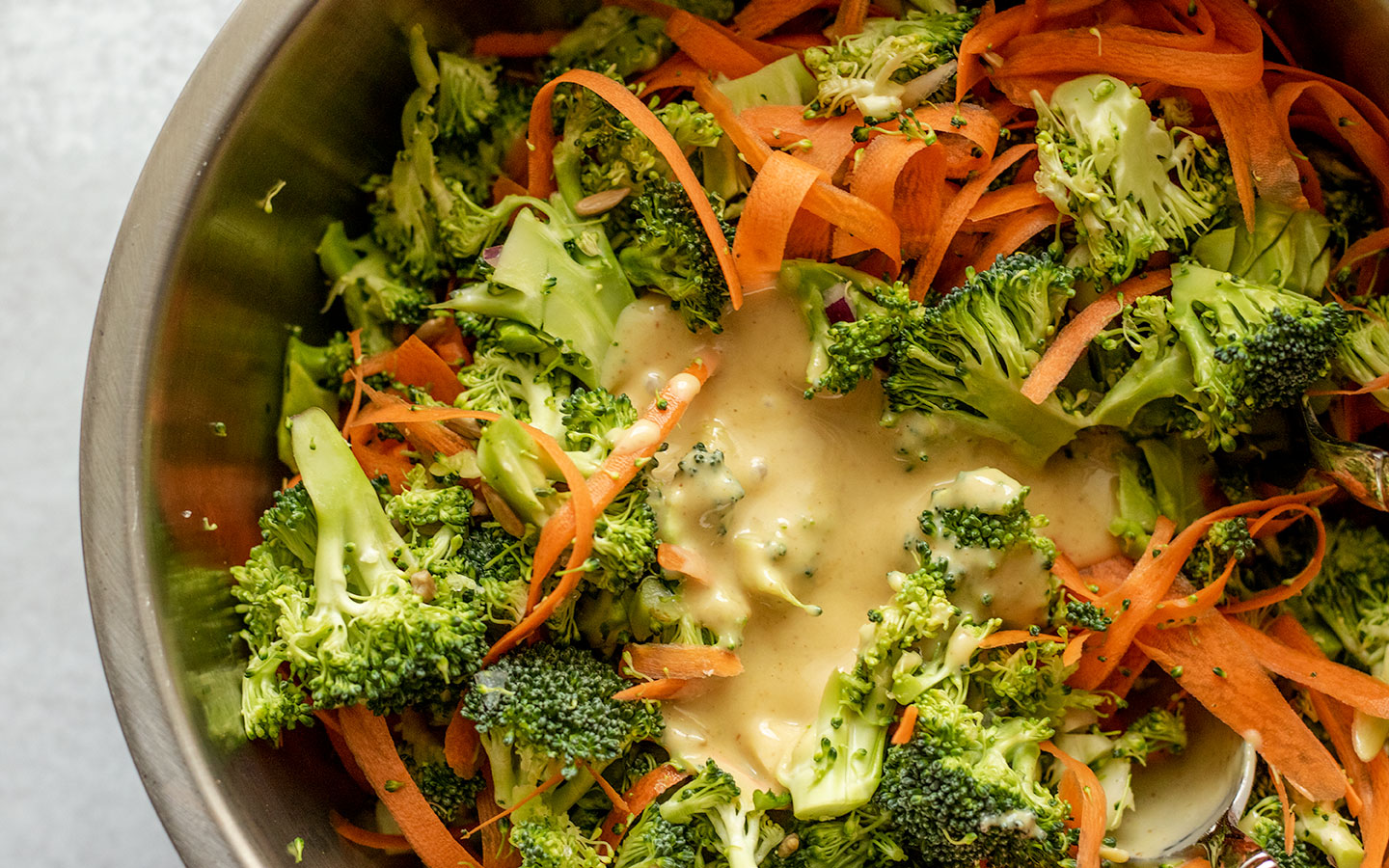 Read more: Our 7 Favorite Vegetarian Cookbooks
Broccoli Crunch Salad Recipe (Serves 4)
Ingredients
3 cups broccoli florets, chopped into small pieces (about 1-2 heads of broccoli)
1/4 cup sunflower seeds, roasted and salted
1/2 cup shredded carrot
1/4 red onion, finely minced
1-1/2 tbsp apple cider vinegar
3 tbsp tahini
2 tsp Dijon mustard
1 tbsp maple syrup
1/2 tsp garlic powder
1/2 tsp onion powder
1/4 tsp of salt, plus more to taste
3-4 tbsp water
Instructions
In a small bowl, combine the tahini, apple cider vinegar, mustard, syrup, garlic powder, onion powder, salt, and water. Whisk together until smooth. If the mixture is too thick, add in 1-2 more tablespoons of water at a time until you reach your desired consistency.
In a large mixing bowl, add broccoli, carrots, onion, and sunflower seeds.
Give the ingredients a good mix until combined.
Pour the dressing over the broccoli mix and toss until veggies are fully coated.
Place a cover over your bowl and put in the fridge for at least an hour to soften everything just a little — then enjoy!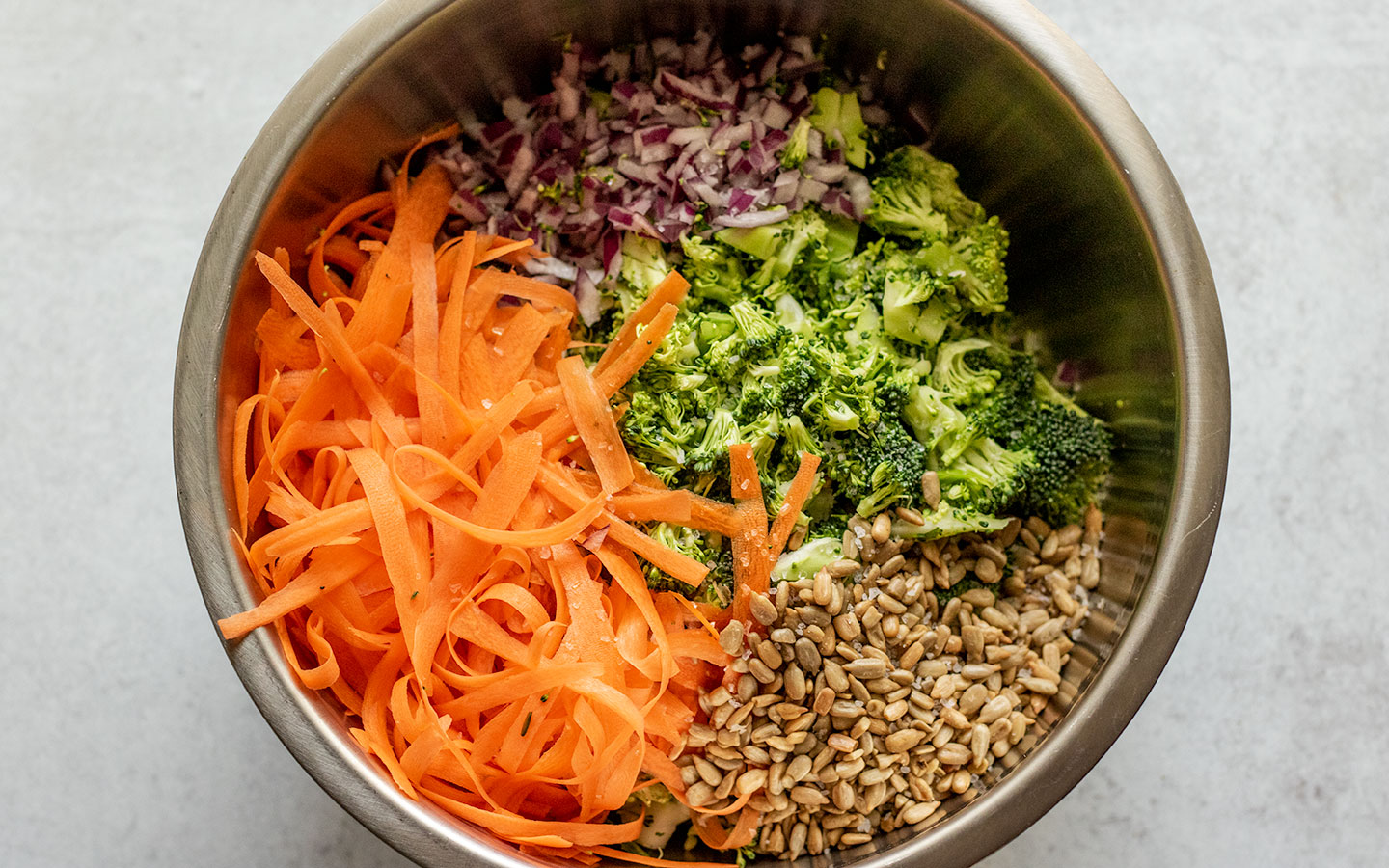 Read more: Filling and Flavorful: Spicy Chickpea Salad Sandwich Recipe
Did you try out our Broccoli Crunch Salad Recipe? Share it with us by tagging @avocadogreenbrands on Instagram or Facebook. You can also follow Catherine @plantbasedrd for more delicious, nutritious recipes.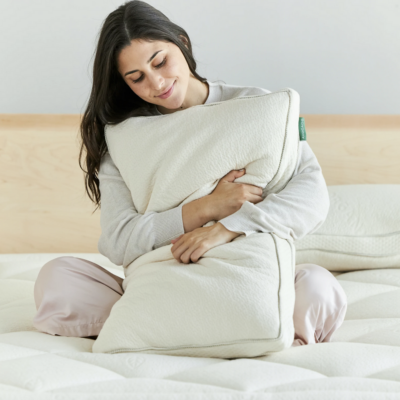 Shop Pillows
The Essential Organic Pillow Collection
Gentle, breathable, non-toxic support.
Buy Now