Cauliflower in mashed potatoes? Hear us out — and expect to come back for seconds.
Whether you prefer chunky, creamy, or somewhere in between, everyone can agree that mashed potatoes deserve a spot on every holiday table. But this year, prepare to take this classic dish to the next level with our Garlic Rosemary Mashed Potatoes recipe. Word to the wise, don't anticipate leftovers.
Why You'll Love These Garlic Rosemary Mashed Potatoes
Indulgent and nutritious. Healthy can still be delicious, especially if you sneak in some good-for-you ingredients (hello, cauliflower) like we do with these creamy mashed potatoes.
Savory flavors. This recipe utilizes fresh minced garlic and rosemary to infuse a taste of comforting, seasonal flavors into every bite.
Fuss-free. There are no special techniques or tools needed to make this recipe. We keep things straight forward and follow the traditional way of making mashed potatoes.
Read more: Easy DIY Vegetable, Beef, and Chicken Stock Recipes
How We Added More Nutrition to This Holiday Classic
Rest assured. Some of the ingredients in our Garlic Rosemary Mashed Potato recipe may look a little different than what you'd expect, but the end result is the same decadent, savory side that always keeps us coming back for more. Here are the nutritional benefits of our ingredient add-ins.
Antioxidant-rich veggies. Potatoes are already loaded with potassium, vitamin C, and fiber. But add even more nutrients by throwing cauliflower into our mash. Cauliflower provides additional antioxidants like sulforaphane that help reduce cancer risk.
Plant-based yogurt. Replacing some of the butter in this recipe with plant-based yogurt helps to reduce saturated fat, which can raise cholesterol and is associated with increased risk of heart disease.
Nutritional yeast. Known for its cheesy flavor, nutritional yeast introduced an extra dose of protein, plus B12 — which helps keep your body's blood and nerve cells healthy — to this recipe.
Read more: Our Favorite Friendsgiving Recipes
Garlic Rosemary Mashed Potatoes (Serves 5)
Tools
Potato masher or electric mixer
Ingredients
1.5 lb yukon gold potatoes, peeled and cut into 2" cubes
2 cups cauliflower florets
1 tbsp vegan butter
2 tsp fresh rosemary, minced
4 cloves garlic, chopped
⅓ cup heated plain unsweetened plant based milk (almond, soy, or cashew)
2 tbsp nutritional yeast
2 tbsp plain unsweetened plant-based yogurt
Salt and pepper to taste
Instructions
Fill a large pot with cold water and add potato cubes and cauliflower florets. Add a generous pinch of salt to the water, and bring the pot to a boil.
Boil the potatoes and cauliflower for 15 minutes or until the potatoes are fork tender.
Drain the potatoes and cauliflower, then add them back to the pot.
To a separate small saucepan, add the butter and melt it down over medium-low heat.
Add the garlic and rosemary. Continuously stir until the garlic becomes fragrant.
Stir in the nutritional yeast and the warm plant-based milk. Continue to stir for 2 minutes. Remove from heat.
Using a potato masher or electric beaters, begin to mash the potatoes and cauliflower. Once mostly mashed, add the butter mixture along with the plant-based yogurt and another pinch of salt.
Continue to mash and mix until your potatoes are at your desired consistency. Adjust salt and pepper to taste.
Share with friends and family!
Read more: Four Vegan Sides to Add to Your Thanksgiving Dinner
Did you try out our Garlic Rosemary Mashed Potatoes? Share it with us by tagging @avocadogreenbrands on Instagram or Facebook.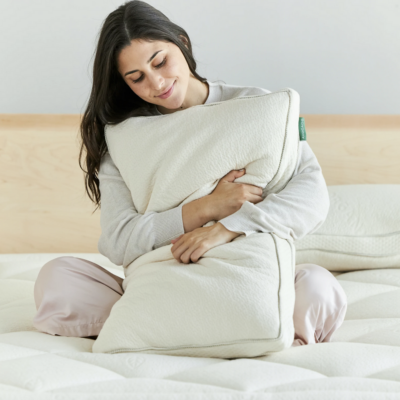 Shop Pillows
The Essential Organic Pillow Collection
Gentle, breathable, non-toxic support.
Buy Now