Our go-to Friendsgiving recipes that we never show up to the potluck without.
Ah, Thanksgiving. Comfort foods abound, scents of the turkey roasting waft through the air, you get to eat, nap, then eat again, and it's one of the few times of the year when the entire family is together.
But not everyone has the means to travel to see their family and others may not have close relatives to share Thanksgiving. That's why we love Friendsgiving, the friend-centered holiday with all the same nostalgia as turkey day. There are, however, a few differences.
Friendsgiving takes the form of a potluck, so no one has to get up at 5 a.m. and cook all day. You can celebrate Friendsgiving before, after, or on Thanksgiving — whatever works best for your friend group. And if you're not into green bean casserole and stuffing, you can do your own thing without anyone insisting on sticking with tradition.
With the food-focused holiday right around the corner, we're divulging which dishes we love to share with our friends. After all, friends are the family you choose.
Here are the Avocado Team's favorite Friendsgiving recipes.
Read more: How to Find a More Sustainable Thanksgiving Turkey
Courtesy of Bon Appétite
I've always been a huge fan of au gratin potatoes. And this recipe includes all the same creamy, cheesy flavors and textures, but it swaps potatoes for acorn or delicata squash and adds in kale for a dose of good-for-you greens. (Although, it calls for 5 tbsp. of butter, so the dish isn't fooling anybody.) When it comes to my Friendsgiving table, this Cheesy Winter Squash Gratin is a must. —Meredith O'Connor, Copywriter
I do not care for traditional Thanksgiving food. I know this viewpoint is blasphemous in some circles. Not mine. I live in New Mexico, where everything tastes better when it's slathered in red or green chile — or both. For Thanksgiving, we lean into the spicy, comforting, rich flavor that's ubiquitous in the state and make a huge batch of New Mexican-style enchiladas. That means stacked, not rolled tortillas, and a liberal flooding of our statewide staple. Turkey and stuffing never looked so boring. —John Davies, Sr. Director, Brand Editorial + Sustainability
I was a little apprehensive when "friendsgiving" first became a thing because at the time I was a full-fledged vegetarian. Hosting a "turkey day" without any turkey felt… risky. But thanks to my favorite vegan cookbook, Angela Liddon's Oh She Glows, we had a super colorful, flavorful table and didn't miss the bird at all. The star of the show was this Lentil Walnut Loaf, which is hearty enough to serve as the main and was approved by even the pickiest eaters. It also makes great leftovers! —Jessica Hann, SVP Brand + Sustainability
Each Thanksgiving (and really during all celebrations or gatherings), I await my favorite part of any meal — dessert. To say I have a sweet tooth is an understatement, but I'm lucky enough to have a close circle that feels the same way. Friendsgiving for us is more about the sweets than the savory dishes. So naturally, when I came across Athena Calderone's apple cake recipe, I knew it had to be a yearly tradition. With warming cardamom and cognac (optional), this is sure to satisfy any cravings, even for those who prefer a treat that's a bit less sweet. Living in the northeast, where apples are locally abundant makes it even better, too! —Christine Carpio, Sr. Manager, Engagement + Social Responsibility
I've always been more of a grazer. So when it comes to Thanksgiving, I'm typically pretty full by the time the main courses come out. Partially because appetizers tend to be my favorite foods — but largely due to my inability to pace myself! Growing up, we spent every Thanksgiving with the Syrian side of my family. While we did have some traditional Turkey Day foods, most of our dishes were Syrian. My Gido (Grandpa) would make the BEST hummus. I would steal a basket of pita and a container of his hummus and happily dip away. Before he passed, my sister made a Gido cookbook with his best dishes. It's so easy, and many of my friends have started making their own hummus with Gido's recipe. —Julie Murphy, Digital Media Director
I live in a winter wonderland, so hearty, stick-to-your-bones comfort food is what I gravitate toward for Thanksgiving. And homemade mac and cheese is always a crowd-pleaser. I make mine gluten-free with Bread Srsly sourdough for the bread crumb topping and Jovial brand shells for the pasta. (No one will ever know it is gluten-free.) Just be sure to boil the pasta for the full time — al dente doesn't work well when it comes to GF pasta. Two more tips: the author is spot on with her cheese recommendations, gruyere and white cheddar is my favorite combo (use block cheese and shred it yourself). And don't forget the paprika in the topping. I've used smoked paprika a few times and might even prefer it. Mixed with the gruyere, it gives a nice juxtaposition of flavors. —Annie Graybill, Director of Product Marketing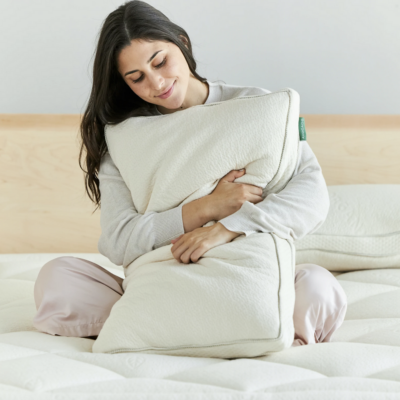 Shop Pillows
The Essential Organic Pillow Collection
Gentle, breathable, non-toxic support.
Buy Now