Here are a few delicious and nutritious recipes to share at the Thanksgiving table this year. Don't worry, non-vegans will love them, too.
My older sister and I are the only ones in my extended family who eat entirely plant-based. This makes the holidays a little tricky, navigating all the eggs and cheese that somehow make their way into every snack and side. But when my family hosts Thanksgiving, my dad sneaks a few vegan options into the spread and doesn't tell the rest of my family. During dinner, while everyone is enjoying their food, I love to lean over and say, "you know that's vegan, right?"
I've stolen a few successful plant-based recipes from my dad that you need on your Thanksgiving menu.
#1 — Vegan Cheese Log Covered in Caramelized Onions and Nuts
INGREDIENTS:
8 oz vegan cream cheese
8 oz vegan gorgonzola or blue cheese
8 oz vegan goat cheese
½ cup of dried whole cranberries
Hint of Tabasco sauce, more for the spice adventurous
Pinch of red pepper flakes — or more
For the Caramelized Onions with Nuts:
¼ cup chopped almonds
¼ cup chopped cashews
¼ cup walnuts
¼ cup pine nuts
½ tsp garlic powder
½ tsp onion powder
1 medium-size white or Vidalia sweet onion
½ cup of brown sugar (or Monk Fruit Sweetener)
DIRECTIONS:
I dream about this spread year-round. I usually eat most of it throughout Thanksgiving day and finish the rest on Friday. I recommend getting high-quality vegan cheese for this recipe. It's worth it to go to a specialty market with a large vegan selection.
First, combine all the cheeses with the cranberries. Mix in Tabasco sauce and red pepper flakes. Add more Tabasco if you prefer it spicier. (My dad always goes spicier.) Then form the cheese into a log shape and put it in the refrigerator.
The order of the caramelized onions is essential. First, you have to toast the raw nuts in a saucepan. Once those nuts are toasted and brown, put them aside in a bowl. Slice the onion into long strips and throw them in the pan with the spices and a little oil. Sautè the onion until it is almost brown. Then add the sugar. Stir until sugar has melted, then fold in the nuts. Let the spread cool. Pour over the entire cheese log. Refrigerate until served. This recipe serves a family of 8-12, so measure accordingly!
#2 — Maple-Mustard Brussels Sprouts with Pecans
INGREDIENTS:
½ cup pure maple syrup
½ cup dijon mustard
¼ cup olive oil
Pinch of salt
Pinch of red pepper flakes
2 pounds of brussels sprouts
1 cup of pecans
DIRECTIONS:
This is an easy side and the perfect addition to a Thanksgiving spread.
Preheat the oven to 400°F. Spray your pan with nonstick cooking spray. I use coconut oil. It does well in high heat! In a large bowl, mix maple syrup, mustard, olive oil, salt, and red pepper flakes. Once those are combined, then fold in the raw brussels sprouts. Make sure they are fully coated. Spread the brussels sprouts across your baking sheet in a single even layer. Bake for about 20 minutes, then flip. Bake for an additional 10 minutes until they are caramelized. While you're waiting on the sprouts, toast your raw pecans on the stovetop over medium heat for about 5 minutes. Once they are toasted, remove from the pan to cool, and give them a rough chop. Sprinkle the pecans over your sprouts, and you are ready to serve! This recipe serves eight people. Feel free to half the recipe if you're planning on a small dinner this year.
#3 — Cauliflower Mash
INGREDIENTS:
1 ½ pound of Yukon gold potatoes
4 cups of cauliflower
Splash of oat milk
Small scoop of coconut oil
Pinch of salt and pepper
DIRECTIONS:
If you want to keep it lighter at Thanksgiving, this mash is for you. If you want to trick your family into eating vegan, this mash is also for you. (And they'll never know!)
To get a great mash, you need to start with a good boil. Drop your potatoes in a 4-quart pot with enough cold salted water to submerge the potatoes by about 4-5 inches. Bring your potatoes to a boil. Once your potatoes are at a boil, add in your cauliflower and lower your heat to a simmer. The cauliflower should be submerged under the water as well. Let the water simmer for about 15 minutes until both potatoes and cauliflower are soft. Once your potatoes and cauliflower are ready, pour out most of the water, but reserve about ¼ cup of liquid in the pot. Then add in a small spoonful of oil, a splash of oat milk (or any plant-based milk you have in the fridge), salt, and pepper. Use a potato masher or a blender to mash and whip your potatoes and cauliflower. Add more salt or plant-based milk as needed. This mash serves about four people. You can double the recipe if you have a big family or want some mash in the fridge for leftovers!
#4 — Rosemary Gravy
INGREDIENTS:
1/4 cup + 1 tbsp. whole wheat flour
1/4 cup nutritional yeast
1 1/2 tsp. onion powder
1 tsp. garlic powder
1/4 tsp. rosemary
1/8 tsp. thyme
2 cups low sodium vegetable broth
2 tbsp. low sodium tamari or soy sauce
Salt to Taste
DIRECTIONS:
Top off everything with this gravy! Start by pre-heating a medium sized saucepan on medium high heat. Then add all dry ingredients to the saucepan and whisk for about 30 seconds. Whisk in veggie broth and soy sauce until all ingredients are combined. Then you can slowly reduce heat from medium to low. Let the gravy simmer and whisk to thicken. Remove gravy once it reaches your desired consistency.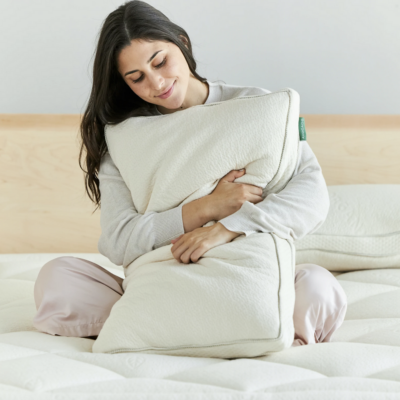 Shop Pillows
The Essential Organic Pillow Collection
Gentle, breathable, non-toxic support.
Buy Now