Upgrade classic ice water with our ultra-hydrating cucumber mint agua fresca recipe.
On a sweltering summer day, few things are as satisfying as a cold, refreshing beverage. And let's face it — plain old water is boring. Take your drink game to the next level and rehydrate at the same time with our thirst-quenching Cucumber Mint Agua Fresca recipe.
Why You'll Love This Cucumber Mint Agua Fresca
Hydrating ingredients. This recipe is perfect for those who don't love drinking water or simply want to switch things up. And adding flavor to your H2O is a great way to encourage more water consumption overall — and a lot more fun, too.
Less sugar. This aqua fresca will give you spa water vibes without the extra sugar. The drink's natural sweetness comes from its citrus ingredients and the addition of the mint and cucumber add a bright, fresh flavor without sugar-laden synthetic syrups.
Nutrient Dense. The citrus, herbs, and veggies used in this recipe are packed with antioxidants, vitamins, and minerals, so they not only enhance the taste but increase the nutritional value.
Read more: Our Favorite No-Cook Summer Recipes
Why It's Important to Stay Hydrated
Hydration is tied to a lot of essential bodily functions, which is why it's so important to stay hydrated — especially during hotter seasons. When you aren't drinking enough water, your body feels it immediately. As a result, you can experience exhaustion, aches and pains, and even loss of appetite. Here's what proper hydration is responsible for.
Body temperature regulation
Joint lubrication
Infection prevention
Mood and energy
Sleep quality
Cognition
Is Agua Fresca Healthy?
Traditional agua fresca is a blend of fruit, lime juice, and sugar. To keep our recipe refined sugar-free, we're adding a touch of maple syrup along with a handful of nourishing, healthy ingredients. Here's why they're so good for you.
Cucumber: Provides extra hydration, vitamin C, potassium, and magnesium.
Lime: Includes antioxidants and vitamin C, which can support immune function, improve iron absorption, and reduce chronic disease risk.
Mint: Loaded with antioxidants, this herb may also help with reducing IBS symptoms.


Ginger: Another great source of antioxidants, ginger is also an anti-inflammatory that promotes healthy aging, aids in digestion, and is associated with a lower risk of high blood pressure and heart disease. 
Read more: Hydrating and Healthy: Watermelon Passion Fruit Smoothie Recipe
Cucumber Mint Agua Fresca Recipe (Serves 4)
Ingredients
½ of a large English cucumber, roughly chopped
Juice of 1-2 limes
½ inch chunk of ginger
15 mint leaves
5 basil leaves
2 tbsp maple syrup or agave syrup
3 cups filtered water
2 cups sparkling water
Ice for serving
For serving
Ice cubes
Extra mint leaves
Extra cucumber slices
Instructions
Place the cucumber, lime juice, ginger, mint, basil and filtered water into a blender and blend on high until smooth.
Pour the liquid through a fine mesh strainer or cheesecloth placed over a bowl to remove pulp.
Prepare your serving glass by filling it halfway with ice.
Pour the strained juice mixture over the ice and top with sparkling water.
Garnish with extra mint leaves and cucumber slices as desired.
Start sippin'!
Read more: Heart Healthy Avocado Tostadas Recipe
Did you try out our Cucumber Mint Agua Fresca recipe? Share it with us by tagging @avocadomattress on Instagram or Facebook. You can also follow Catherine @plantbasedrd for more delicious, nutritious recipes.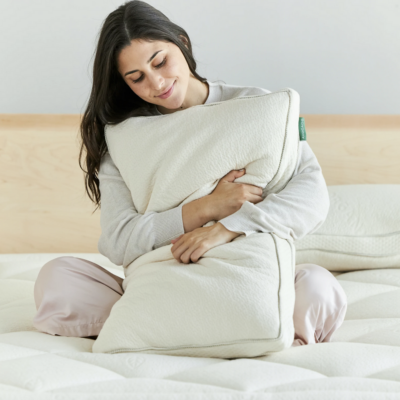 Shop Pillows
The Essential Organic Pillow Collection
Gentle, breathable, non-toxic support.
Buy Now