Featuring zippy flavors, creamy, heart healthy fats, and just the right amount of crunch, our Avocado Tostadas Recipe is the perfect summer snack.
Delicious, heart healthy avocados overtop a crispy baked tortilla and served with marinated tomatoes? Don't mind if we do! If you're a fan of avocado toast (who isn't), these nutrient-packed Avocado tostadas are the perfect way to give your favorite breakfast-lunch-snack a filling, zesty upgrade.
Why You'll Love These Avocado Tostadas
Basic Ingredients. The best part of this recipe is that you probably already have these on your shopping list (or in your pantry). The base includes corn tortillas, avocados, and tomatoes, along with some extra, good-for-you ingredients thrown in for a zing of flavor.
A Satisfying Snack. Thanks to heart-healthy fats from the avocado and complex carbohydrates from the tortillas, you'll get the ideal combo of nutrients that will keep you feeling full and satisfied between meals without overdoing it.
Easy to Customize. This refreshing snack can be customized in many ways. While we are topping our tostadas with tomatoes, you can swap them out for a number of ingredients, like homemade refried beans for protein and veggies like shredded cabbage or pickled onions. Or, make it spicy with a dollop of fresh salsa.
Read more: Sweet and Tangy Broccoli Crunch Salad Recipe 
Are Tostadas Healthy?
Traditionally, tostadas use corn tortillas that have been fried, putting them in the not-so-healthy category. The good news is you can reduce the amount of oil and bad fats from frying by opting for a baked version. Our recipe uses baked tostadas and the following ingredients known for their powerful nutritional benefits.
Corn Tortillas: Because these tortillas are made of corn — which feature plenty of complex carbohydrates — you can count on an excellent amount of fiber with every bite. This whole grain is also surprisingly high in antioxidants. In fact, it has the highest antioxidant levels among the most commonly eaten grains and is loaded with vitamin C and carotenoids lutein and zeaxanthin associated with eye health.
Avocados: This creamy, heart-healthy fat is loaded with monounsaturated fatty acids and fiber, which are both heart protective and improve satiety.
Tomatoes: Another antioxidant-rich component, tomatoes are packed with lycopene. Lycopene helps protect against damage to our cells and is particularly beneficial to our skin.
Read more: The 5 Best Food For Brain Health
Avocado Tostadas Recipe (Serves 2-3)
Ingredients
4 corn tortillas
1 ripe avocado, pit removed
2 tbsp red or white onion, diced
Juice and zest of 1 lime
1 tbsp cilantro, chopped
1 cup cherry tomatoes, quartered
2 tsp extra virgin olive oil
1 garlic clove, crushed
Salt and pepper
Instructions
Preheat the oven to 400ºF.
Brush or spray tortillas with a high heat oil like avocado oil.
Place on a parchment-lined baking tray and bake in the oven for 4-5 minutes on each side until golden brown. You can also bake in an airfryer at 400ºF for 3 minutes.
While the tortillas bake, mash avocado in a bowl. Add diced onion, cilantro, and juice of half a lime along with a pinch of salt and pepper to taste.
In a separate bowl, add the chopped tomatoes, extra virgin olive oil, garlic, remaining lime juice and zest, and a pinch of salt. Toss the tomatoes to coat and prepare to assemble.
Spread guacamole on the tortillas then top with marinated cherry tomatoes. If you're feeling creative, add extra toppings like shredded cabbage and salsa verde for even more flavor.
Make this snack anytime the craving hits!
If you're making just one tortilla, store leftover guacamole and marinated tomatoes in airtight containers for later. For the guacamole, press beeswax wrap over top of the bowl, then seal the container with a lid to help preserve it longer.
Read more: Hydrating and Healthy: Watermelon Passionfruit Smoothie Recipe
 Did you try out our Avocado Tostadas recipe? Share it with us by tagging @avocadogreenbrands on Instagram or Facebook. You can also follow Catherine @plantbasedrd for more delicious, nutritious recipes.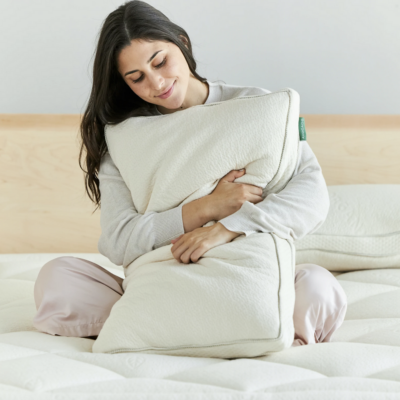 Shop Pillows
The Essential Organic Pillow Collection
Gentle, breathable, non-toxic support.
Buy Now