Want to refresh your beauty and self-care products with clean, sustainable alternatives? Here's what to look for and what to avoid.
There's an ugly side to the beauty industry. Personal care products, including skin and body care, make-up, and hair care, are a major contributor to carbon emissions, environmental degradation, and plastic waste. Globally, more than 120 billion units of cosmetics packaging are produced each year, including paper, plastic, and glass that, more often than not, end up in landfills and in our oceans. That's why the cosmetics and skincare products we choose matter — and have a direct impact on our individual well-being and the health of our planet.
After learning about the not-so-pretty problems with the beauty industry, I was eager to make over my regimen with ethical, sustainable swaps. However, my enthusiasm was dashed by a steep learning curve. Not only was I overwhelmed by the sheer amount of eco-friendly offerings, it was difficult to wrap my head around all the green beauty terminology.
Turns out, I'm not alone. A 2021 study found that 61 percent of participants struggle to determine if hair and skincare products are ethical from the packaging alone — a problem that stems from the lack of consistency within the industry. The U.S. Food and Administration doesn't regulate cosmetics labels and, unfortunately, only 11 ingredients are banned from use in personal care products, leaving room for consumer confusion, harmful ingredients, and opportunities for greenwashing.
In fact, one study shows that 55 percent of those polled don't bother checking the eco-credentials of make-up and hair care products because they feel they have no choice but to buy items that aren't sustainable or animal friendly. And according to a 2022 report, 79 percent of consumers have difficulty trusting brands' sustainability claims.
The good news is there are brands taking concrete, meaningful steps to make healthy products, reduce their impact, and be transparent about their progress.
Ready to become a more savvy, sustainable shopper? Here's what to look for when transitioning to a more ethical and sustainable beauty routine.
Read more: Our 6 Favorite Wellness and Beauty Podcasts
Check The Ingredients
As consumers, we're used to glossing over the fine print, but knowing what ingredients are in a product is the first step for ensuring the products you're buying are safe for you and the environment. Common culprits to stay away from include parabens and sulfates, two chemical additives known to cause irritation and cancer, palm oils, which contribute to rapid deforestation, and microplastics, which are found in 87 percent of best-selling cosmetics brands.
Instead, look for plant-based and organic ingredients, and labels that explicitly identify the product as vegan, cruelty-free, and paraben-free. When in doubt, keep apps like Think Dirty, Yuka, and Incidecoder in your back pocket, all of which help decipher ingredient lists with ease.
Know Your Certifications
Not all eco-friendly cosmetics and personal care products are made equal. Brands that genuinely care about reducing their environmental footprint and creating healthy products will back up their claims with industry-trusted certifications. Perusing the company's about page and impact report is a great place to start, but it's also a good idea to familiarise yourself with the various third-party certifications that are recognized as legit.
When it comes to ethical and environmental standards Certified B Corporation, Fair Trade, Leaping Bunny, USDA Certified Organic, and USDA Certified Biobased are all reliable, while MADE SAFE® and EWG Verified™ are indicators that the product is free of harmful, toxic chemicals and additives.
Reed + Gwen
Grounding Dry Body Oil
48.00
Shop
Read more: Why EWG Verified™ Products Matter
Look For Ethical Practices That Prioritize People and Planet
When companies commit to ethical practices, they prioritize the well-being of the environment, as well as the individuals and communities involved in the creation of their products. Before buying, consider the brand holistically to ensure that everyone is treated with respect and equality at every step of the process.
Do some digging to determine if the brand sources its ingredients responsibly, if the company provides fair wages and safe working conditions for the farmers and growers who are part of its supply chain, and if they commit to not testing on animals. If it's hard to find the answers to these questions, the company's claims may be too good to be true.
Read more: How Fairtrade Protects People and The Planet
Opt For Refillable or Recyclable Packaging
Packaging is essential in storing, shipping, and preserving the quality of beauty creams, serums, oils, and spritzs, but it also accounts for 70 percent of the industry's waste. As a conscious consumer, choose brands that use minimal packaging or offer refillable options. Alternatives that are either biodegradable or can be repurposed, like post-consumer recycled materials, glass, bamboo, and silicon are also solid swaps for plastic. Some brands even offer take-back programs or partner with TerraCycle, a private company specializing in hard-to-recycle plastics, so consumers can dispose of their empties thoughtfully.
Go Carbon Neutral
No longer is cutting carbon emissions enough; carbon-neutral beauty is the new way forward. This approach involves assessing the company's overall carbon footprint, from sourcing and manufacturing to packaging and waste, and ensuring that they're investing in projects to remove the carbon from the atmosphere. To address the climate emergency, companies, and organizations across the world — not just within the beauty industry — are making the commitment to reach net zero by 2050 in order to prevent further global warming. If you're curious about a beauty brand's efforts to reduce its carbon emissions, and whether it has a carbon-neutral goal, check to see if they are Carbon Neutral Certified or are transparent about steps they're taking to lessen their carbon footprint.
Read more: Upgrade Your Bath with Magnesium Flakes
Have feedback on our story? Email [email protected] to let us know what you think!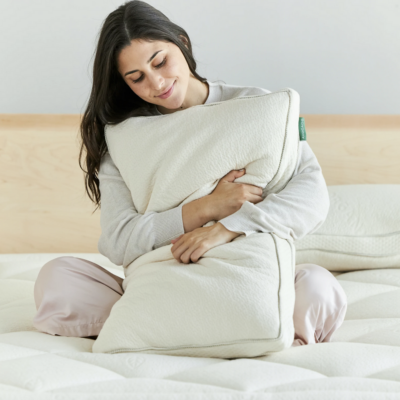 Shop Pillows
The Essential Organic Pillow Collection
Gentle, breathable, non-toxic support.
Buy Now