Can't keep up with the latest makeup and wellness trends? These beauty podcasts are filled with a wealth of knowledge.
The beauty boom comes with some pretty stellar benefits: Products for even the most niche of skin concerns, consumer pressure on brands to reduce waste and increase transparency, and Eva Longoria teaching the cable-consuming world how to pronounce hyaluronic acid. But every time a brand pushes a new ingredient, or a trend like "scalp care" threatens to take over Sephora, beauty-lovers are left with questions — lots of them.
Thankfully, a slew of wellness-focused podcasts are here with the answers. According to Allure (which has its own beauty podcast, of course), Spotify data showed a 131 percent increase in beauty podcast listeners in 2020.
In lieu of getting lost down an internet-search rabbit hole, we recommend popping in your headphones and listening to these beauty experts share their knowledge. These educational, well-researched, and sometimes irreverent wellness and beauty podcasts will help you navigate the maze of lotions and potions to figure out what's best for you. What better to listen than while working through the steps of your skincare routine?
Here are our top picks:
1.
Fat Mascara
Hosted by former beauty editors Jessica Matlin and Jennifer Sullivan, this podcast pairs the expertise of longtime industry insiders with a rolodex of industry insiders. The duo use a journalistic approach to interview Hollywood celebrities like Victoria Beckham and Miranda Kerr, beauty-world celebrities like Charlotte Tilbury and Lacy Redway, and a host of dermatologists. And, since they learned the ropes writing for magazines, they know how to make even the hard science of skincare an approachable, engaging topic.
2.
The Baron of Botox
This longform narrative podcast — hosted by Justine Harmon — takes a fine-toothed comb to the life and legacy of cosmetic dermatologist Dr. Frederic Brandt, who over time grew addicted to self-administering injectables. An art collector, pioneer in his field, and beauty celebrity in his own right, Brandt's story, told here in 10 parts, is a gripping tale.
3.
Smell Ya Later
It's a joy to spend time inside the minds of hosts and friends Sable Yong and Tynan Sinks, two scent-obsessed seasoned beauty writers. They put forth hour-long episodes on perfume-specific topics like Bath & Body Works fragrances and "the scent of toxic masculinity." Much like catching a whiff of a perfume you swear you've smelled before, their creative episodes and charming back-and-forth are instantly welcoming.
4.
POOG
In this twisted take on "goop," Kate Berlant and Jacqueline Novak explicate the wellness industry with absurdist humor and a razor-sharp understanding of the forces that conspire to encourage women to spend money on, say — lash perms. Look to "the hags," as they term themselves, for solace after you've dropped half a paycheck on a spa day, or for reinforcement if you're resisting the call of an Instagram bathing suit ad.
5.
Make Me Over
History nerds may already be familiar with "You Must Remember This." Film historian Karina Longworth's long-running podcast series spotlights Hollywood history topics like Charles Manson's Hollywood and the secretive story behind Disney's Song of the South. Make Me Over, a nine-part sister season, focuses specifically on celebrity beauty from the early 1900s to the 1980s.
6.
Gloss Angeles
Beauty editors Kirbie Johnson and Sara Tan put their perfectly made-up heads together for a rundown of the modern-day beauty industry. This is the place to go for an expert's take on the latest Instagram influencer-founded beauty line or to learn why you should almost never heed a TikTok beauty trend. In an act of true public service, Johnson and Tan even devote entire episodes to answering reader questions, from basic queries like "when should I start retinol" to science-backed opinions on the concept of preventative botox.
Have feedback on our story? Email [email protected] to let us know what you think!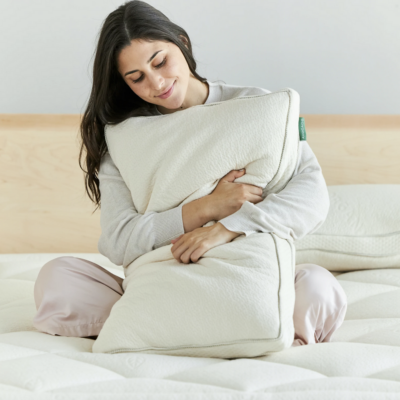 Shop Pillows
The Essential Organic Pillow Collection
Gentle, breathable, non-toxic support.
Buy Now