Looking for books that will engage and educate your toddler while letting their imaginations run wild? Here are our favorites.
As most parents know and learn, nothing is ever a constant with young kids. Over the years, favorite toys get cast away for new and exciting ones. The broccoli they so happily devoured as an infant is "yucky" as a toddler. The crib they slept safely and soundly in suddenly becomes the scene of middle-of-the-night parkour, signaling time for a big kid bed.
As a mom to a four-year-old, I've come to expect changes big and small, but there's one part of our routine that has held steady since my son was just a few months old: bedtime stories. Every night after bathtime, we'll snuggle up on the sofa and read two books (three if teeth brushing happens quickly). When he was a baby, we mostly favored board books that friends and family had so generously gifted us: Goodnight Moon, The Very Hungry Caterpillar — the classics. But once he reached the toddler years, we began to expand our library, seeking out longer stories as his attention span grew.
Trips to the library and our local bookstore have become one of our favorite family activities. We love reading new stories together and looking for other works by authors we know and trust. Finding the best books for bedtime is especially fun, though it requires a bit of balance — you want a story that's interesting enough for parents to read over (and over and over) and keeps little ones engaged, but not one that's so exhilarating that it keeps them up past their bedtime.
Our list is constantly changing, but these books are a few of our toddlerhood go-tos — some are quintessential bedtime-related reads, while others are simply great stories. Here are 11 of the best bedtime books for toddlers.
Read more: Why The 'Ideal Mom' Narrative Is Toxic
1.
A Big Mooncake for Little Star
In this homage to the Chinese Mid-Autumn Moon Festival from author and illustrator Grace Lin, a small girl named Little Star makes a giant mooncake with her mom and sets it in the sky to cool. Despite her mom's reminder not to touch it, Little Star wakes up in the middle of the night and takes a nibble, leaving a trail of sparkling yellow crumbs as she goes back to bed. She returns night after night, stealing bite after bite and the mooncake goes from full and round to thin and crescent. It's a whimsical reimagining of the phases of the moon featuring beautiful illustrations that glow against the black pages.
2.
Julián Is a Mermaid
In this picture book, main character Julián becomes enamored with women dressed up as mermaids as he rides the subway with his abuela, sparking the idea for a costume of his own. He pulls one together with items found around grandma's house as she takes a bath and receives an unexpected sweet surprise when she emerges. Jessica Love's book has little text, allowing tots to fully immerse themselves in her gorgeous watercolor illustrations, which vividly showcase scenes of city life, a young child's imagination at work, and the powerful message of acceptance and allyship.
3.
Don't Let the Pigeon Stay Up Late
Fans of Mo Willem's beloved Elephant & Piggie series are sure to recognize Pigeon, a recurring character who stars in this fun book that turns the table on little ones. Readers are tasked with making sure an increasingly sleepy, yet stubborn (sounds familiar?) Pigeon doesn't stay up too late. Much like his pint-sized audience, the bird has plenty of bedtime delaying tactics, from multiple demands ("Can I have a glass of water?") to non-stop negotiation ("I'll go to bed early tomorrow night instead!"). It's a short, playful read that'll charm parents and kids alike.
Read more: How Pets Positively Impact Child Development
4.
Sulwe 
Written by Oscar-winning actress Lupita Nyong'o, this moving story follows a young girl on a journey of self-acceptance. Sulwe is born with skin that's darker than her family and her classmates and, though she tries fervently, it won't lighten up. One night, a shooting star comes to take her on a magical adventure that deftly weaves in a tale about Night and Day as two sisters. They're treated differently because of their varying colors, but both are ultimately needed "to make the world we know, light and dark, strong and beautiful." Inspired by the heartwarming story, Sulwe wakes up the next morning with a fresh outlook on what it means to be beautiful. This is a longer book that may require the patience of older toddlers, but one with an important message for kids of all ages.
5.
The Little Blue Planet Children's Book 
Our kids are growing up in a time full of unprecedented climate events. To help the next generation better understand our "little blue planet," Avocado wrote a children's book that shows them what we all can do to protect and respect it. The powerful story is beautifully illustrated using soy ink on chlorine-free paper made from post-consumer waste, and all profits are donated to vetted nonprofits through Avocado's commitment to 1% for the Planet®.
6.
Llama Llama Gram and Grandpa
It's hard to go wrong with any of Anna Dewdney's Llama Llama books, but this one in particular has a helpful bedtime-adjacent lesson. Llama Llama forgets his cherished doll, Fuzzy, for his sleepover at Gram and Grandpa's house, but he hides his disappointment and homesickness as the trio spends the evening together. When it finally comes time to get tucked in, he can no longer hold in his feelings. Luckily, Gram and Grandpa have just the thing to make things all better.
Read more: Our Favorite Non-Toxic Nursery Essentials
7.
If Animals Kissed Good Night 
As its title suggests, this sweet read from bestselling writer Ann Whitford Paul imagines what it'd be like if members of the animal kingdom also gave each other good night kisses. The bedtime ritual differs slightly from creature to creature and plays up their unique features — peacocks spin and dance while pythons twirl and twist — but the warm, loving connection between parent and child remains the same. The pastel-colored illustrations are muted and calming and the rhyming verses filled with alliteration ("whiskery swishes" and "scritch-scratchy kisses") are a delight to read out loud.
8.
Love Makes a Family
This colorful board book follows families in a series of activities that are so simple, yet can feel so meaningful: baking a cake, splashing in puddles, "reading one more book," and so on. Each page begins with the phrase "Love is…" and shows that no matter what the makeup of your family is — be it two dads or a single mom —  the most important thing is the care and respect we show each other.
9.
5 More Sleeps 'Til Christmas
Though technically a holiday book, this lively read from The Tonight Show host Jimmy Fallon captures the excitement of not being able to fall asleep before a big event. Of course, the occasion in this case is Christmas and the one tossing and turning is a little boy who's eagerly counting down the days until Santa visits. Rhyming verses and vibrant illustrations follow the glasses-clad youngster as he stays up late anticipating the arrival of Old Saint Nick.
10.
 While We Wait
Waiting is hard for children, especially when they have no idea exactly how long the wait will be. A little boy's patience is tested as he spends the day with his grandma, passing the time by knitting and chatting. But because he is, after all, just a kid, he also gets tangled up in yarn and impatiently tosses himself to the floor until finally, we learn who he's been waiting for: mom, dad, plus a special new arrival. The mostly black and white illustrations with soft pops of color are perfect for bedtime, while the text — flowing and filled with purposeful repetition — will especially resonate with families who have a sibling on the way.
11.
The Boy With the Big, Big Feelings
If your toddler is grappling with big feelings, then this wonderful book will no doubt resonate. It depicts the varying triggers, like loud noises and block structures gone awry, that spark emotional reactions from a small boy. Like our little ones, he's still learning how to process these moments and tries to hide them. But after meeting other kids who also have big feelings, he welcomes those emotions and uses them to build connections with others.
Read more: How to Practice Sustainability as a New Parent
Have feedback on our story? Email [email protected] to let us know what you think!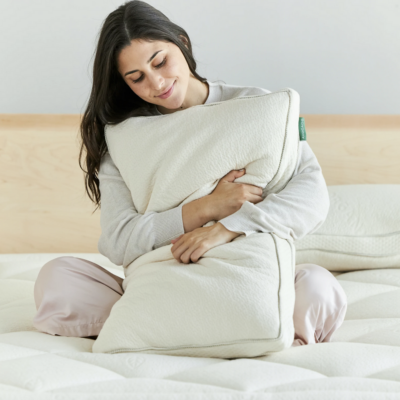 Shop Pillows
The Essential Organic Pillow Collection
Gentle, breathable, non-toxic support.
Buy Now