From sustainable diapers and organic clothing to chemical-free crib mattresses and sheets, here's everything you need to create a safe, healthy, non-toxic nursery.
Expecting parents spend a lot of time making sure their soon-to-arrive little ones will be safe. In the months and weeks leading up to their due dates, parents look into everything from approved sleep practices to the best baby-proofing materials for their nursery and home. Another important thing to consider? The everyday products that your baby will be using, like a mattress, diapers, and clothes.
Choosing non-toxic, organic essentials is critical to keeping kids safe and healthy during their newborn days and beyond. Luckily, there are a handful of brands that specialize in eco-friendly, better-for-baby gear that will bring you peace of mind.
From sustainably-made onesies to a crib that'll help your mini (and you!) rest easy, here are the brands we trust to create a non-toxic nursery. 
Read more: How to Design an Eco-Friendly Kids Room
1.
Coterie
Quality, sustainable diapers aren't just important for babies, they also have a lower impact on the Earth. Enter: diaper brand Coterie. Their diapers use 25 percent plant-based materials from responsibly managed forests — and the result is a highly absorbent, eco-friendly product that minimizes leaks, blowouts, and rashes. Coterie diapers are also super soft and free of toxic synthetic fragrances, VOCs, phthalates, and parabens, so they're gentle on tots and the environment.
2.
Mustela
This Certified B Corp has cared for babies' and expecting moms' skin since 1950. Mustela uses natural ingredients for its moisturizers, cleansers, creams, and oils, and sources them from ethical, sustainable farms. Whether you're looking for a balm for your eczema-prone newborn or an effective stretch mark cream, you can rest assured that Mustel's products are scientifically proven and safe. Their two star ingredients? Sunflower oil derived from organic plants in France and Avocado Perseose®, a skin barrier strengthening ingredient that they make utilizing avocados that would otherwise go to waste.
Read more: Why the B Corp Business Model Matters
3.
AirDoctor
Indoor air quality is an evergreen concern, but it's especially important when you have a growing child. AirDoctor's purifiers have an UltraHEPA® filter that removes airborne particles using a three-stage filtration process that's 100 times more effective than a typical air purifier. And their quiet performance is a big draw for parents — there's nothing worse than a sudden noise waking up the baby you just got down for a nap.
4.
Pehr
At the rate newborns grow out of their clothes, it may be tempting to shop as inexpensively as possible. But fast fashion is detrimental to our planet and to workers — it's also typically made from poor-quality, plastic-infused materials that can be toxic to your little ones' health. Babies have especially sensitive skin, and what you put on it matters. That's why Pehr created organic clothing and nursery essentials like blankets and swaddles that are safe for your baby and the planet. Not only do they use certified organic cotton and partner with ethical manufacturers for their products, the designs are incredibly cute.
5.
Babyletto
For stylish and sustainable nursery furniture, look no further than Babyletto. The L.A.-based maker has an extensive collection of modern cribs, dressers, and chairs that are non-toxic and built to resist everyday wear and tear. Its products are also GREENGUARD Gold Certified and its chairs utilize Repreve® polyester yarn that's made from recycled plastic bottles. The company also partners with trusted organizations to offset 100 percent of its carbon footprint from shipping.
6.
Snuggle Me®
Snuggle Me's name alone conjures up images of an infant sleeping the day away peacefully and the high-quality construction of its sensory lounger brings parents a sense of calm. Their signature product — an infant and toddler lounger — is designed to closely hug your baby's body, recreating the sense of being held so they drift off in seconds. Even better, their lounger is covered in a gentle fabric that's breathable, non-toxic, hypoallergenic, and organic.
Use the code "SMOLOVESAVO" for 15% off your first purchase at Snuggle Me. (Code expires 10/31/22 at 11:50pm CST, not valid during sales and can not be combined with other discounts)
7.
Avocado
An eco-friendly crib requires eco-friendly accessories. Once you've settled on a crib, pair it with a MADE SAFE® certified mattress, mattress protector, and sheets — all made with 100 percent GOTS certified organic materials. Our crib and kids mattresses are free of toxic, off-gassing chemicals, harmful flame retardants, fiberglass, or polyurethane foams, so all you have to worry about is ensuring your little one gets a good night's sleep. Cover the mattress with our 100 percent certified organic cotton mattress protector (a waterproof version has a thin layer of waterproof polyurethane), and round out your baby's bed with our certified organic, lightweight, and breathable crib sheets stitched from a super soft, 400 thread count weave.
It's never too early to start teaching kids about sustainability. Avocado's original children's book, The Little Blue Planet educates and inspires young readers about climate change so they can make smart choices to protect the planet. The beautiful illustrations help tell an important story — that we need to take care of our little blue planet "because we only have one home."
AVOCADO
Eco Organic Crib Mattress
299.00
Shop
*Use all products as directed for safety purposes.
Read more: Why The 'Made Safe' Logo Matters
Have feedback on our story? Email [email protected] to let us know what you think!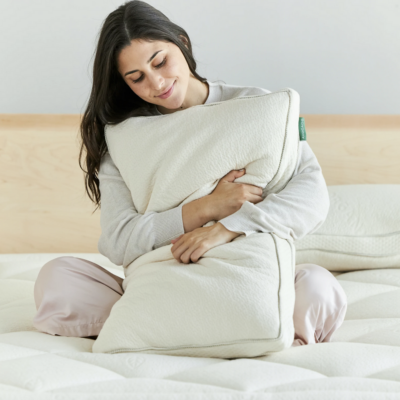 Shop Pillows
The Essential Organic Pillow Collection
Gentle, breathable, non-toxic support.
Buy Now