We've got the perfect gift for everyone this holiday season.
We all have that person in our lives — the expert gift giver. No matter the occasion, this person shows up with a thoughtful present that out-does the rest. This year, you're taking the title.
Spark joy with gifts your loved ones will know you picked out just for them. We have something special for everyone on your list in our 2023 Holiday Gift Guide, which features luxurious, certified organic materials, quality craftsmanship, and an attention to detail that's hard to find.
Read more: 6 No-Waste Ways to Wrap a Gift   
1.
Cozy & Bright Bedroom Essentials 
Suvin Sheets, PJ Set, Luxury Throw Blanket, Cotton Gauze Blanket + Shams
For the person whose bedroom is their sanctuary, help them get to peak cozy with our extraordinary Organic Superfine Suvin Cotton Sheets. Crafted with GOTS-certified organic Indian Suvin Cotton, one of the world's rarest extra-long-staple cotton varieties, they're available in a wondrously soft 1,000 thread count per inch, plus a deep pocket version.
Layer in warmth and sophistication with our all-season Organic Cotton Gauze Blanket and matching Cotton Gauze Shams. And don't forget our limited edition throw crafted from merino wool, cashmere, organic cotton, or recycled cotton. Want to really win the holiday? Our silky, low-impact Modal Pajama Sets are so soft they'll want to live in them.
2.
Decorative & Decadent 
Throw Pillow Insert + Covers, Zero Waste Vases, Zero Waste Side Table 
Take their already stunning living spaces to the next level with our Organic Throw Pillow Inserts  and our elegant Throw Pillow Covers, handcrafted with renewable, unbelievably soft, ethically sourced alpaca fiber. Together, they add timeless style to any room, along with support for the lower back, spine, and neck.
But don't stop with the pillows. Complete the look with our Zero Waste Accent Table and Zero Waste Wood Vases, two beautiful statement pieces that are modern, eco-conscious, and crafted from upcycled wood offcuts from our Los Angeles facility.
Read more: A Behind-The-Scenes Look at Our Zero Waste Furniture Collection
3.
Fa La La La Luxury
Silk Pillowcases, Luxury Organic Pillows, Silk Duvet Insert, Alpaca Throw
If you're searching for a few gifts that scream opulence, we've got you covered. Start with our Luxury Organic Plush Pillow, a tension-relieving, medium-soft pillow featuring a molded Talalay latex core surrounded by wool silk mohair and a breathable GOTS-certified organic cotton cover. Pair the pillow with our luxurious Silk Pillowcase that we stitch with pure, 22-Momme Mulberry silk — one of the finest silks in the world. (A little secret: the renewable silk fabric helps prevent wrinkles and bed head and keeps your skin and hair soft and moisturized.)
Go ahead and spring for our Silk Duvet Insert and Alpaca Wool Throw, too. Deluxe and decadent — and known for exceptional comfort and temperature-regulating properties — these pieces will keep your loved one cool in the summer and warm in the winter. Talk about the dream!
4.
Soaking Up the Holidays 
Terrycloth Robe, Towel Set, Bath Soak, Body Oil, Wooden Bath Mat 
Get them everything they need to create a tranquil oasis and carve out some well-deserved 'me-time.' Transform their bathroom into a spa with our Wooden Bath Mat and weighty, ribbed GOTS-certified Organic Cotton Bath Towels. Add in our stress-releasing aromatherapeutic Snoozy Bath Soak with Magnesium Flakes and sensual Grounding Dry Body Oil for good measure. And for the finishing touch, snag our Organic French Terry Robe, an ultra-plush indulgence so divine you'll end up buying a second one for yourself.
5.
Jolly Kids & Babies
Toddler Pillow, Toddler Pillow Protector, Mini Pillow Case, Little Blue Planet
Make bedtime a breeze for the parents you know and love. Our Organic Toddler Pillow is the perfect first pillow, and will fast become the evening essential little ones can't live without. Parents also love it for its safe, renewable materials. We fill the ultra-soft pillow with GOLS-certified organic latex and GOTS-certified organic kapok fiber and cover it in a gentle GOTS-certified organic cotton cover. Not only that, it meets MADE SAFE® standards and has earned the Good Housekeeping Institute seal.
And make sure you grab our Organic Waterproof Toddler Pillow Protector, to keep the pillow clean and stain-free, and our breathable Organic Mini Pillowcase that's cool to the touch and will help them sleep through the night.
Of course, no evening routine is complete without a bedtime story — and we've got just the thing. The Little Blue Planet children's book is an Avocado original we lovingly wrote to educate and inspire young readers about climate change. We'll donate all profits to 1% for the Planet.
6.
Wellness Wonderland
Organic Yoga Collection, Yoga Mat 
Gift your friends and family a moment of zen with our GOTS-certified organic Yoga Collection. Yoga newbies will fall in love with the basics, like our round Organic Yoga Meditation Pillow and GOTS-certified, textured Organic Yoga Mat. It's machine-washable, perfect for hot and restorative yoga, and available in six dreamy colors.
For the experienced yogis in your life, treat them to the entire set, including our Organic Pranayama Yoga Pillow and Organic Yoga Bolster Pillow. Like all of our yoga pillows, they're generously stuffed with vegan buckwheat hulls for balanced support and comfort.
Read more: The Best Natural Yoga Pillows For Every Yogi
 Have feedback on our story? Email [email protected] to let us know what you think!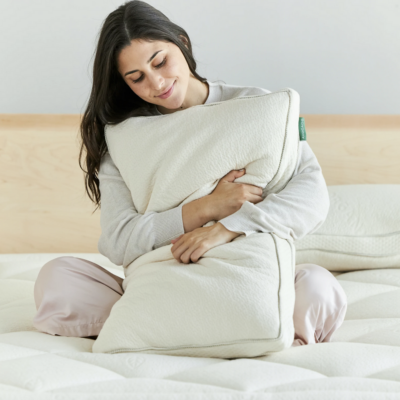 Shop Pillows
The Essential Organic Pillow Collection
Gentle, breathable, non-toxic support.
Buy Now