This year, you won't need a trash bag for wrapping paper scraps.
The holidays are here, and whether you're trimming a Christmas tree or lighting a menorah, you likely have some presents to wrap. While a perfectly wrapped gift is always a welcome sight, there's a dark side to all that gift-giving.
The U.S. produces approximately 4.6 million pounds of wrapping paper per year. And about 2.3 million pounds of it? Well, it ends up in landfills where the design-laden paper emits greenhouse gasses that cause climate change. Glittery varieties are the most harmful. Glitter is actually made of tiny pieces of plastic. Once glitter-adorned paper hits the garbage, those bits eventually make their way into our environment and our oceans where they harm marine life when ingested.
You're probably thinking, but wrapping paper is… paper — it can be recycled. Think again. Shiny varieties, which make up the majority of holiday options, are made with Mylar, a plastic film coated with aluminum. So all that pretty foil-covered gift wrap is a no-go, and the same goes for bags — even paper with tape on it often can't be recycled.
Why not put an end to all that single-use wrapping paper and choose an option that's better for the planet?
Here are five of our favorite ways to wrap a gift without wrapping paper.
Read more: Our 2022 Sustainable Holiday Gift Guide
1.
Fabric or Dish Towel
Giving a kitchen or cooking-related gift? Wrap it up in a lovely linen dish or hand towel. Even if your gift isn't meant for the kitchen, choosing a large fabric scrap or even a vintage scarf that can be reused is a fun and unexpected way to wrap a present. Plus, it doubles as a present itself.
2.
Beeswax Wrap or Stasher Bags
If you plan on attending a cookie swap this year, or just like to gift your loved ones something sweet, ditch the plastic container and wrap your edible holiday presents in reusable Beeswax Wrap instead. Not only will you keep plastic out of the equation, your fellow cookie-lovers can keep it to store food items in the future. Another great idea: Pick up a pack of Stasher bags and fill them with holiday treats — a simple piece of twine with a homemade gift tag will make the final presentation more festive.
Read more: How to Make Your Own Beeswax Wrap
3.
Holiday Cookie Tin
Speaking of cookies, chances are you have at least a few holiday tins from cookie swaps of years past. Use them for smaller gifts like commemorative ornaments, mini candles, coasters, and more. Thanks to cheery designs on the tins, your present will be a standout — no wrapping required. And if you need to add some cushion to protect the treasures inside, add some brown paper.
4.
Reusable Tote Bag
Don't underestimate the power of a reusable tote bag. Filled with colorful tissue paper — make sure it's recyclable first — a reusable bag is always handy and you'd be hard-pressed to find someone who'd turn away a tote bag with a fun design. Consider a tote bag from your city, a favorite bookstore or coffee shop, or from a cause your giftee cares about to make it even more personal.
5.
Reusable Jars
Weck jars and Ball jars are another great way to present edible holiday gifts. Pack them with homemade recipes like hot chocolate with marshmallows, sugar cookies, or stovetop potpourri. Reusable jars not only make for a pretty wrapping idea, they act as storage containers after the recipe has been made.
6.
Newspaper or Brown Paper
While not technically no-waste options, newspaper and brown craft paper are both recyclable and compostable, so we're going to let them slide. However, if you use tape, be sure to remove it before throwing it in your compost or recycling bin. Or, forego tape altogether and use twine to secure your paper in place. Once your gift is wrapped, forage for some fresh spruce or pine cones to add a nature-inspired touch.
Read more: 8 Ways to Make The Holidays More Sustainable
Have feedback on our story? Email [email protected] to let us know what you think!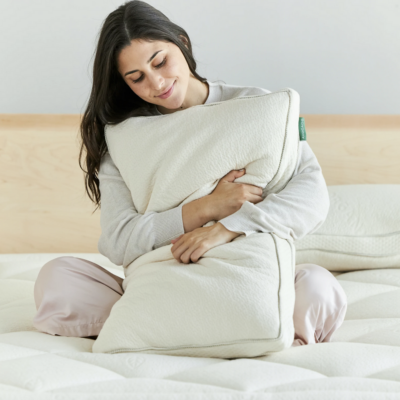 Shop Pillows
The Essential Organic Pillow Collection
Gentle, breathable, non-toxic support.
Buy Now