From shopping to decorating and cooking.
The gift of giving often turns in to the gift of waste. Consumers expect to spend an average of about $1,000 on gifts and decorations this year. And during the pandemic, shoppers will shift their attention to online purchases even more than before, which amounts to more carbon emissions from shipping items around the world and more waste.
By following the principles of conscious consumerism, we can all help reduce waste and emissions. The best thing we can all do is shop locally whenever possible, which reduces the environmental costs of transportation and packaging, while supporting jobs and health in your community. If you do have to order something online, look for brands with third-party certifications that validate their positive impact, like B Corp, Climate Neutral, or 1% For the Planet. Here are some other tips to keep in mind this holiday.
#1 — Don't Buy Wrapping Paper
In the U.S., we spend $13 billion a year on gift wrapping, which is typically ripped open and immediately thrown away — creating an enormous amount of single-use waste. This year, try making your own wrapping paper that costs zero dollars by using newspaper, paper bags, or recycled cardboard boxes.
#2 — Give Someone A Coral Reef For Christmas
For $35 dollars, you can adopt a coral reef for someone and contribute to the protection of these vulnerable ecosystems. Your donation, which you can make in the recipients name, will help restore endangered coral reefs that are essential habitats for marine life.
#3 — Buy Pencils That Turn Into Plants
While you may remember receiving gel pens, colorful pens, or even fancy types of writing implements, these all have environmental impacts. Facilities that produce these types of materials that you use in everyday writing create pollution and waste. With Plantable pencils from Sprout, you are investing in sustainable certified wood that is 100% natural and non-toxic. Best of all, you can literally plant the pencil when you're done with it. Grow basil, thyme, or chia from your biodegradable, life-producing pencil.
#4 — Make a Fruit Garland
Decorations create the mood in your home during the holidays. While most garlands are made out of plastic, you can easily make a garland out of fruit! Pick any bright colored fruits that you have in your home, such as apples, pears, oranges, or grapefruit, for a waste-free, sustainable holiday decoration.
#5 — The Gift Of Life
Give someone a plant for the holidays. House plants reduce stress levels and indoor pollutants while improving concentration and productivity.
#6 — Plastic-Free Packaging
Looking for a business that is delivering sustainable products while making sure packaging is completely zero-waste? Package Free Shop offers a variety of sustainable products that are wrapped in 100% recycled paper and 100% compostable or recycled packaging. They offer zero-waste starter kits for those starting their sustainable journey.
#7 — Make Your Cards
Some of the best gifts you've probably received were handwritten cards, because they're personal and meaningful. Step up your game by writing a poem or a song. Be sure to buy cards from local artists or create your own cards out of butcher paper. Still stuck? Check out Botanical Paper Works.
#8 — The Gift Of Our Existence
The greatest gift for holidays is love for yourself and others. The bonds you create with those who exist today is what gives us the most meaning in our lives. Most of our loved ones would want nothing more than to spend time with you, because our time is precious and the most special gift of all.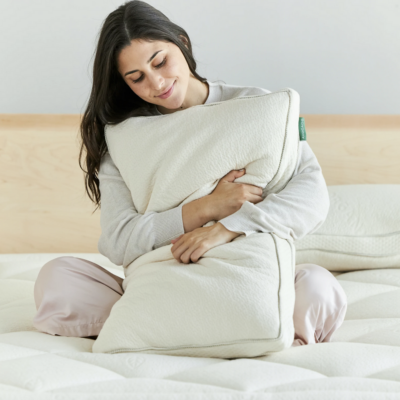 Shop Pillows
The Essential Organic Pillow Collection
Gentle, breathable, non-toxic support.
Buy Now