The best natural yoga pillows come in all shapes and sizes. Here's how to determine which yoga pillow is right for you.
Yoga is a unique exercise. It forces us to slow down, focus our breath, and turn our attention inward. And if you've ever taken a class, you know there's a certain mind-body magic that happens somewhere between your first pose and savasana.
That feeling is part of the reason yoga has appealed to cultures throughout the ages and remains popular today. Yoga has been practiced for more than 5,000 years in Northern India, but it wasn't introduced to the West until the 1970s. In the years since, yoga has evolved, becoming the modern practice we're familiar with — and a booming $27 billion industry that touts 20 million yogis.
No matter if you're an advanced yogi or a newbie, having the right tools is essential. A yoga mat, blocks, and pillows support healthy spine alignment, enable you to move deeper into a pose, and keep your risk of injury to a minimum.
But it can be difficult to determine which accessories are right for you. Whether you prefer vinyasa, hatha, restorative, Iyengar, or daily meditation, here are the best yoga pillows for your individual practice.
Read more: Our Favorite Online Yoga Classes
Materials
The first thing to consider when choosing a yoga pillow is its materials.
Yoga accessories — pillows, in particular — are often made with fossil fuel-derived materials like polyester and foam fill and microfiber covers, a combination of polyester, nylon, and wood pulp. These materials are harmful for the environment and are associated with skin issues like rashes, itching, redness, and eczema. Plus, polyester is a known carcinogen.
Make sure your pillow is crafted with natural, renewable materials — like GOTS certified organic cotton and vegan buckwheat hull fill — that are healthier for you and the planet.
Choosing a Pillow
Yoga pillows are available in all sorts of shapes, sizes, and heights. The style of yoga you're into will help determine which type of pillow is right for you. Here's a breakdown.
1.
Organic Yoga Meditation Pillow 
The oval meditation pillow slightly elevates the hips off the floor to relieve lower back pressure, promote proper posture, and provide critical spine support during extended periods of sitting. It can also be used as a prop for the head and neck during downward dog or wide-leg forward fold. This style of pillow is best for mindfulness meditation, yoga nidra, and vinyasa yoga.
Read more: Yoga Nidra: What is Sleep Yoga?
2.
Organic Square Meditation Yoga Pillow
Designed with a wide base and low center of gravity, the square meditation yoga pillow delivers essential spine and hip support when sitting. Stack it on top of the oval pillow for added height and comfort. Or, use the square pillow to cushion your knee during lunges, kneeling quad stretches, headstands, and hero pose on your back. Perfect for yin and hatha yoga.
3.
Organic Yoga Bolster
The bolster provides an extra buffer between you and the floor, taking pressure off the lower back for deeper relaxation. The rectangular shape also helps relieve unnecessary strain on the hip flexors, knees, shoulders, or stomach during seated meditation, child's pose, spine twists, and legs on the wall. Yoga bolsters are ideal for restorative and prenatal yoga.
Read more: A Bedtime Yoga Routine
4.
Organic Pranayama Yoga Pillow 
The Pranayama pillow's narrow construction and lower loft support the length of the spine and body, allowing you to breathe deeper and hold poses longer without straining or overstretching. You can also use it to prop up your middle back during a simple supine pose and reclining bound angle pose or to reduce pressure on the knees when stretching the front of the thighs. Pranayama pillows are perfect for restorative and Iyengar yoga.
Need something to store your yoga pillows in? This Natural Canvas Storage Bag was made for them. It'll keep your pillows clean and fresh between uses and out of the way until you're ready for your next practice.
Avocado
Organic Yoga Meditation Collection
79.00
Shop
Read more: 3 Step DIY Yoga Mat Spray
Have feedback on our story? Email [email protected] to let us know what you think!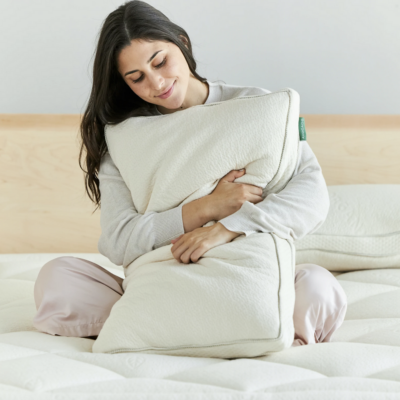 Shop Pillows
The Essential Organic Pillow Collection
Gentle, breathable, non-toxic support.
Buy Now