A love letter to the delicious, versatile fruit. Yes, it's a fruit.
Welcome to our series of odes. Consider them love letters. Dedications to the divine. Because we could all afford to step back and be grateful for the things we appreciate most on this planet. Want more? Here's an ode to yurts.
I was having lunch with my mom at one of our favorite Chinese restaurants in my childhood hometown. The food had barely hit the table and I was already savoring a mouthful of my favorite dish: eggplant in garlic sauce.
No matter how many times I've eaten this crave-worthy creation, I find myself closing my eyes, dramatically dropping my shoulders, and saying some variation of "It just melts. In. Your. Mouth!" Don't get me wrong, the garlic sauce alone is worth writing home about, but for me, all the applause goes to the eggplant.
My mom just laughed and shook her head. I, on the other hand, jumped into a rant about why I'm wholeheartedly addicted (obsessed even?) with the delicious, dark-hued fruit.
Hear me out.
Read more: How to Shop For Local Produce In Winter
Eggplant Speaks Many Languages
It's hard to think of a food that so seamlessly fits into such a large range of cuisines. From Chinese, to Turkish, to Italian, and Indian cooking, you won't have to look hard to find a dish that has eggplant as the star of the show. Need some convincing? Check out this roundup of eggplant dishes.
It's a Meaty Meat Alternative
My husband and I both eat meat, but we're trying to do our part for the planet and eat less of it. Eggplant serves as one of our go-to alternatives that leaves us incredibly satisfied — and let's be honest, thinking about it long after our meal is over.
And because you can easily manipulate the flavor and texture of eggplant to mimic some animal-based proteins, it's a great substitute for those that miss meat or want to add a tasty vegetarian meal to their weekly rotation.
A few ideas to get your mouth watering: eggplant sloppy joes, eggplant bolognese, and grilled eggplant burgers. Did I mention eggplant bacon is a thing?
Read more: 8 Plant-Based Meats We Love
Melty, Crunchy Goodness
For me, eggplant's texture is its most unique quality. Its spongy consistency allows it to masterfully absorb all the flavors that get added to it. Yet the finished product can be velvety soft and juicy, crunchy with just the right amount of crisp, or dense and meaty. Not to mention the magic that happens when you purée it into a deliciously creamy, smoky baba ganoush!
There's no denying eggplant's versatility puts it in a league of its own. And from a health perspective, it has a lot going for it, too. The purple fruit is nutrient-rich, contains fiber, vitamins, and minerals, and is also high in antioxidants and super low in calories. What more could you ask for?
I rest my case.
Read more: How to Practice Zero-Waste Cooking
Have feedback on our story? Email [email protected] to let us know what you think!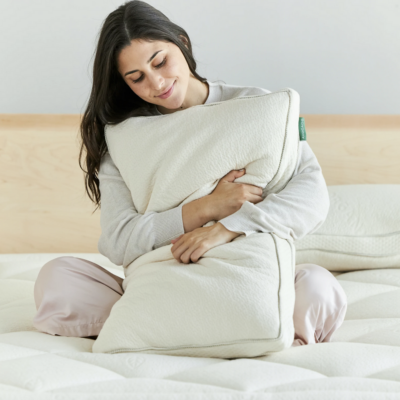 Shop Pillows
The Essential Organic Pillow Collection
Gentle, breathable, non-toxic support.
Buy Now