Elegant and affordable, yurts might just be the perfect structure for simple, sustainable living.
It was dusk on a late, clear summer evening when we found our yurt for the weekend. My wife and I and our two dogs had hiked among New Mexico's Sangre de Cristo mountains to nearly 11,000 feet. Beyond a large grass meadow, tucked away in a copse of pines among the tallest mountains in the region, sat the circular white bulge.
I had been inside several yurts before — in Oregon's Willamette Valley, among Idaho's Sawtooth Mountains, and in Colorado's southern Rockies — but as I walked inside, the simplicity and beauty of the place still thrilled me. It'd be our stage for hikes up to the 13,000 foot peaks surrounding us, reading on the deck, fires in the wood stove, and sips of bourbon over many, many overly competitive games of Yahtzee. What more could one ask for?
There's really nothing new about yurts, a name that stems from a Turkish word for "homeland." Central Asian nomads used them more than 3,000 years ago. Not much has changed in the design since.
That's because they're architecturally perfect. An expanding, accordion lattice wall is covered in felt or fabric and kept in place by the weight of the tension band whose force opposes it. Modern versions have a domed skylight and windows. They typically cost about $10,000 for a kit, depending on the size, which can range from 12 feet to 30 feet in diameter.
I'll always remember my first yurt, which, at the time, was a completely foreign thing to me. I was in high school. My yearbook and English teacher, a glorious, inspirational, wise man we called D-Don, invited me and some friends out to his property. He gave us a tour and took us to the special place where he reads and writes. I feel like I can still remember the smell — so much fir. A wood stove pumped warmth. The light was golden, spreading across the wood floors. A futon held thick blankets, and a desk awaited in the corner. I remember thinking it was magical — all I would ever need to do the things I love most.
I still think about that sometimes. That maybe life, or at least retirement, will someday be a simple, small yurt built on a piece of land in the mountains. Hopefully it wouldn't be too different from D-Don's, or the one my wife and I rented in New Mexico. Like those, it would have plenty of space, a nearby creek to collect water, an enormous pile of timber to toss in the wood stove, a great deck with inspirational views, a cozy bed.
After dinner on our last evening at our New Mexico yurt, we sat on the deck and watched a fierce thunderstorm roll in, and then dissipate. That night, the stars erupted in the clear sky. It felt like we could see everything.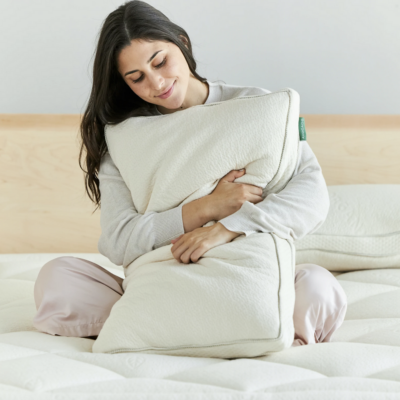 Shop Pillows
The Essential Organic Pillow Collection
Gentle, breathable, non-toxic support.
Buy Now