2018 was an exciting year as we ramped up our giving program through our 1% for the Planet membership. As a responsible and activist company, this means we donate 1% of all corporate revenues to vetted environmental nonprofits to help save our planet.
Through company-wide voting, we selected a new nonprofit partner each month — and the results truly speak for themselves. Thank you for joining us in supporting some really, really awesome people and programs. Before we launch into 2019, we wanted to take a quick moment to share some of the incredible feats we accomplished together in 2018.

#1 — Funded an entire Kula Women's Center in Rwanda
In October, we partnered with Kula Project. Kula Project was founded on the belief that poverty was not a lack money but a lack of opportunity, and if organizations could invest in the ideas and businesses of people living in poverty, together, they could change the future. We are so proud to support their work to help eradicate poverty in Rwanda through the development of entrepreneurs — and are humbled that together we helped fund an entire Kula Women's Center.
#2 — Planted 48,250 trees with the Arbor Day Foundation
In April, in honor of Arbor Day, we selected the Arbor Day Foundation as our partner. They are on a mission to inspire people to plant, nurture, and celebrate trees. Trees clean air and water, slow climate change, ease poverty and hunger, prevent species loss, and feed the human soul. All we need to do is plant and care for them. We support their work to make this happen around the world. As a result of our donation, Arbor Day planted 48,250 trees! We also shared how taking a Forest Bath might help you reduce stress.
#3 — Launched a Recycling and Education Program in Haiti with the Social Plastic Foundation
With over eight trillion pounds of plastic already on the planet, we fully support the work of the Social Plastic Foundation in advocating for its reuse. We chose them as our March giving partner and shared three ways you can help end ocean plastic. Through their programs, more corporations will use recycled plastic to improve the lives of those in need while preventing plastic waste from entering our oceans. Our donation helped launch a recycling program in Haiti and offer recycling education to children.
#4 — Restored 100 acres of Bee Habitat with Bee Girl
The Bee Girl Organization is a nonprofit on a mission to educate and inspire communities to conserve bees, their flowers and our food systems. They achieve this through regenerative beekeeping, bee habitat research, education, and kids programs. We voted to choose Bee Girl as our May partner and shared five things you can do to support bees. As a result of our donation, Bee Girl restored 100 acres of highly degraded pastureland into lush fields to provide habitat for bees, regenerate soil, conserve water and sequester carbon.
#5 — Rescued 220,000 lbs of food for New Yorkers in Need with City Harvest
More than 46 million people—including 13 million children—in the United States don't know where their next meal is coming from. For this reason, we partnered with City Harvest in September for Hunger Action Month and shared what you can do to help. As a result of our donation, City Harvest rescued 220,000 lbs of food that would otherwise go to waste; instead, it was delivered it to our neighbors in need across New York City.
#6 — Repaired trails damaged by the Thomas Fire with the Ojai Valley Land Conservancy
The Ojai Valley Land Conservancy (OVLC) is a community-based non-profit organization working with partners to permanently protect the open space, natural scenic beauty, wildlife, habitat, and watershed of the Ojai Valley for current and future generations. The Ojai Valley Land Conservancy used our January donation to implement much-needed sustainable trail maintenance as a result of the Thomas Fire. We also shared why you should support your local land trust.
Who should we select as our giving partner next? Tag us on social media with @AvocadoMattress or #AvocadoGreenMagazine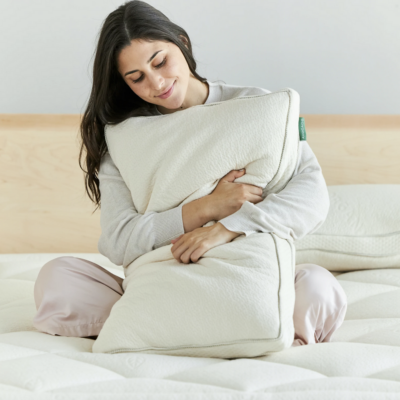 Shop Pillows
The Essential Organic Pillow Collection
Gentle, breathable, non-toxic support.
Buy Now