As political figures and private interests threaten America's natural wonders and resources, more and more people are asking — what can we do to stop it? Are we powerless against the might of industry and government?
The answer is no, and the solution might surprise you.
Despite the existence of organizations like the Bureau of Land Management and U.S. Environmental Protection Agency, unethical companies and politicians continue to push the bounds of what lands can handle, threatening the ecology and beauty of so much pristine acreage.
Land trusts have been taking a stand against these forces for years, largely unbeknownst to the public. As the threat grows larger, the need becomes clearer — land trusts could hold the key to giving the people back the power of protecting their lands, by sealing them off from both private and government hands forever.
What Is a Land Trust?
A land trust isn't controlled by the government — it's a privately owned nonprofit organization that actively purchases land and works with landowners to preserve and protect it.
Every land trust operates a little differently, and that's the beauty of it. There isn't a federal umbrella for land stewardship, so each one looks after the land in the way that makes sense for its own region and ecology. Those entrusted with the care of the land are those who are familiar with the unique topography of the region, and can make educated and informed choices at the smaller scale to see to it that decisions are always made in the best interests of the land.
Land trusts give the power back to the people who love the land most, with 100% voluntary programs that even landowners can participate in.
Each trust will vary in its goals, practices, and objectives. Some place a strong emphasis on conservation, others public access. Many are staffed entirely by volunteers and funded by private donations.
Where Do Private Property Owners Fit In?
So how does a private nonprofit organization work with private landowners to protect land? It turns out it can vary, and each situation is dependent on the land trust's objectives, the interests of the landowner, and the type of land being protected.
Here are just a few ways private landowners cooperate with land trusts to protect land:
Allowing public access for hiking and outdoor recreation
Agreeing to certain standards of stewardship on preserved lands, such as limiting the use of pesticides
Placing covenants on the land to protect it after the owner sells it
Why Land Trusts Are Amazing
As private enterprises and government partners in new ways to acquire land for development, land trusts, in many cases, are the only things standing in their way. When Washington doesn't listen and industry takes precedence over ecology, land trusts keep precious places out of the wrong hands.
These trusts protect a staggering amount of land throughout the United States, all on the strength and efforts of individual donations and volunteers who are passionate about protecting what matters most.
In California alone, nearly 5 million acres are protected by just 93 Land Trust Alliance members.
Land Trusts In Your Area
The Land Trust Alliance is an organization charged with the task of essentially accrediting land trusts to ensure their legitimacy. This organization is responsible for ensuring that those in charge of the land are doing their due diligence and maintaining the standards necessary to do good.
To find a land trust accredited by this organization in your area, use their handy interactive map, which lists current land trusts in every state, along with how much collective acreage they're protecting.
When Fires Rage: Meet the Ojai Valley Land Conservancy
This month, we met with our January Giving Partner, the Ojai Valley Land Conservancy in wildfire-torn California, who has been fighting the good fight for land protection for years.

The Ojai Valley Land Conservancy has had their hands full recently, in light of the Thomas Fire, which raged this summer and has only just recently subsided. Amid a scene that looked like it was straight out of Armageddon, this land trust is now working tirelessly with its staff and volunteers to get the trails reopened, and implement strategies to help the land recover.
"Fire is a natural part of the process out here, but with the late rains, we now have to worry about landslides. If they come too hard and too fast, it'll be devastating,"

—Tania Parker, Director of Advancement at OVLC"
The OVLC's primary goal, with much of the surrounding areas being off-limits due to private development, is to preserve public access to the breathtaking views in this scenic valley. Together with private landowners, their passionate crew works to negotiate access to private lands, as well as conserve and maintain trails for all to use and enjoy.

As part of the recovery process for the devastation of the 2017 wildfires, the OVLC is trying to control erosion, with a campaign they're calling 'Weed, don't seed'. The idea is that rather than introducing non-native species with shallow roots to control erosion, volunteers can instead help to prevent the spread of these plants so that native, deep-rooted plants can secure hillsides from mudslides.
The OVLC believes that nature knows best, and while the organization applauds those wishing to do something — anything — to restore the land, sometimes it's best to just get out of Mother Nature's way.
As they prepare to repair the incredible damage caused by these fires, the OVLC is ever-thankful for their numerous volunteers, who have made their efforts possible over the years.
Help Us Support OVLC
If you'd like to learn more about how you can help the Ojai Valley Land Conservancy, there are three important ways the organization is gathering reinforcements.
#1 — Volunteer
If you're in the area, contact the OVLC about volunteer opportunities, and get your hands in the dirt with people who love the land as much as you do.
#2 — Donate
You can choose to make a one-time donation or a recurring gift to support the staff and resources necessary for the work ahead.
#3 — Follow OVLC
Follow OVLC on Facebook and Instagram for the latest updates, news, and events.
All images courtesy of Ojai Valley Land Conservancy.
Are you familiar with the land trusts in your area? What have they done for your local lands? Tell us on Facebook or Instagram, and tag us in the post! @AvocadoMattress or #AvocadoGreenMagazine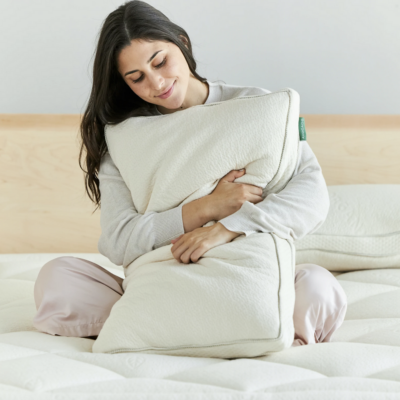 Shop Pillows
The Essential Organic Pillow Collection
Gentle, breathable, non-toxic support.
Buy Now