When you think of hunger in the US, you might not think of it as being a huge problem. In most places there are social programs in place designed to keep people fed and under shelter, for as long as they try to help themselves. It's not perfect, but it's there.
But the truth is, the programs don't cover everyone. In the US, it's estimated that one in six children may not know where they'll get their next meal from — a sobering statistic in the midst of a fast-food addicted, throwaway culture that puts 33 million tons of food in landfills every year.
When It's Healthy Food Or Healthcare
A significant part of the problem is that the median household income isn't keeping up with the rising cost of living. In these cases, it's not destitution that families face, but more often, the choice between medical care and food.
It's a cyclical problem, too. As families struggle to put food on the table and provide medical care for their families, they look to unhealthier, processed foods that cost less to fill in the gaps.
This is where the fallacy comes in, because in this country that appears to be so full of food, millions of people are struggling with diet-related illnesses. Cheap foods become core parts of many low income families' diets, creating a domino effect that create nutritional deficiencies, weakening the immune system, and necessitating healthcare.
And the cycle continues: the choice between food and healthcare becomes all the more apparent. We need to buy cheaper food that will make us sick so we can afford the healthcare required for our diet-related ailments.
It's not a priorities problem. Ask any mother faced with the choice between healthcare and feeding her children and she'll tell you: She needs both. So she compromises on one so she can get the other.
It's not laziness. It's not ignorance. It's not poor choices. It's the struggle to find balance in a culture that is becoming increasingly expensive to thrive in.
Feeding Families: Meet City Harvest
September is National Hunger Action Month, so we decided it was time (again) to partner up with City Harvest to support their important work.
This organization is in the trenches every day, not just feeding families, but reducing food waste, and providing families with food that doesn't just fill their plates, but helps them lead healthier lives.
City Harvest is a food rescue organization that, for the past 35 years, has been rescuing nutritious food that would otherwise go to waste, and delivering to help feed New Yorkers in need. In 2018 alone, they'll rescue 61 million pounds of food and deliver it for free to hundreds of soup kitchens and food pantries across the city.
When the first City Harvest executive director, Helen verDuin Palit started the organization, it was on the heels of her work in local soup kitchens. She watched as these organizations struggled to keep up with the demand, even as she sat down at restaurants that threw away piles of unwanted food every day.
After learning that a local eatery was just throwing away the unused potatoes from a potato skins appetizer she had ordered, she made the connection between food waste problem and hunger in NYC and got to work.
Since its founding, City Harvest has rescued over 700 million pounds of food that would have otherwise gone to waste, and delivered it to those who need it most.
How You Can Help
With almost half of New York City households lacking the means to cover the basic necessities, City Harvest is working hard to make sure all New Yorkers have access to healthy food.
You can help by following along with the Repack to Give Back program, which packs rescued produce and non-perishables into meal boxes. You can also donate to support City Harvest's team for the New York City Marathon. The runners have a goal to raise $135,000 – enough to help feed over 6,100 families in need for a month.
As our September giving partner, City Harvest will also be receiving 1% of all profits from purchases made this month at our online store. Get a non-toxic, eco-luxury mattress and pillows, and put more money in the pocket of this incredible organization.
You can also donate directly to this incredible organization if you're not in the New York City area. Feeding over a million people is no small feat, and it takes a lot of coordination to make all of that magic happen.
Giving is infectious — show us what you're cooking up for someone in need on Facebook or Instagram, and tag us in the post! @AvocadoMattress and @CityHarvestNYC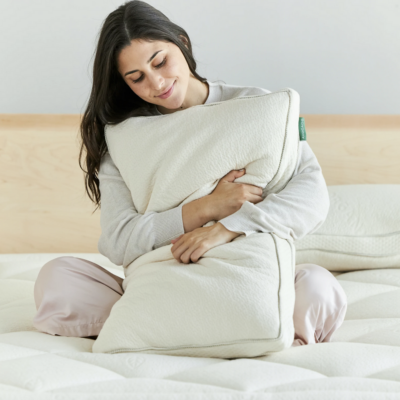 Shop Pillows
The Essential Organic Pillow Collection
Gentle, breathable, non-toxic support.
Buy Now