Today is National Arbor Day, and we're celebrating in a big way with the Arbor Day Foundation.
Part of being sustainable is offsetting the carbon we can't eliminate, cleaning the air we all breathe, and helping our environment out with trees that support strong soil. There are so many benefits that we take for granted of trees, we think it's high time we sang their praises.
"To exist as a nation, to prosper as a state, and to live as a people, we must have trees." —Theodore Roosevelt
Why We're Proud Tree Huggers
Trees do more than just add to the property value. This Arbor Day, we're thanking our deciduous and coniferous friends for providing us with a whole host of benefits — that a lot of us aren't even aware of.
Trees Keep Your House Cooler
It's true — the shade of a tree is a powerful thing, and if you have enough of them around your house, you could see significant energy savings. According to the USDA, just one young healthy tree can cool your home as much as ten giant AC units running 20 hours a day!
In fact, with the right placement, trees planted around your property reduce how often the air conditioning clicks on by as much as 30%, and can even save you 20-50% in heating costs.
Trees Clean Up the Air
We've talked before about how effective household plants are at filtering the air — just imagine the air cleaning might of an entire tree.
Just one acre of forest can absorb up to six tons of carbon dioxide and provide enough oxygen for 18 people! In fact, there are initiatives to offset the carbon footprint of metropolitan areas and major cities with streetside tree planting.
Trees Prevent Erosion and Landslides
Trees' role in the ecosystem goes well beyond their ability to produce oxygen and absorb carbon dioxide. The deep, strong root systems of these behemoths play a critical role in keep hillsides, river, and creek banks strong and preventing excessive erosion.
The roots hold onto soil, where smaller plants can take up residence. That network of roots helps to maintain the formation of hills banks, and prevent landslides during times of turbulent weather and rainy seasons.
This network of roots also helps to prevent rapid runoff, putting rain to better use by giving it time to settle back into the groundwater supply. Despite how much water they consume, trees are actually a critical landscape component of drought prevention.
Trees Reduce Stress
It's an interesting phenomenon that's still being studied, but something about trees is just inherently relaxing. In scientific research, it's been found that just looking at landscapes with trees reduces physical stress signs significantly within five minutes.
In fact, in Japan, a new therapy known as 'forest bathing' is being studied and adopted by many as a cure to the stresses and pressures of the hectic day-to-day. This technique has been found to improve focus and cognition, reduce blood pressure and muscle tension, and even impact blood chemistry!
Putting Down Roots — How You Can Help
For Arbor Day this year, how are you going to ensure the world gets more trees?
One way is to get your hands in the soil and start planting. No matter where you live or how much space you have, chances are there's a species of tree that will thrive somewhere in your community. If you don't have a yard, get involved with local community beautification and garden programs!
If you have some space, here are a few ways to get started planting trees on your property:
#1: Identify your hardiness zone — what can grow where you live?
#2: Make sure your soil is nutrient dense. If it isn't, start giving it some love with natural fertilizers like compost tea, or even working chickens over the space!
#3: Plan the best time to plant your trees.
#4: Order bare-root trees if you can — they're hardier and will adapt well in harsh climates.
#5: Be mindful of first and last frost dates.
The Arbor Day Foundation
If you'd rather leave the planting to someone else, consider making a donation to the Arbor Day Foundation.
Since 1972, the non-profit foundation has been working tirelessly to protect and grow America's canopy. Through programs that rehabilitate and replant damaged forests, green cityscapes, and bring trees to communities after natural disasters, the Arbor Day Foundation has worked for decades to give trees a fighting chance.
How are you celebrating Arbor Day this year? Tell us on Facebook or Instagram, and tag us and The Arbor Day Foundation in the post! @AvocadoMattress and @ArborDay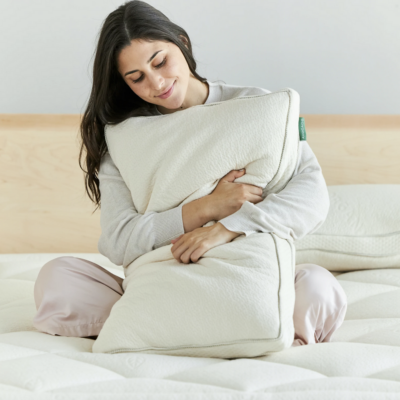 Shop Pillows
The Essential Organic Pillow Collection
Gentle, breathable, non-toxic support.
Buy Now