The news isn't all bad. Here are the most exciting environmental and climate change wins that helped us stay positive in 2022.
In the face of a changing climate — and news of devastating drought, damaging floods, and never-ending wildfires — it's hard to see the bright spots. But there are bright spots. You just have to keep your ear to the ground.
That's exactly what we've been doing since the start of the year. From federal and state governments championing renewable energy and wildlife conservation efforts gaining ground to environmentalists achieving decades-in-the-making victories and Indigenous tribes taking control of their lands, we've rounded up positive climate news worth talking about.
Here are 11 of the most exciting climate change wins in 2022.
Read more: Why Every Degree Matters
1.
U.S. Federal Government Passes Inflation Reduction Act
Easily the most monumental piece of climate legislation ever. Passed in August along party lines, the Inflation Reduction Act will invest nearly $370 billion to expand tax credits for electric vehicle charging and renewable energy infrastructure, establish provisions for American-made equipment for clean energy production, and provide incentives for companies to create clean energy projects and train workers in communities whose economies previously relied on fossil fuel extraction and production, among other climate-related measures.
2.
States Phase Out Gas-Powered Cars by 2035
States on both coasts are hoping to encourage the more rapid adoption of electric-powered vehicles by banning the sale of new gas guzzlers by 2035. On August 25, California's Air Resources Board passed the measure, and Massachusetts, Washington State, and New York followed suit. In California, taking gas cars off the road would eliminate the almost 400 million metric tons of carbon dioxide emissions between 2026 and 2040, the equivalent of shutting down approximately 100 coal plants for a year. The American Lung Association also found that a transition to 100 percent zero-emissions cars would prevent 110,000 premature deaths, three million asthma attacks, and more than 113 million workdays missed due to air pollution.
Read more: Why We Need to Go Beyond Electric Vehicles
3.
The Senate Approves International Climate Treaty
In September, the U.S. Senate voted to ratify the Kigali Amendment to the Montreal Protocol, an international agreement that aims to lower greenhouse gasses by reducing the use of hydrofluorocarbons. Hydrofluorocarbons are industrial greenhouse gas chemicals primarily in cooling equipment like refrigerators and air conditioners. The Kigali Agreement requires participating countries to cut hydrofluorocarbon pollution by at least 80 percent by 2050. Scientists estimate this would cool the planet by half a degree by the end of the century.
4.
Congress to Pass Huge Wildlife Conservation Bill
In 2021, New Mexico Senator Martin Heinrich introduced a bill that will have far-reaching positive impacts on our country's wildlife. Known as the Recovering America's Wildlife Act, the legislation will allow states, tribes, and territories to invest $1.4 billion annually in conservation efforts to help species at risk of extinction, including habitat restoration, invasive species control, and the reestablishment of migration routes. The bill is critical to the survival of thousands of species. Nearly one-third of America's wildlife species are at some risk of extinction. In June 2022, the House passed its version of the bill with bipartisan support and it's expected to pass the Senate by the end of the year.
Read more: How Rewilding Redonda Saved Species From Extinction
5.
California Passes Nation's Toughest Plastic Reduction Bill
Plastic production will take a hit in California thanks to the Plastic Pollution Producer Responsibility Act. With near unanimous support, the legislation requires a 25 percent reduction in single-use plastic packaging by 2032. The bill also calls for the state to achieve a 65 percent recycling rate for plastics in the same time frame and for plastic companies to pay $500 million a year in plastic pollution mitigation for the next 10 years. According to a U.S. plastics policy analyst for the nonprofit Ocean Conservancy, the bill will keep approximately 23 million tons of plastic from being produced in California.
6.
Hawai'i Shuts Down Its Last Coal Plant
As part of its goal to transition to 100 percent clean energy by 2045, Hawai'i shut down the operation of its last remaining coal plants in September. Located on Oahu, the plant provided up to 20 percent of the island's electricity since 1992 and emitted about 1.5 million metric tons of carbon dioxide a year. To support Hawaii's ongoing energy needs, the state regulators have approved at least nine solar, battery, or geothermal projects that are expected to be operational by 2024.
7.
Louisiana Court Vacates Air Permits for Formosa's Massive Petrochemical Complex in Cancer Alley
In September, Formosa Plastics's plans to build a giant 14-plant petrochemical facility in St. James Parish, Louisiana were thwarted. The state's 19th District Court reversed a previous decision by the Louisiana Department of Environmental Quality to issue air permits to the company, resulting in a historic victory for residents and environmental advocates. The permits would have allowed Formosa to emit 800 tons of toxic pollution into the air of St. James Parish, a predominantly Black neighborhood known as "Cancer Alley," due to its disproportionately high rates of disease caused by pollution and environmental racism. Had Formasa's project been able to proceed, it would have also emitted close to 13.6 million tons per year of greenhouse gasses, the equivalent of 3.5 coal-fired power plants.
Read more: Why Extreme Heat Affects Low-Income and Minority Communities More
8.
U.S. Unveils $1 Billion Effort to Electrify School Buses
For close to 400 school districts across the country, including Indigenous tribal lands, nasty diesel-fueled school buses will soon be a thing of the past. As part of the Biden Administration's effort to combat climate change and limit children's exposure to harmful toxins and air pollution, the districts will receive around $1 billion to purchase 2,300 new, almost entirely electric school buses.
9.
Native American Tribes to Co-Manage National Monument, Coastal Areas
Five Native American tribes living around Bears Ears National Monument in Utah signed an agreement with the Interior Department's Bureau of Land Management and the U.S. Forest Service in June giving the tribes co-management rights over ancestral lands they have inhabited for centuries. After submitting a land management plan, the BLM will implement the tribes' recommendations into its own plans.
And in October in California, five additional Indigenous tribes reclaimed their right to be the official stewards of more than 200 miles of coastal lands in the state. Under the first-in-the-nation agreement, the tribes will receive $3.6 million to educate future generations about traditional conservation practices, test for toxins in shellfish, and monitor salmon populations following the removal of a defunct dam in the Santa Cruz mountains.
Read more: How Indigenous Groups Are Leading the Way on Conservation
10.
Victory Against the Longest Oil Spill in U.S. History
Taylor Energy, the company responsible for the sunken oil rig off the coast of Louisiana that has been leaking oil into the Gulf of Mexico since 2004, was ordered to pay $400 million in cleanup costs. For the past 18 years, the Taylor Energy oil spill emitted 29,724 gallons of oil into the ocean per day, at times spanning more than 20 miles, causing irreparable harm to marine and coastal ecosystems in the Gulf and beyond. The company is liquidating to pay for the damages.
11.
The World's Largest Dam Removal to Open Up Klamath River Basin 
Following a decades-long fight by Indigenous tribes living along the Klamath River, the Federal Energy Regulatory Commission approved the removal of four significant dams on the lower Klamath River that spans Southern Oregon and Northern California. Once removed, water will again flow freely for hundreds of miles to the ocean. Demolishing the dams is expected to improve water quality by eliminating water pools where toxic agricultural runoff collects and negatively impacts fish species. It's being touted as the largest salmon restoration project ever. The dam removal will open up migration routes to boost salmon populations — and bring them back to areas where Indigenous tribes say they haven't been seen in generations.
Read more: Why You Should Care About Water Scarcity
Have feedback on our story? Email [email protected] to let us know what you think!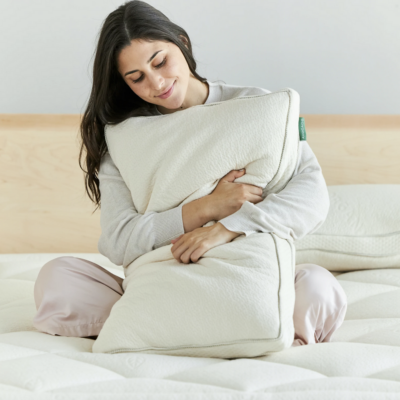 Shop Pillows
The Essential Organic Pillow Collection
Gentle, breathable, non-toxic support.
Buy Now