This year, ditch the box of chocolates and show some love to yourself and the planet.
Love is in the air. Heart-shaped boxes of chocolates are flying off the shelves. Dinner reservations for two have been made weeks in advance. And for Hallmark, this is their moment. Yep, Valentine's Day is right around the corner.
But, unbeknownst to many, the heartfelt holiday has a major environmental impact. In 2018, during the three weeks leading up to Valentine's Day, more than 15,000 tons of flowers (mostly roses) were flown into the U.S. from countries like Colombia and Ecuador. The delivery flights burned approximately 114 million liters of fuel, emitting approximately 360,000 metric tons of carbon dioxide into the atmosphere, according to the International Council on Clean Transportation.
Partnered up or not, why not focus less on gifts, flowers, and repeat gestures and instead, show some extra love for yourself and the planet? Here are eight easy ways to do exactly that.
We're all guilty of letting a bunch of once-used parsley or cilantro go bad in the fridge. Starting an herb garden will reduce food waste, which accounts for eight percent of global greenhouse gas emissions.
Even better, herb gardens don't require much space, they thrive indoors, and you can cultivate one all year round. Gardening also comes with a whole host of mental health benefits. The peaceful nature of tending your herbs — and even simply being around plants — is shown to boost mood, reduce stress, and improve focus.
2.
Go on a Walk or a Bike Ride
You don't have to run multiple miles or hit it hard at the gym to reap the heart-healthy benefits of exercise. A low-impact walk or breezy bike ride will do the trick. In fact, regular physical activity increases blood flow and reduces the risk of heart and circulatory disease by 35 percent. It can also keep you from developing diabetes and some cancers. Exercise is also great for your mind. Walking and biking release endorphins, reduce stress, and can help with feelings of depression and anxiety.
Not only that, cars, trucks, and other fuel-powered vehicles are responsible for 28.5 percent of U.S. greenhouse gases. So if you're headed somewhere that's walkable or bikeable on Valentine's Day, lace up your tennis shoes or hop on your bike and leave the car in park. Your body and the planet will thank you.
Read more: Why We Need To Go Beyond Electric Vehicles
3.
Invest in Non-Toxic Self-Care Products
In the U.S., only 11 chemical ingredients are banned or restricted from being used in cosmetics — and skincare, personal care, bath, and body products all fall under this category. As a result, commonly used products like lotion, nail polish, shampoo, and soap contain chemical preservatives, known carcinogens, and toxic synthetics (think parabens, phthalates, formaldehyde, and fragrances). When absorbed by our skin, these toxins can cause irritation, hair loss, along with long-term health issues, including certain cancers, fertility issues, hormone disruption. They also harm the environment, ending up in our waterways, air, and impacting wildlife.
By buying self-care products from companies committed to using safe, non-toxic, natural, and sustainable ingredients, you'll not only protect your own health but that of our planet, too. (Reed + Gwen's Snoozy Bath Soak with Magnesium Flakes and Grounding Dry Body Oil are the ultimate spa night combo for Valentine's Day.)
If you're not sure if the product you're using is safe, consult EWG's Skin Deep® directory, which allows you to search by ingredient, brand, or product name to see if it meets their industry standard for non-toxic ingredients.
Reed + Gwen
Grounding Dry Body Oil
48.00
Shop
4.
Plan a Solo Adventure Outdoors
Two hours a week. That's all it takes for you to benefit from being in nature. A 2019 study showed that those who spent at least two hours a week in the outdoors were substantially more likely to report good health and psychological well-being than those who didn't. Time spent in nature is also associated with reduced feelings of isolation, a sense of calm, and a boost in mood. So much so that some physicians are even prescribing time in the outdoors to improve wellness.
So this Valentine's Day, show some love to yourself and the planet by taking a solo adventure to your nearby park or greenspace. Go slow, breathe in the air, and use the moment to fully appreciate the beauty of nature. 
Read more: How Covid-19 Brought Us Back to Nature
Turn your phone off, be present, and reduce your electricity consumption in one fell swoop. Social media was designed to be addictive and all that screen time isn't great for our eyes, either. So pepper in regular breaks into your routine. Try unplugging for a few hours, then work up to an afternoon, a whole day — maybe even a weekend.
Since you won't be checking your phone every five minutes or mindlessly scrolling, you'll have more opportunities to try out a new hobby or do the things you love, like spending time with friends, going for a walk, or reading.  
The fashion industry makes up 10 percent of global carbon emissions, and it takes 700 gallons of water to produce just one non-organic cotton shirt. Plus, 85 percent of textiles end up in landfills each year, and the toxic dyes and plastics used to make the majority of garments end up polluting our waterways, air, and environment.
Shop sustainably by perusing your local thrift store. There are also tons of online thrift stores that make finding your new favorite wardrobe staple fun and affordable. And by buying second-hand, you'll keep clothing out of landfills and do a solid for the planet.
If you do buy something new, you can lessen your environmental impact by investing in high-quality, sustainably crafted items made with organic materials like cotton and wool that you can wear again and again.
Composting is one of the easiest ways to reduce your environmental footprint and put your food scraps to good use. There are a handful of methods, but all you really need is some counter space, a bucket to throw your scraps into, and a mini compost tumbler that you can place on a porch, in a yard, or on a fire escape outside.
Vegetable peels, eggshells, brown paper, even avocado pits can all be tossed into your compost. And after several months, you'll have nutrient-rich soil you can use for your indoor plants or herb garden. Sounds like the perfect Valentine's Day activity.
Read more: How to Compost in a Small Space
Did you try out some of our easy ways to love yourself and the planet? Let us know by tagging @avocadogreenbrands on Instagram or Facebook.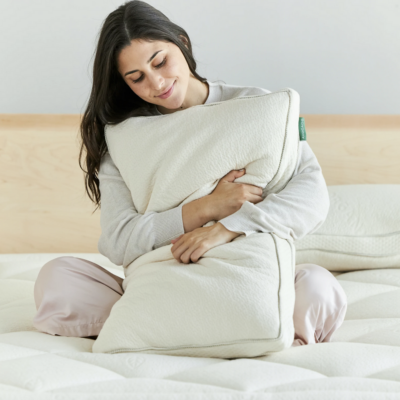 Shop Pillows
The Essential Organic Pillow Collection
Gentle, breathable, non-toxic support.
Buy Now