In honor of World Water Day, we're spotlighting Reed + Gwen's 1% For The Planet partner Water For People, a nonprofit working to provide sustainable clean water and sanitation resources for all.
Water access isn't universal. Globally, 2.2 billion people don't have clean water, and 4.2 billion don't have a working toilet. Women and girls — who are typically responsible for collecting water — are the most impacted. In water insecure areas, instead of working, studying, or being with family, their time is spent gathering water, oftentimes from places that are not close to where they live. Lack of water also creates economic and health hardship. Unsanitary resources can result in preventable diseases like cholera and loss of income due to associated medical expenses. According to the World Health Organization, it's estimated that poor water resources result in $260 billion in economic losses and 3.4 million deaths per year.
At Avocado, we believe access to clean water is a right. That's why we're proud our clean beauty brand Reed + Gwen is leveraging its partnership with 1% For the Planet to donate one percent of annual revenues to Water For People, an international nonprofit working to ensure all people have reliable, safe drinking water and sanitation services.
Globally, 2.2 billion people don't have clean water, and 4.2 billion don't have a working toilet.
"Partnership with brands like Reed + Gwen through 1% For The Planet is supercritical because that philanthropic contribution can be used in a catalytic way," says Lemme. "It allows us to continue to do our work, it increases the investment we can make in a district, and allows us to be innovative and creative."
Read more: What is 1% For The Planet?
Based in Denver, Colorado, Water For People was created in 1991 with one mission in mind: to end the global water crisis. Since its founding, Water For People has provided reliable water service for 4.6 million people across nine countries and 40 districts, supported 3,913 communities, 1,583 schools, and 164 clinics while supplying sanitation services for 1.77 million people and creating 2,436 permanent jobs.
What sets the organization apart is its approach. Unlike other aid agencies that install pumps and toilets in water-insecure areas and move on, Water For People understands that pumps and toilets, which inevitably break, are only part of the solution. While they do install physical infrastructure like wells, the nonprofit goes a step further by collaborating with local governments and community organizations and partnering with national governments on policy.
"It is in the truest sense of the word, really a partnership. But that also means we can only really move as fast as the local government moves," says Kim Lemme, Director of Influence for Water For People's Global Programs Team. "The power of that is local ownership. We're shifting the dynamic by holding the government responsible for doing what they're mandated to do. So it's really a commitment."
Read more: Why You Should Care About Water Scarcity
Specifically, Water For People trains local mechanics, establishes supply chains for parts and resource water management, and creates local water and sanitation utilities, so communities can sustain vital water and sanitation services independent of ongoing aid. This process is the basis of the Water For People's Everyone Forever concept that was established in 2011. Everyone Forever is the idea that the work isn't complete until every family, clinic, and school in a community has the mechanisms in place to have water forever.
"Built into our model is a window of three to five years of monitoring once we're done and we think things are good," says Lemme. "We don't just leave. We stick around. So if there's an emergency and they run into a crisis, we're still there. We want to keep our finger on the pulse of what's happening here before we truly exit. And that's just not how development and aid typically work."
Read more: 6 Easy Ways to Reduce Water Consumption
In San Pedro, Bolivia, Water For People has achieved its first Everyone Forever milestone. Thanks to the organization's training and support, the district's service authority and providers can now maintain sustainable water service for the entire community. Now, Water For People is simply monitoring water services in an oversight capacity before the project is deemed complete.
"That first sustainability milestone was like 'Wow this is possible, we've shown it.' Then there was a natural disaster, so there was a setback," says Lemme. "But those shocks to the system really test how strong the sustainability of the system is. So we're still in this window of monitoring from afar with San Pedro."
Bolivia is just one piece of the nonprofit's impact. Lemme has been visiting Rulindo, a district in Rwanda where Water For People works, for 10 years. But it wasn't until the last time she was there that she realized how much the quality of life has transformed — community members only have to walk a short distance to get water, they have sanitation services to empty pit latrines, and individuals serve in leadership roles on the local water board to ensure the water infrastructure continues to thrive. "That impact at the household level is really powerful," says Lemme. "Kids won't ever know what it's like to spend four hours a day to get water."
Want to join Reed + Gwen in supporting Water For People? Help them celebrate World Water Day and snag one of their limited-edition t-shirts. Encourage the company you work for to partner with the nonprofit as a corporate partner. Volunteer your time by joining one of their 50 local committees across the U.S. and Canada. Create an individual or team fundraiser. Or, simply donate what you can. Together, we can end the global water crisis.
Have feedback on our story? Email us at [email protected] to let us know what you think!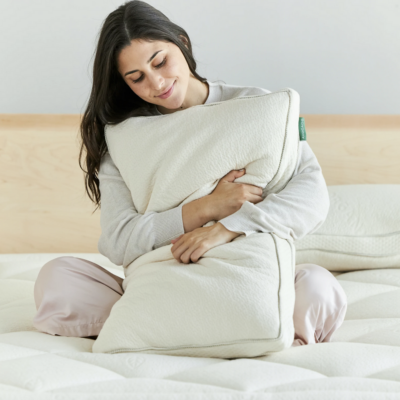 Shop Pillows
The Essential Organic Pillow Collection
Gentle, breathable, non-toxic support.
Buy Now