Sleep isn't the only thing that goes on in the bedroom. Here's how to choose a mattress that supports quality sleep and active sex lives.
Making love. Hanky panky. Shagging. Shaking sheets. Knocking boots. Whatever you call it, sex is as natural as being human — and a fun way to express love and intimacy with your partner. It's also good for your health.
Studies show that people who have sex once or twice a week have a higher level of antibodies that fight off germs and viruses. The deed is also associated with lower blood pressure, reduced risk of heart disease, pain and stress reduction, better sleep, and improved self-esteem and happiness. 
And if you're getting intimate in the bedroom, you want a mattress that will support more than restful zzz's. But not every mattress is great for sex. You need just the right amount of bounce. If your bed is too stiff, sinks, sags, is poorly made, is on the floor, or is a waterbed from 1988, it can totally ruin the mood. Luckily, at Avocado, we know a thing or two about quality, sex-supporting mattresses.
Here are the best mattresses to get it on.
Read more: Signs It's Time to Replace Your Mattress
1.
Avocado Green Mattress 
Our flagship certified organic Green Mattress is best-selling — and award-winning — for a reason. Its medium-firm feel, pocketed coils, and three inches of GOLS certified organic latex deliver balanced firmness, comfort, and support — ideal for great sleep and sex.
The mattress's zoned pressure-point system also relieves tension on the back and evenly distributes weight. Plus, its certified organic wool and cotton layers are naturally cooling, breathable, and moisture-wicking, all attributes that support a good love sesh.
For a little extra cushion, add an attached European-style pillowtop. There's also a vegan version of the mattress.
2.
Avocado Organic Latex Mattress 
Memory foam is cozy at first, but it quickly starts to sink and slump, and it has terrible bounce. Enter our certified organic Latex Mattress, featuring a patent-pending Perfect Bounce® design that offers the perfect balance of motion isolation and responsiveness — all superb attributes for sex (and sleep).  
Made with nine inches of natural, GOLS certified organic Dunlop latex, it delivers a touch of gentle give and cradles the body's natural curves. This bed is a match made in heaven for back or stomach sleepers, tall or large combination sleepers, and sexually active couples.  
Read more: How to Reduce Snoring For Better Sleep 
3.
Avocado Eco Organic Mattress
Like the Avocado Green Mattress, the hallmark of the Eco Organic is its hybrid construction. Did we mention it's also the most affordable certified organic mattress you'll find anywhere? A good deal is sexy, too.
Crafted with up to 988 eight-inch coils and sustainable GOLS certified organic latex, the bed's medium feel offers body-contouring, sex-supporting, back-loving comfort. Latex features an open-cell structure that keeps you from sinking in and trapping heat, and the bed's coils are individually pocketed for effective airflow.
Even better, the Eco Organic Mattress is MADE SAFE® certified, a coveted non-toxic seal for safety, so the only thing you have to worry about is enjoying some alone time with your partner.
4.
Avocado Luxury Organic Mattress
Medium-firm, yet decadently soft and made with 17 premium layers of organic and natural latex, wool, silk, hemp, and cotton, the Luxury Organic Mattress is the definition of opulence. It's even — dare we say — a little sexy.
But ultimate luxury doesn't mean you have to give up the core qualities that make a mattress great for lovemaking. The Luxury Organic also features just the right amount of bounce and give, along with pocketed coils arranged in strategic zones for durable support and motion isolation.
Feeling cheeky? Add a plush attached pillowtop that all but eliminates rolling together (unless you want to).
Read more: Why The 'Made Safe' Logo Matters
Have feedback on our story? Email [email protected] to let us know what you think!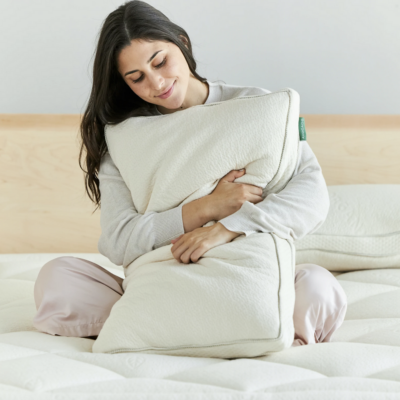 Shop Pillows
The Essential Organic Pillow Collection
Gentle, breathable, non-toxic support.
Buy Now