Swapping out synthetic loofahs for more sustainable alternatives keeps waste to a minimum and harmful microplastics out of our oceans.
There are tons of easy ways to generate less waste in your home. In the kitchen, you can swap plastic wrap for beeswax covers and compost food scraps instead of tossing them in the trash. In your living spaces, you can shop sustainable furniture brands or go second-hand. And when it comes to your bathroom, even small changes can make a major environmental impact, like switching to a low-flow showerhead, opting for refillable bath products, and finally ditching that bacteria-covered loofah.
Though they're often called loofahs, the technicolor poufs you can find at big-box stores for a few dollars apiece have little in common with their namesake plants. Body poufs are typically made from synthetic materials (ahem, plastic) that form a fluffy mesh ball ideal for creating suds. They generate a nice lather and do a good job exfoliating, which makes them a staple at bathtime.
But like so many synthetic cleaning and beauty products, body poufs take a long time to break down, and even though some are recyclable, they often end up in the trash — where they emit millions of harmful microplastics into our waterways. So what's an eco-conscious consumer to do? Here are our favorite better-for-the-environment options to consider, along with the pros and cons of each.
Read more: 4 Innovative Plastic Solutions We're Rooting For
Go Old School: Washcloths
Washcloths have made a comeback in recent years, with more people reaching for them as an easy-to-find, reusable cleaning solution. They're especially popular for getting makeup and dirt off faces because washcloths are relatively gentle, but they also work for other parts of the body. At Avocado, we recently launched a line of spa-quality, GOTS certified organic (863637) cotton washcloths that are perfect for those who want a reliable, sustainable option.
However — like anything that gets wet — washcloths need to be thoroughly dried to prevent build-up of bacteria and mold (ours come with a hanging loop for fast drying) and should be replaced pretty frequently (this is true for body poufs, too!). Since they get rid of grime in a relatively gentle way, they may not be the best option for those who prefer a sudsy deep clean.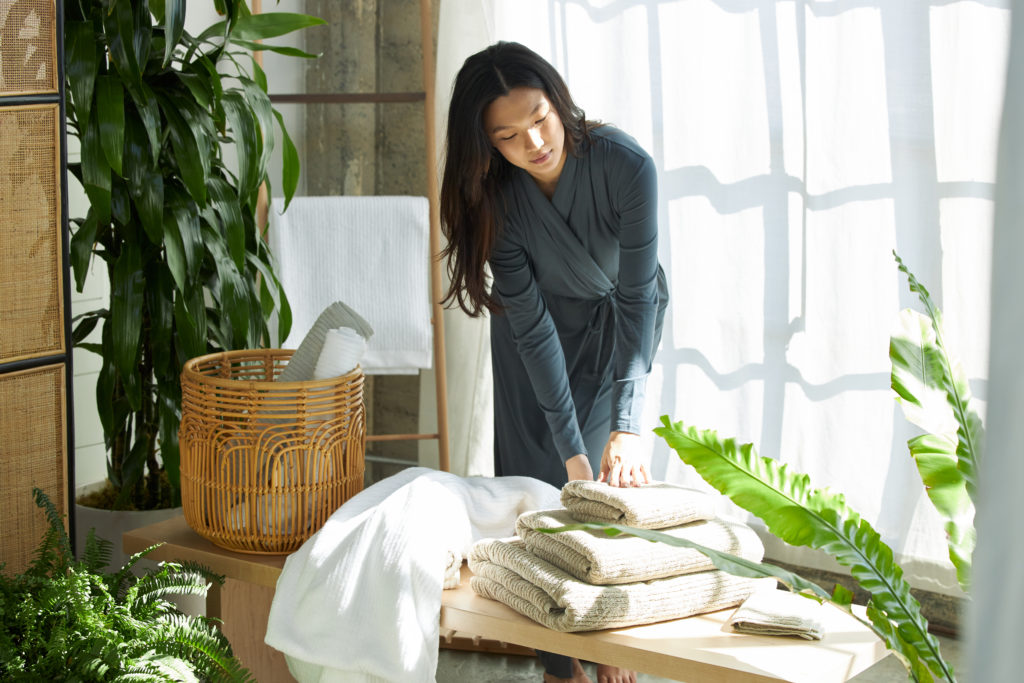 Avocado
Organic Cotton Bath Towels
19.00
Shop
Go New School: Recyclable Scrubbers
If you're looking for a low-maintenance body pouf alternative, scrubbers may be the bathtime game-changer you're seeking. The flat, flexible discs are covered with soft bristles that not only help remove dirt but also create a nice lather. The scrubbers from Boie are made from an antibacterial material called thermoplastic elastomer that's also BPA and latex-free. And, unlike washcloths, they can be cleaned with a thorough rinse in the shower or bath (that means no laundry cycle required) and last for a while.
Boie says the average replacement time for its scrubbers ranges from six months to a year, though you may have to do it sooner if mold or funky smells start to develop. If that happens, the scrubbers are recyclable — but, as with many items, your best bet for making sure it gets processed properly is to send it back to Boie.
Read more: Why We Love Shampoo Bars
Go All-Natural: Loofah Plants
As we mentioned above, loofahs (also spelled luffa) are actually living organisms. The edible plant is part of the gourd family, related to common supermarket squashes such as cucumbers. The more you know! To become the loofah we use for scrubbing, they're left to mature on the vine, where they develop their signature sponge-like interior. Once picked, they're deseeded, then washed and dried in the sun. This process can be done at home, but for those who don't have a green thumb, naturally-grown, biodegradable loofahs are available online. Because they are all-natural, these scrubbers should be replaced every few weeks, but once you're ready for a new one, the old loofah can simply go in the compost.
Do you have a go-to, eco-friendly loofah alternative? Share it with us by tagging @avocadogreenbrands on Instagram or Facebook.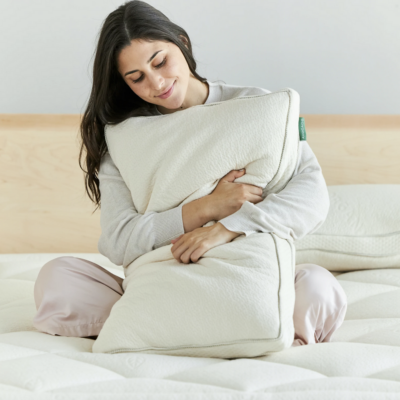 Shop Pillows
The Essential Organic Pillow Collection
Gentle, breathable, non-toxic support.
Buy Now