Millions of pounds of perfectly good furniture end up in landfills every year. By freecycling, you can give trash-bound pieces a new home while reducing waste and your carbon footprint.
If you've ever shopped for furniture, you know it's expensive. And with demand set to reach nearly $70 billion in 2022 — according to Market Research's recent Furniture: United States report — consumer spending on furniture will only increase.
But here's the downside. The furniture that fills our homes, from dining tables and couches to wooden chairs and footstools, comes with a carbon footprint. In fact, the average piece of furniture consumes about 100 pounds of CO2e during production — equal to 5.3 gallons of consumed gasoline. And when you think about the amount of furniture we buy, that number adds up.
So, how can you lessen your impact on the environment while adorning your home with furnishings you'll love? Enter: Freecycling. The concept is a simple one: help keep perfectly good furniture staples (often left curbside for trash pickup) from ending up in landfills by encouraging people to repurpose these pieces in their own homes. Finding freecycled furniture is the tricky part. To make your sustainable journey easier, NYC-based platform Stooping NYC helps eco-minded consumers find furniture they can snag for free. 
Founded in 2019 by an anonymous couple, Stooping NYC is an Instagram account that captures various items left on people's stoops. From abandoned paintings and industrial coffee tables to modern dressers and vintage couches, the items vary. What started out as a fun way for the couple to share their found treasures with family and friends has turned into an active community with more than 200,000 followers. Although they didn't create their platform with sustainability in mind, many of their followers are eco-friendly. And these followers continuously offer up sustainable tips for refurbishing and repurposing the furniture for personal use or to donate.
Read more: The Businesses Championing Climate Change Legislation
"Specifically, we like to think that by making the act of stooping fun and celebrating the successes of the community, we are in a way removing the negative stigma tied to thrifting," says Stooping NYC. "As a result, we continue to see more and more Gen Z followers flock to and use our account to furnish their lives — saving things from landfills and ultimately encouraging a new generation to live more sustainable lives."
According to the Environmental Protection Agency, Americans wasted 12.2 million tons of furniture in 2017 — 80.2 percent of which ended up in landfills, and only 0.3 percent of that total was recycled. This doesn't even include carpets or rugs — 3.4 million tons were thrown away in 2017. Luckily, Stooping NYC has many "Super Scoopers," including Trash Walker, who regularly contributes to the platform to advertise furniture finds waiting to be freecycled.
"We're beyond grateful to be able to have this platform as a way to not only promote upcycling but also to get to know more about this great city we live in and the people that live around us," says Stooping NYC. "With everything going on in the world, it's so great to see a community rooted in positivity and goodwill."
Read more: The Do's and Don'ts of Sustainable Interior Design
Another Instagram platform, Curb Alert NYC, is also integral in promoting the movement. Similar to Stooping NYC, Curb Alert NYC shares discarded items found on the streets in hopes that others will find them a new home. Their goal is to divert abandoned items from landfills and into the hands of those who walk by. You'll find an array of items on their page — all located throughout the five boroughs. Some previous posts include a kitchen cart that doubles as a wine rack found in Soho; a sectional sofa previously purchased from West Elm; and a kitchen husk and desk left in East Williamsburg.
So before you drop an ungodly amount of money on a shiny new piece of furniture, consider freecycling first. As the saying goes, "one man's trash is another man's treasure."
Read more: Semi-Underground Houses are the Dreamy Sustainable Homes of the Future
Have feedback on the story or know of other freecycling platforms we should check out? Let us know what you think by emailing [email protected]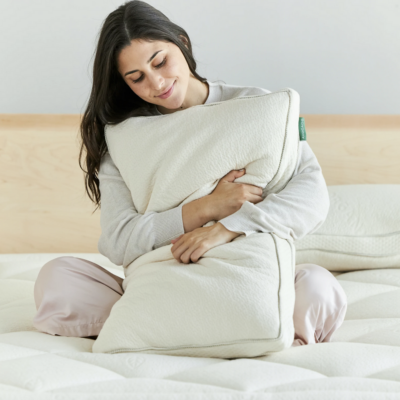 Shop Pillows
The Essential Organic Pillow Collection
Gentle, breathable, non-toxic support.
Buy Now