From a travel-ready mini pillow to a luxuriously soft robe and silk pillowcase — snag the perfect gift for all your loved ones with our Sustainable Gift Ideas.
What do you get for your friend who has everything? And what about the one who has very particular taste? Take a deep breath — we've got every person on your list covered.
From the new mom and the traveler to your fancy friend and the one who prefers a cozy night in or a little self-care, these gifts combine thoughtfulness, sustainability, and luxury. Be the one who gives everyone's favorite gifts this year — here are our 2021 Sustainable Gift Ideas.
Read more: No Waste Ways to Wrap a Gift
For the mom in your life who's running on adrenaline and crossing her fingers for a few hours of sleep, give a gift that reminds her to take some time out for herself. Treat her to a stress-releasing bath soak with magnesium flakes, a silky soft, Lenzing-certified robe that she'll want to live in, and an organic, non-toxic, contouring body pillow that will help her doze off in seconds.
Have a friend or family member who's always planning their next adventure? Whether they're jet-setting to a new city or hitting the highway to go cross country, make sure their trip is as comfortable as it is memorable. For that, all they need is Avocado's travel-ready organic mini pillow and an unbelievably soft, breathable, and ethically sourced alpaca jogger and matching hoodie.
She's always down for a bougie brunch and considers herself a woman of leisure. She's the fancy friend in your group and only deserves the best. Impress her this holiday season with a silk pillowcase that screams opulence, a sustainable modal long robe that's fit for a queen, and a v-neck dress that's lightweight and luxurious.
Read more: Upgrade Bedtime With a Silk Pillowcase
We all know someone whose ideal night out is, well… a night in. Help them take their cozy evening to the next level. Hass's Modal Pajama Tee and Modal Pajama Pants — stitched from Lenzing-certified Modal — are made for lounging. And their ethically sourced Alpaca Long Cardigan paired with Avocado's elegant Alpaca Throw are perfect for snuggling up on the couch.
For the friend who doesn't mess around when it comes to self-care, give them everything they need for the ultimate pamper sesh. An aromatherapeutic bath soak and a sustainably sourced, solid wood bath tray make bath time a lavish experience — and keep all the essentials (read: a candle and wine) in arm's reach. For an extra touch of spa-quality ambiance, add Avocado's plush, GOTS certified organic cotton bath towels for drying off, and Hass's immensely soft Modal Long Robe to slip into afterward.
As a member of 1% for the Planet, Avocado, Hass, and Reed + Gwen donate one percent of annual revenues to vetted nonprofits in an effort to address the interrelated issues of climate change, healthy food systems, land management, water resources, pollution, and wildlife diversity.
Read more: 8 Ways to Make the Holidays more Sustainable
Did you give one of our holiday gift ideas to a friend or family member? Let us know by tagging @avocadogreenbrands, @hassapparel, and @reed.and.gwen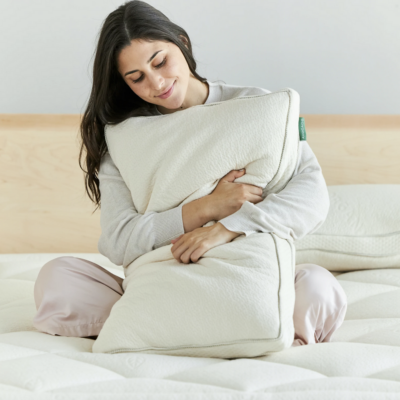 Shop Pillows
The Essential Organic Pillow Collection
Gentle, breathable, non-toxic support.
Buy Now