From camping and beer tasting to backyard lawn games, spend a sustainable Father's Day making memories with Dad.
Moms deserve a lot of love, but we owe dads some appreciation, too. Who else will take you out for ice cream just because, learn to braid your hair for picture day, challenge you to an epic water gun fight, or let you watch your first R-rated movie?
This Father's Day, skip the shiny new grill accessory or monogrammed wallet (he doesn't need either) and give Dad what he really wants — quality time with his favorite person. No matter who the father figure in your life is, we've got all the inspiration you need to make the day memorable — and more sustainable, too. Here are 8 ways to spend a sustainable Father's Day.
Clear the dining room table, throw on a Bob Dylan record, and settle in for a few hours of honed-in concentration. The local thrift store is always a solid puzzle resource, but if you can't stand the thought of a few missing pieces, we love this 500-piece jigsaw of Joshua Tree, this fish-inspired design from Puzzledly, and any puzzle from Whiled. Just remember — outline first.
Your dad was most likely the first person to show you how to hook a worm and help you wrangle a largemouth bass. Relive those good times and head to the local fishing hole for a laidback day in the sun. Not your thing? Swap the fishing rod for a kayak, canoe, or stand up paddleboard and explore a lake or river. And if you want to keep it closer to home, we're sure dad will never turn down the opportunity for a cannonball competition at the pool.
For the outdoorsy dad, nothing beats a day in nature. Pump up the bike tires, lace up your hiking boots, or slip on some tennis shoes and wind your way along an area trail. Whether you're in for a short and sweet trip or down to clock some serious miles, be sure to pack a beer to cheers at the end. Bonus points if there's an overlook.
No one said Father's Day has to be a 24-hour affair. Pack the car, head for the mountains, and spend the weekend sleeping under the stars. Just be prepared for plenty of dad jokes, tips on how to create the best bonfire, and tall tales about walking to school in the snow.
5.
See a Movie at the Drive-In
Popcorn, fresh air, kicking back behind the car, and watching a movie on the big screen. The drive-in has way more appeal than a cramped movie theater — and they're more popular than ever right now. Plus, Dad's snack game is always on lock.
6.
Plan a Lawn Game Tournament
Dads love a little healthy competition. Set up the ultimate matchup in the backyard. Opt for a relay race complete with dizzy bat and hula hoops. Or, keep it classic and set up a game of corn hole, croquet, horseshoes, or KanJam. Either way, just because it's Father's Day doesn't mean you have to let Dad win.
7.
Book An Online Cooking Class
If your dad knows his way around the kitchen, join in on the hobby and sign up for a virtual cooking class. From Italian cuisine to sushi, Greek meatballs, and Chicago-style deep-dish pizza, you can find options for every taste and style. And if Dad insists you only respond to him with "yes, chef," just go with it — it's only one day.
8.
At-Home Beer or Wine Tasting
Spend the afternoon discussing tasting notes with Dad. Whether he's a die-hard beer guy or loves an oak-aged Merlot, he'll appreciate the time you took to set up an at-home tasting. Make it a blind guessing game, or simply compare and contrast to see what you each like the most.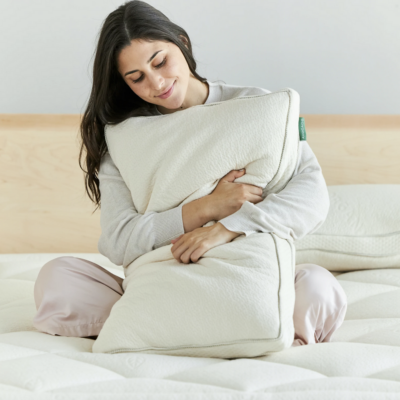 Shop Pillows
The Essential Organic Pillow Collection
Gentle, breathable, non-toxic support.
Buy Now