From luxury throws and sustainable jewelry to artisanal cheese and beautiful ceramics, celebrate the maternal figure in your life with these eco-friendly gifts for Mom.
The moms in your life deserve recognition throughout the year — but especially on Mother's Day. This year, shower your favorite maternal figures with love, gratitude, and an extra-special gift that's guaranteed to warm her heart. Whether she's active and on-the-go or fashion-conscious — you know her best! — we've come up with 10 thoughtful, eco-friendly gifts for mom.
Read more: The Jumpsuit We Tend to Wear Every Day
1.
Avocado Alpaca Wool Throw, $149
If only the coziest and comforting gift will do for mom, look no further than our beautiful throws. The ultra-soft blankets are crafted from 100 percent, responsibly sourced alpaca wool that's lightweight, breathable, and antimicrobial (it's also hypoallergenic!). Even better, no chemical dyes are used in any of the six available hues and patterns — they're all the result of the alpaca's natural colors.
Avocado
Alpaca Wool Throw
149.00
Shop
2.
Pholk Get Your Glow On Daily Ritual Set, $60
Niambi Cacchioli's beauty journey started with her grandmother, who had shared simple, natural recipes, and took shape during her travels with the Africa Centre and UNESCO. After experimenting with a variety of local butters, oils, and other African ingredients, she launched Pholk, an all-vegan Black-owned natural skincare brand. The Get Your Glow On set is a wonderful introduction to some of Cacchioli's most restorative and hydrating products.
Read more: Meet Thinx — a Sustainable Period Underwear Brand
3.
Material Tabletop Ceramics, Prices vary
This AAPI-owned cookware brand — known for its recycled plastic cutting boards — recently launched a collection of gorgeous handcrafted ceramics that your mom will obsess over. The plates and bowls were designed by Hye Rin, a South Korean female ceramist, and come crafted from natural Korean soils. And even though they look like works of art, they're sturdy enough for everyday use, and can also be popped into the dishwasher and microwave.
Material
Tabletop Ceramics
60.00
Shop
4.
LaRue1680 Queen Charlotte's Court, $60
If mom is a pop culture enthusiast who keeps up with every new Netflix series, consider this Bridgerton-inspired tea set. Founded by single mom Stephanie Synclair, LaRue 1680 specializes in high-quality loose-leaf teas inspired by her travels with son Caden. This collection — named after the show's bold and formidable royals — includes four flavors: vanilla chai, earl grey, Moroccan mint and Casablanca Street, an herbal blend that combines hibiscus, berries, rose petals, and more.
5.
Vesta Mother's Day Jewel Bonbons, $24
The treats from this New Jersey chocolate shop are made with organic cacao beans and combine French technique with Latin American craft. The Mother's Day collection, available in a box of six or 12, pays homage to owners Roger Rodriguez's Dominican mami and Julia Choi Rodriguez's South Korean umma. The jewel-like bonbons come in decadent flavors like morir soñando (orange creamsicle) and yuja (yuzu).
Vesta
Mother's Day Jewel Bonbons
24.00
Shop
6.
Mina Baie Audrey Diaper Bag, $219
As any soon-to-be mom knows, the search for a diaper bag that doesn't, well… scream diaper bag, can be frustrating. Jenna Sá Freire founded her line after running into this exact problem and now designs backpacks, crossbody bags, and duffels that marry modern style with important features like insulated bottle pockets and detachable straps. Available in five neutral colors, the Audrey can easily transition between the office and the playground.
7.
Welly 18-Ounce Traveler, $33
Made from bamboo and stainless steel, Welly's bottles are both sturdy and chic. The triple-walled insulation keeps drinks cold for up to a day or hot for up to 14 hours, plus there's a removable infuser to brew tea or add fruit flavors to water. The company also donates at least 1 percent of sales to clean water projects worldwide.
Welly
18-Ounce Traveler
33.00
Shop
8.
Saxelby Whey Cool Women, $95
This artisanal cheese shop has been dedicated to supporting sustainable agriculture and America's rural economies since it was founded in 2006 by Anne Saxelby. Cheese-loving moms will adore any of the thoughtfully curated collections, but the Whey Cool Women box is especially apt for Mother's Day. It features four cheeses from female cheesemongers, along with a box of Jan's Farmhouse Crisps and a jar of savory tapenade.
Saxelby
Whey Cool Women
95.00
Shop
9.
Cuyana Zip Cardholder, $75
Founded by Karla Gallardo and Shilpa Shah, Cuyana's mission is to help women curate "a foundation of fewer" when it comes to their closet. The fashion company specializes in clothing and accessories in timeless silhouettes and high-quality materials, such as this zip cardholder made from Italian leather at a woman-owned factory in Turkey.
Cuyana
Zip Cardholder
75.00
Shop
This fine jewelry maker is committed to ethical practices and sourcing, making sure to track the social and environmental impact of its supply chain. They work closely with suppliers certified by the Responsible Jewellery Council and vetted family-run businesses to craft pieces meant for everyday wearing, like these dainty gold vermeil and white sapphire studs that are an elevated take on a classic style.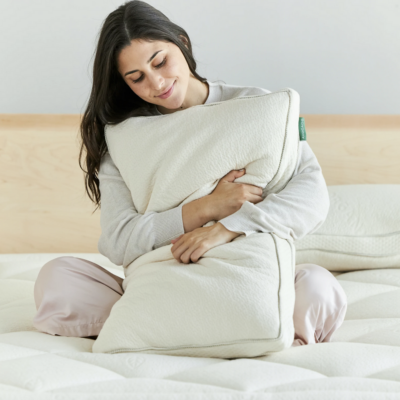 Shop Pillows
The Essential Organic Pillow Collection
Gentle, breathable, non-toxic support.
Buy Now