From empanadas to gyoza, gelato to macarons, there's a virtual cooking class to help you bring your worldly palate to your own kitchen. These are our favorites.
It was my boyfriend's birthday at the beginning of September, and we had already gone way past the point of feeling ambitious or even mildly enthusiastic about more home cooking. Trying to muster some excitement for his birthday dinner, I remembered we'd both been feeling desperate for Chinese food and googled a recipe for dan dan noodles. One specialty grocery order and a couple hours' worth of cooking later, we had a shockingly passable version of the dish, good enough to bring me back to my childhood and my boyfriend back to his time living in Beijing. Both of us were close to tears over the noodles — but that might have been due to the egregious amount of homemade chili oil.
What I'm saying is that after six months and counting of eating your own cooking, you may also be looking for a little escapism. Coincidentally, chefs all over the world have spent the last few months taking their cooking classes online — usually as live classes attended by a small group over Zoom, or broadcast as Instagram Live videos that anyone can access after the fact. So even if you can barely wield a chef's knife, complex cuisine is at your fingertips. Just think: where in the world would you go if you could travel right now? What flavors would you be excited to try there, or what cuisine do you miss because you can't order it for takeout where you live? There's a very good chance that whatever your answer is, there's a class just for your tastes. Here are some standouts.
Kenji Yokoo
To get an idea of what a virtual cooking class with Kenji Yokoo will be like, you may end up scrolling for hours through his creations on Instagram and YouTube. Matcha roll cake! Niku tofu! Karaage! Those big fat Japanese soufflé pancakes you've been idly considering making for months! Sorry, where were we? Yokoo has an incredibly calming camera presence and tends to cook complexly flavored but homey recipes, great for anyone looking to add some variety to their dinner rotation. He also offers helpful tutorials on bigger projects like matcha cream puffs or perfectly-done udon. His virtual lessons are private and personal by design; get in touch and Yokoo will talk you through all kinds of possible menus depending on your specific interests in technique or ingredient.
Hamed's Persian Kitchen
Hamed Allahyari runs SalamaTea, a Persian restaurant in Melbourne, Australia, that is fully run by refugees and asylum seekers. During Covid, he started offering live classes every other Tuesday demonstrating how to make popular Persian dishes like kashk bademjan, tahdig, baklava, and good old fashioned falafel. All participants get a recorded version of the class in case they can't cook along or want it for future reference, or in case they'd just prefer to have the personable Hamed walk them through the recipe whenever they want a tasty meal of zereshk polo.
Milk Street Live Online Cooking School
If you like cooking, you probably already know and love Christopher Kimball's Milk Street dynasty of publications, shows, and cooking courses. They've added virtual cooking classes to their lineup thanks to, well, take a wild guess. Being Milk Street, they've also recruited a murderer's row of well-known food writers and chefs to host each $25-a-pop experience. Among the esteemed hosts: writer Sonoko Sakai demonstrates gyoza preparation, chef Yia Vang discusses Hmong food, and writer Reem Kassis makes fatteh. Try to stop yourself from tuning in every other day (the classes run just about that frequently, though, if you wanted to.)
The Table Less Traveled
Before Covid-19, the Table Less Traveled offered international food-focused group tours. During Covid-19, they're taking their ethos to virtual cooking classes featuring chefs around the world. (Chefs share the proceeds from each class with the company.) Choose a small group class or a private one, get a list of necessary ingredients and tools, then Zoom in to cook along. The recipes tend to focus on iconic and semi-involved dishes, so this is a good option for anyone looking to pretend they're on vacation. Some highlights include empanadas with a chef from Peru, Nikuman with a chef from Japan, and pastel de nata with a chef from Portugal.
Traveling Spoon
Traveling Spoon is another food-based travel company that cleverly pivoted to online cooking classes when Covid-19 hit. Their extensive menu of online cooking classes, all for $30 per spot, connect participants with hosts around the world who walk them through a pre-set dish. Some hosts even go the extra mile of chatting participants through multi-day steps beforehand, like the fermentation process required to make Ethiopian injera. Sort of like the Airbnb of cooking classes but without, you know, having to use Airbnb! The options truly span the globe, including Georgian Khachapuri, Lebanese pastries, and, uh, Chicago-style deep dish pizza? (Really, though, do you know how to make authentic deep dish pizza? Didn't think so.)
Molly J. Wilk
So you're one of the few people who hasn't tired of their quarantine baking obsession — time to step it up! Perhaps an advanced macaron class with a Le Cordon Bleu pastry chef based in Versailles, France? Molly J. Wilk offers her new online classes multiple times a week for 30 minutes to an hour and a half. Despite her impressive credentials, Wilk offers plenty of down-to-earth options and flexibility, with classes specifically for kids, learning techniques, or baking for a theme like Halloween. But yes, you can also go all in on a croissant tutorial if you're still into that kind of thing.
Massimo Bottura
You may recognize Massimo Bottura as a Michelin-star chef and a man who has quite a lot of knowledge on Parmesan cheese. Surely you want to compare your tomato sauce recipe with his. Through the end of May, Bottura hosted regular Instagram Live videos called KitchenQuarantine, walking viewers through simple but well-done recipes like almond gelato with pistachio sauce, pasta al pomodoro, and "BESCIAMELLA" (the glamorous Italian name for béchamel sauce). In the spirit of quarantine, he also does some pantry-desperation recipes like a chocolate mousse made of leftover chocolate easter eggs. Unfortunately, they're no longer live experiences, but the kookily filmed and enthusiastically narrated videos are all still available on Bottura's Instagram account.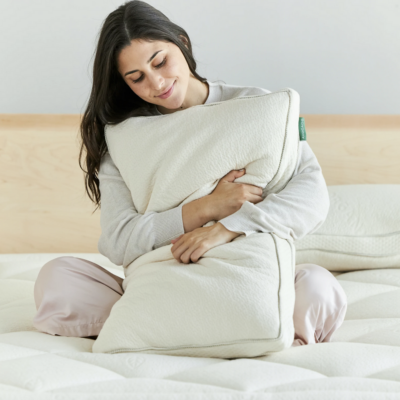 Shop Pillows
The Essential Organic Pillow Collection
Gentle, breathable, non-toxic support.
Buy Now