SolarBuddy works to end energy poverty by spreading awareness and donating sustainable, solar-powered lights to those in need.
My husband and I recently had work done on our house that required the electricity to be shut off for 24 hours. During the day, it wasn't a big deal. Once night fell, however, it was a different story. We lit handfuls of candles, but they didn't provide enough light to cook dinner, read, or play a game, and navigating the house was a challenge. We also couldn't charge our phones or computers, leaving us nervous about whether they would last through the night.
Our experience was just a taste of what the 789 million people living in energy poverty face each day. Energy-poor communities have little or no access to safe, affordable light sources and are often simultaneously dealing with extreme poverty. Without reliable energy, individuals must burn alternative fuels like kerosene, crop waste, animal manure, and charcoal to light and heat their homes and cook when the sun goes down. Not only is this expensive, these toxic energy sources also pollute the air, put human health at risk — particularly for women and children — and emit black carbon emissions that contribute to climate change.      
That's why nonprofit SolarBuddy is on a mission to spread awareness about energy poverty and lift communities out of darkness by gifting them innovative, sustainable light solutions. 
Read more: What Is Energy Poverty?
"People can understand water poverty because they get thirsty, people can understand hunger because they get hungry," says Joanna Cantwell, Chief Development Officer at SolarBuddy. "The concept of not having a light switch to turn on or power to charge your phone doesn't cross people's minds. But once people learn about energy poverty, they have an epiphany. 'I have never thought about that,' is something we hear over and over."
The seed for what would grow into SolarBuddy was planted in 2011, when Simon Doble, an inventor, social impact entrepreneur, and founder of the organization learned about the concept of energy poverty in Time magazine. So he got to work on a solution. After discovering children in energy-poor refugee camps were dying from petroleum-based paraffin lamp oil burns, Doble created a renewable-energy-powered pole light for use inside humanitarian tents. A year later, in 2013, Doble installed the world's first solar street lamp lights in refugee camps.
But Doble was just getting started. What struck him the most was that children living in energy-poor communities are left behind academically — once it is dark outside, they can no longer study, do homework, or practice reading with their parents before bed. His focus became educating the global community about the impact of energy poverty while providing them with a way to make a difference for at-risk children.
 Read more: Are Solar Co-Ops The Future of Clean Energy?
In 2016, Doble launched SolarBuddy in Australia with its flagship solution, an LED solar lamp called JuniorBuddy. JuniorBuddy's impact is two-fold. The solar-powered light provides a sustainable light solution that can be charged by the sun for children in energy-poor communities. The simple design also enables children as young as 7 years old to assemble a light while learning about the concept of energy poverty.      
"Rather than engage in a traditional philanthropic model where you only fundraise and gift lights, Simon wanted people to have the option to be involved in assembling lights and know that they are assembling it for another person," says Cantwell. "Yes, donations are critical to our work but our intention is also that, as future generations move forward, they will take this spark that they get from doing something that matters and bring a little bit of kindness to the world."
Light-building programs are now hosted in schools and as team-building events across Australia, the U.S., and Europe to spread awareness about energy poverty and get more JuniorBuddy lights into the hands of children worldwide. SolarBuddy also recently introduced a new, more powerful light known as StudentBuddy. The innovation illuminates a six-square-meter space, has a longer battery life, and — critically — includes USB charging ports. 
"These communities are not electrified. If they're gifted tablets that can't be recharged they become doorstops," says Cantwell. "So our intention with StudentBuddy is to bring charging into the homes and schools with an intervention that will completely shake up the way that these communities have had to manage this challenge to date."
So far, SolarBuddy has impacted 893,395 lives and reduced 229,221 tonnes of carbon emissions through its revolutionary solar light solutions. Avocado is proud to have supported its cause during Earth Month by gifting 5,000 lights to communities impacted by extreme energy poverty.
"Through this added awareness, we're building and inspiring a global community of agents of change," says Cantwell. "The feeling of having a company like Avocado by our side is incredible — what that does for our team knowing that there are people who believe in the work and want to support the work is massive."
Join us in being a global citizen by donating to SolarBuddy and illuminating the lives of children and families all over the world. 
Read more: 5 Solar-Powered Products for a Clean Energy Home 
Have feedback on our story? Email [email protected] to let us know what you think!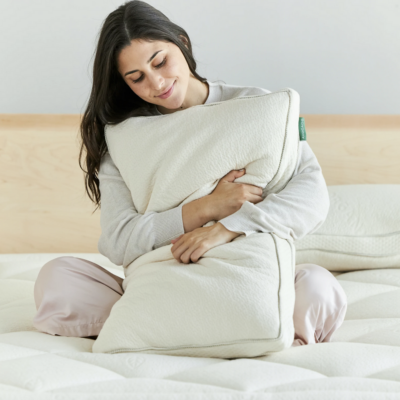 Shop Pillows
The Essential Organic Pillow Collection
Gentle, breathable, non-toxic support.
Buy Now