Get your kid back to school ready while supporting families, schools, and communities in need with these school supply brands that give back.
A sure sign school is almost in session? That arm's length supply list you just received from your child's teacher. But not every family can afford to purchase the required items. Rising inflation and a broken supply chain aren't helping matters, either.
The cost of back-to-school supplies is expected to jump eight percent from 2020 to approximately $661 in 2022 per K-12 student, according to a survey from Deloitte. That's no small expense. At the same time, the poverty level increased in 2020 for the first time in five years, leaving 29 percent of parents unable to afford their child's school supplies. And in high-poverty districts, more than half of teachers report that 75 percent of their students arrive without school supplies on the first day of school.
As a result, educators often end up filling the gaps. According to a 2021 survey from the National Center for Education Statistics, 94 percent of teachers paid for school supplies with their own money, the average cost of which amounted to $750.
To lessen the financial burden for parents and teachers — and to ensure every child has what they need to succeed in school — a handful of brands are using their platforms to donate supplies and other resources to those in need.
Here are seven school supply brands that give back.
Read more: 3 Amazing Environmental-Science Activities to Do With Your Kids
1.
Yoobi
Lunch bags and water bottles, pens and pencils, binders and folders — Yoobi has it all and categorizes it by grade, so it's easy to find exactly what each kid needs. Plus, the majority of their supplies come in fun colors and prints like coral ombre and Frenchie pups. The best part? For every item purchased, they donate school supplies to children in need. Through its giving partner, Kids In Need Foundation, Yoobi distributes Classroom Packs filled with 20 essential items to schools across the U.S. where 70 percent or more are eligible for free or reduced lunch. To date, the company has donated more than 83 million school supplies and impacted close to 6 million children.
2.
STATE 
Of course, kids need something to carry all their books and school supplies around. For that, there's STATE, a company specializing in trendy canvas backpacks for kids, preteens, and teens. (They also have large totes for your too-cool high schooler.) Choose from glittery designs, zebra prints, or color-blocked bags that fit your child's unique style. No matter which backpack or bag you purchase, you'll help STATE donate a fully-packed backpack to disadvantaged children and families.
3.
Better World Books
Whether your child is in pre-K, middle school, or high school, Better World Books has their required reading covered. Browse their catalog by grade, bestselling authors, or family favorites. If you want to stretch your dollar, check out their outstanding selection of used books. Each sale funds literary and education initiatives in the U.S., Canada, and the U.K. Better World Books also reuses and recycles books when possible and supports libraries through funding and book donations. So far, they've donated more than 32 million books and raised approximately $33.5 million for literacy and libraries.
Read more: Recycling Art Supplies with Crayola and TerraCycle
4.
This Saves Lives
Growing brains need healthy fuel. This Save Lives' Kids' Snack Bars are made for snacking at school and are packed with good-for-you ingredients your little ones will love. Available in quirky flavors like Beehive Jive Oats and Honey, Elephant Apple Crisp, and Rockin' Straw-beary, each bar is non-GMO, gluten- and soy-free, and includes a serving of fruits and vegetables and 5 grams of sugar or less. Even better, every bar helps This Saves Lives provide food to families and children dealing with food insecurity and hunger.
5.
Bright Books
Journals are the perfect way to keep notes, ideas, to-do lists, and doodles all in one place. And Bright Books' journals aren't just aesthetically pleasing, they were created to do good. For every five mini journals and every two traditional journals, the company donates durable, portable, solar lights to schools and libraries in rural Uganda — where energy access is limited — through its partner Nokero. Students can check out the solar lights from the library and use them to walk home safely or study in the evening when electricity access is scarce.
6.
Stasher Bags
Millions of plastic bags are used for packed lunches each year. Cut back on plastic waste and support the environment with your dollar at the same time. Stasher's high-quality reusable bags are made from food-grade platinum silicone and are dishwasher safe, microwave-ready, and freezer friendly. Ideal for school lunches and keeping things organized, they offer sandwich bags, snack-sized bags, and pocket bags for small items like hair ties and chapstick. The company is also a member of 1% For the Planet, so they donate one percent of annual revenues to vetted environmental nonprofits.
7.
TOMS 
It seems like kids grow out of their shoes every few months. So the next time you need to purchase a new pair, spring for one of the kid's sneaker styles at TOMS. They offer velcro designs for your youngest who haven't quite learned to tie their shoes, traditional lace-up kicks for older kids, and cute booties for the burgeoning fashionista. Plus, you're helping others with your purchase. The Certified B Corp invests a third of its profits for grassroots good, including grants and partnerships with community organizations to drive sustainable change.
Read more: 17 Ways to Cut Back on Waste When You Have Kids
Have feedback on our story? Email [email protected] to let us know what you think!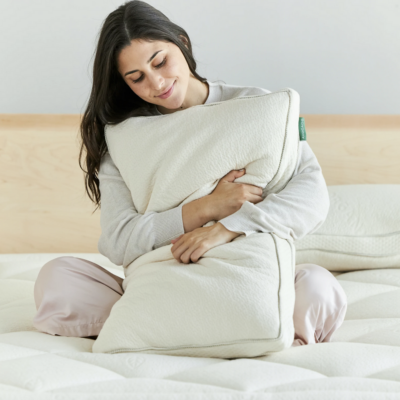 Shop Pillows
The Essential Organic Pillow Collection
Gentle, breathable, non-toxic support.
Buy Now