With plant-based hair extensions and braids, Rebundle is transforming their industry with an eco-friendly alternative.
Braids, wigs, and hair extensions are hugely popular, with the market set to be worth $10 billion by 2023. They're worn by individuals with a variety of needs, from cancer patients and those dealing with hair loss to people who choose them as a personal style and those who want to protect their natural hair and look fashionable, too. However, due to the ethical issues of human hair harvesting, the majority of these products are made with plastic fibers like acrylic, polyester, and polyvinyl chloride — all of which are created using fossil fuels. 
The problem is that one in three extension wearers experience scalp irritation because of the toxins found in synthetic hair. And it's not just a discomfort issue. Toxins in plastic braids and extensions pollute the environment while also acting as carcinogens in the human body.
An unbearably itchy scalp caused by synthetic braids was exactly what Ciara Imani May was struggling with in 2019. "Far too often, Black women are forced to choose between enduring the pain and discomfort of braids with at-home remedies or taking our braids down, resulting in a loss of time and money," she says.
May didn't want to stop wearing braids, but she did want to find a better solution for herself, other Black women, and the planet. She co-founded one of the first beauty brands to tackle both the human and environmental complications related to the hair extension industry. Rebundle is a St. Louis-based startup specializing in sustainable, non-toxic, plant-based braids and extensions that are safe for consumers and the environment. 
Read more: How Lush Cosmetics Is Changing The Beauty Business
By some estimates, nearly 30 million pounds of plastic hair goes into landfills each year, further contributing to the massive amount of pollution and carbon emissions associated with the fashion and beauty industry. And as that plastic breaks down, tiny bits — or microplastics — end up in our soil, water, air, and even our bodies, causing harm to people, wildlife, and the planet. 
Another major issue, says May, is the lack of regulations and transparency. Hair extension supply chains are typically convoluted and there are currently no rules dictating how or where these products, including braids, wigs, and extensions, are produced, or how to dispose of them sustainably. It's a status quo May is working to change.
"Regulations are needed on all hair products, synthetic or real," Beth Summers, co-director of Women's Environmental Network (WEN), said in an interview with Refinery29. "A fair-trade and transparent supply chain with proper health and safety legislation for the manufacture, use, and disposal of synthetic hair is required."
For its part, Rebundle is leveraging its latest funding round to build production facilities in the U.S. rather than outsourcing offshore. The move is in line with the brand's effort to provide further transparency into their manufacturing and supply chain.
Read more: Creating a Circular Economy With Reusable Wine Bottles
Rebundle is also eliminating plastic pollution from synthetic hair braids and extensions with their recycling program. So far, they've collected 244 pounds of synthetic hair, and they accept all brands and colors of plastic hair — no matter where you purchased them from. The process couldn't be easier. All you have to do is mail your hair to Rebundle in a cardboard box, and they recycle it into outdoor furniture, lawn, and garden tools — they even recycle the box you mailed your braids in. According to May, it's about eliminating single-use plastic waste and keeping extensions out of landfills.
Rebundle has also revolutionized the way extensions are manufactured. The brand's new line of affordable extensions, called Braid Better, are non-toxic, lightweight, comfortable, itch-free, biodegradable braids made mostly from naturally extracted banana fiber. What Rebundle's braids don't include are harmful materials, including polyvinyl chloride, emulsifiers, phthalates, and toxic dyes. After you're done wearing Rebundle's Braid Better braids, you can compost them or put them in your yard waste bin.
The trend is catching on. Sustainable extensions company Raw Society Hair also offers compostable braids made from banana fibers in the UK and wig banks like Simply Wigs rewash and recondition wigs to make them accessible for those who are financially limited. 
Rebundle is one of a small cohort leading beauty brands toward a more sustainable industry — one that offers both a better, healthier experience for customers and has a smaller impact on the planet. By supporting brands like these, consumers can use their purchasing power to make a difference and push brands to operate more sustainably.
Even if you're not a braid-wearer, consider how to make your beauty routine more eco-friendly by shopping local and researching supply chains before you make a purchase. And, May says, "think twice about needs versus wants." Only buy what you need to help reduce waste.
Read more: The Packaging Startup Helping Big Brands Tackle Waste
Have feedback on our story? Email [email protected] to let us know what you think!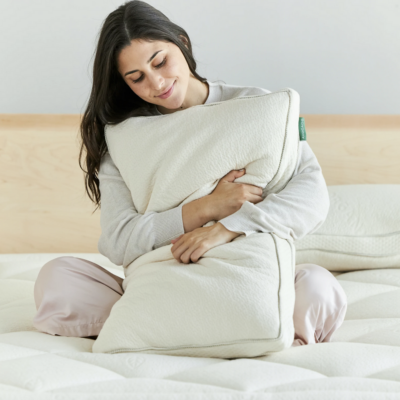 Shop Pillows
The Essential Organic Pillow Collection
Gentle, breathable, non-toxic support.
Buy Now