LUSH Cosmetics moved onto the beauty scene with a new approach to cosmetic products — that you didn't have to sell your soul to get something that worked.
Since then, they've been making waves with business practices that don't compromise on the ethics of who they are, and products that fans just can't get enough of.
With stores full of reclaimed wood furniture and crates of bath bombs and soaps, the team at LUSH Cosmetics has decided that you can have your cake and eat it too — no more sacrificing the environment or the welfare of others for a great tube of lip balm.
Here are just a few ways that LUSH is shaking things up in the beauty biz, and making a name for themselves as an ethical beauty product company.
Making Less Waste
Of LUSH's visions for leaving a better world, one that never fails to impress is their focus on waste reduction. 35% of LUSH's products are unpackaged, and care is always taken to reduce packaging materials whenever possible.
Biodegradable, Baby
In their early years, LUSH was actually using popcorn as a biodegradable packing material, and it was awesome, but they found an even better alternative.
These days they're using a 100% biodegradable starch-based packing peanut that breaks down in both soil and water, so you can even throw it into your compost pit.
What's more, they also use biodegradable bags, and have even replaced traditional gift wrapping with a reusable knot wrap. The wraps are either made from 100% organic cotton or recycled plastic bottles, and can be used over and over again!
Recycling Ocean Plastic
Beyond their brilliant biodegradable packaging, LUSH has taken it a step further with 100% post-consumer plastic in any packaging they do use, like their makeup pots. The coolest part? Some of this plastic even comes right out of the ocean to be processed and turned into new packaging materials. When you're done with them, all of LUSH's plastic packing materials are recyclable, so nothing ever has to hit the landfill.
Handmade from the Heart
The products at LUSH are made with a lot of natural ingredients, but they're also made with a lot of heart. Each bar of soap, each bath bomb, and even the labels on them are handmade by a dedicated team of aroma artists, face mask aficionados, and cosmetic connoisseurs that painstakingly create each detail, right down to drawing the label designs by hand.
No Animal Testing
LUSH is proud to only test their products on 'human volunteers', and is an outspoken advocate against the dated and ineffective practice of animal testing that has so long plagued the beauty industry.
Beyond resolving to uphold their own strict standards against animal testing, LUSH even developed the Lush Prize, a $320,000+ cash award for researchers and scientists around the world that are finding new ways to develop products, without the need for animal testing.
100% Vegetarian
LUSH's cruelty-free stance doesn't just stop at animal testing. Their entire line of products is made with 100% vegetarian ingredients, like their GMO-free glycerin alternative derived from rapeseed oil.
What's more, over 80% of their products are vegan, and those that source ingredients like honey, yogurt, and eggs are only sourced from suppliers that meet their stringent cruelty-free standards.
Ethically Sourced Ingredients
A core part of who LUSH Cosmetics is is a company that won't put profits before people. All too often, people in far-flung regions are taken advantage of by middlemen who cash in, while those cultivating the ingredients continue to suffer in economic disparity.
LUSH closes the gap, getting the ingredients for their products directly from the source. Though they try to get as much as they can locally, when they can't, then send their dedicated Ethical Buying Team right to the source.
Their team vets the ingredients from farm to factory to ensure that the people are compensated fairly and operate in safe working conditions, and that LUSH's standards for sustainability and cruelty-free practices are met or exceeded.
Cosmetics with Compassion
The beauty industry has been one riddled with vague labels, animal testing, and countless plastic tubes that fill landfills every year, but LUSH is looking to change all of that. With their focus on ingredient transparency, building ethical supplier relationships, and reducing their waste footprint on the world, it's safe to say we're in love with this gorgeous green company.
Have you ever tried LUSH Cosmetics before? Tell us your favorite product of theirs on Facebook or Instagram and tag us @AvocadoMattress or #AvocadoGreenMagazine!
Images and video via Lush Handmade Cosmetics USA.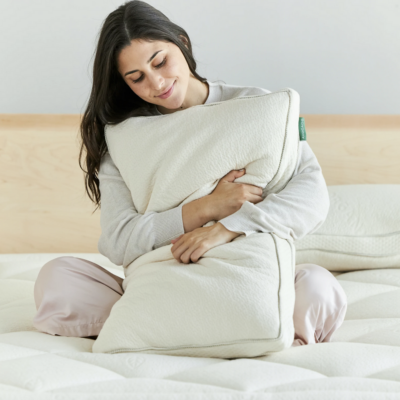 Shop Pillows
The Essential Organic Pillow Collection
Gentle, breathable, non-toxic support.
Buy Now