Lean into the flavors of fall with this crunchy pumpkin spice granola recipe made with simple, healthy ingredients.
Chilly weather isn't the only indication fall has arrived. If you've been to the farmers market lately, you've probably noticed a shift from tomatoes and cucumbers to squash, Brussels sprouts, and our personal favorite: pumpkin.
So, we're celebrating the new season with a savory Pumpkin Spice Granola recipe featuring warm spices and pumpkin straight from the patch. Make a batch ahead of time to enjoy the taste of fall first thing in the morning or as a healthy midday snack.
Why You'll Love This Pumpkin Granola
Uses real pumpkin. This recipe combines pumpkin purée with savory spices to highlight nostalgic fall flavors in every bite.
Simple, whole food ingredients. Our homemade granola leverages whole food ingredients you probably already have in the pantry, like rolled oats, pepitas, raisins, and peanut butter that deliver a dose of fiber, protein, and antioxidants.
Seasonal and nutritious. Fall produce is packed with nutrients that support overall well-being and a fine-tuned immune system, which is especially important for the upcoming cold and flu season.
Read more: Air Fryer Baked Apple Recipe For Fall
Nourishing Fall Ingredients
While this pumpkin spice granola is delicious, it also provides a number of benefits that aid in longevity, help boost your body's ability to fight off illness, and improve sleep. Here's what gives our granola nutritional staying power.
Pumpkin Purée: Pumpkin is part of the winter squash family and is loaded with antioxidants like beta-carotene, vitamin C, and vitamin E. These nutrients give our immune system a leg up while also reducing chronic disease risk. To get an abundance of these nutrients, look for yellow and orange produce often found this time of year.

Pepitas: These crunchy seeds are loaded with protein, iron, zinc, and magnesium, which are associated with better bone health, heart health, and sleep.
Rolled Oats: The humble oat is packed with soluble fiber that supports heart health, reduces cholesterol, and helps you stay feeling full and satisfied.
Pumpkin Spice Granola (Serves 6-8)
Ingredients
3 cups rolled oats, use gluten-free if needed
½ cup pepitas
½ cup golden raisins
1 tsp pumpkin spice
1 tsp ground cinnamon
1 tsp kosher salt
½ cup canned pumpkin purée
½ cup natural peanut butter
⅓ cup maple syrup
Instructions
Preheat the oven to 350ºF.
In a large bowl, add oats, pepitas, raisins, pumpkin spice, cinnamon, and salt. Mix to combine.
In a separate bowl, combine pumpkin purée, peanut butter, and maple syrup. Whisk together until smooth.
Pour the pumpkin mixture into the bowl with dry ingredients. Use a spatula to fold everything together until fully combined.
Spread the oat mixture out evenly on a parchment-lined baking tray and place in the oven for 35-40 minutes, stirring the oats every 10-15 minutes.
Allow the granola to cool, which will help it crisp up.
Serve with some plant-based milk or plant-based yogurt, and savor the taste of fall!
Read more: Grain- and Dairy-Free Pumpkin Pie Cups
Did you try out our Pumpkin Spice Granola recipe? Share it with us by tagging @avocado.green on Instagram or Facebook. You can also follow Catherine @plantbasedrd for more delicious, nutritious recipes.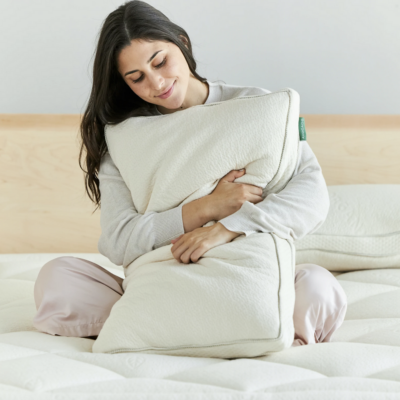 Shop Pillows
The Essential Organic Pillow Collection
Gentle, breathable, non-toxic support.
Buy Now