Thanksgiving can be a polarizing holiday when it comes to food — and we're not just talking sides vs. main dish. If you've ever been the odd one out at Thanksgiving dinner — or you've been the one preparing the big meal and trying to contend with a laundry list of food sensitivities and particular protocols of eating — you know you difficult it can be to navigate the menu.
Whether you, your friends or family (or all of the above) are paleo, gluten-free or refined sugar-free, big gatherings present a challenge when it comes to food — and no one wants to spend Thanksgiving dinner feeling left out or stressed out.
What to do? How do you make a Thanksgiving dinner everyone will love? Asking your guests to bring a favorite dish of their own is a great place to start — this way you not only have a guarantee they'll be able to enjoy something on the menu, but you'll be adding variety to the menu, too (just be sure to get confirmation of who is bringing what to avoid overlap). Another great way to make this Thanksgiving the best one yet? Choose a few dishes to tinker with to make work for you or your guests.
Believe it or not, Thanksgiving dinner and dessert can be easily altered to make work for a number of diets — swap coconut milk for dairy, gluten-free flour for wheat flour, coconut sugar and honey in place of processed sugar. One incredibly easy place to start? Pumpkin pie.
Today we're sharing a recipe for a luxurious pumpkin pudding that tastes just like the real thing. The kicker? It's free from grain, gluten, refined sugar and dairy — making it compliant for almost everyone. Ready to blow everyone's mind at this year's Thanksgiving feast? Read on for the recipe!
Note: This recipe does contain eggs. To make it vegan, use your favorite vegan egg replacer.
Paleo Pumpkin Pie Cups
Ingredients:
1 15 oz. can organic pumpkin puree (not pumpkin pie filling)
½ cup full-fat canned organic coconut milk
¼ cup maple syrup
¼ cup unsulfured molasses (less if you'd like less sweet)
1 tsp pumpkin pie spice
1 tsp cinnamon
1 tsp fresh grated ginger
1 tsp vanilla extract
½ tsp orange zest
Pinch flaked Maldon salt
3 eggs + 1 egg yolk
Topping:
Whipped coconut cream
Grain-free paleo granola
How to:
Preheat oven to 350°f and spray 4-5 ramekins with coconut oil cooking spray. Fill a large baking dish with about ½-inch water and set aside.
Combine all ingredients in a blender or food processor and blend until smooth. Pour into ramekins, leaving about ¼-inch of space at the top. Carefully place the ramekins into the baking dish with water, being sure not to splash water into your mixture.
Carefully transfer the baking dish to the oven and bake 30-40 minutes or until pudding is set (no longer jiggles when gentle wiggled). When done, remove and allow to cool completely.
To serve: Top with a sprinkle or two of paleo granola and a dollop of whipped coconut cream (recipe below). Give thanks and enjoy!
Coconut Whipped Cream
Ingredients & materials:
1 full-fat can organic coconut milk
½ tsp vanilla
Large mixing bowl
Hand-mixer or stand-mixer
How to:
Place the can of coconut milk in the fridge and allow to sit at least 1 hour. Place the bowl of the stand mixer in the freezer during this time as well. Remove the coconut milk, and without shaking, flip the can upside down. Use a can-opener to open the can from the bottom (now the side facing you) – you should see a clear-ish liquid (this is the coconut water separated from the cream). Pour out this liquid. You should be left with a thick coconut cream sitting at the bottom of the can.
Remove the bowl from the freezer and scoop the coconut cream into it. Add the vanilla. Using the hand-mixer, whip the coconut cream until it resembles whipped topping. Taste it and add more vanilla if you'd like. Done!
What's your favorite Thanksgiving food? Do you have a surefire way of pleasing your guests? Share with our community by tagging us on social with @AvocadoMattress and #AvocadoGreenMagazine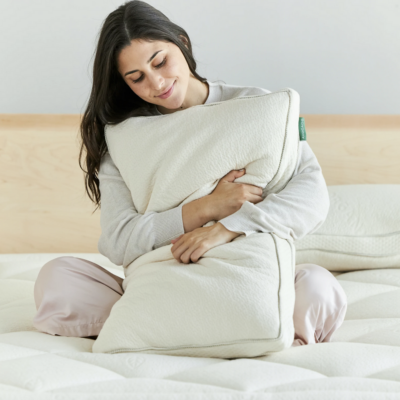 Shop Pillows
The Essential Organic Pillow Collection
Gentle, breathable, non-toxic support.
Buy Now