Protect Our Winter's Stoke the Vote campaign laid the groundwork for a culture of voting in the outdoor industry.
This is the second article in our Earth Month series offering an in-depth look at our 1% For the Planet partner, Protect Our Winters, and how they're leveraging the outdoor industry to protect our outdoor playgrounds. Read our first article: How Protect Our Winters Became a Force in D.C. 
Every vote matters. So what if all 50 million people across the U.S. who consider themselves outdoor enthusiasts pledged to vote in the name of protecting our environment from climate change?
That's the goal of Protect Our Winters' Stoke the Vote Campaign. Protect Our Winters is a nonprofit safeguarding the outdoor places and lifestyles we love from climate change. But they can't do it alone. That's why Avocado is proud to support its efforts by donating one percent of revenues to POW through our partnership with 1% For the Planet.
Read more: What Is 1% For the Planet?
POW had a major impact on the last election.
"Stoke the Vote was a critical campaign in 2022 for several reasons. Number one, midterms matter," says Ben Gubits, policy and campaign director at Protect Our Winters. "Oftentimes, there are folks who only turn out in presidential years, or not at all, so there was an opportunity to engage what we call the 'Outdoor State' — the 50 million plus Americans that recreate outdoors — to participate in non-presidential election cycles. The balance of power was up for grabs. Our mission was to turn out the Outdoor State in key geographies with climate top of mind as they head to the ballot box."
POW identified Arizona, Colorado, Montana, Nevada, and Utah as priority states due to their robust outdoor industries. These states also have a history of highly competitive elections.
"Our mission at POW is to win on the margins in races that are very close," says Gubits. "At POW, we have enough reach and influence to actually tip the scale on those margins because oftentimes races in those five key states are close."
To get the Stoke The Vote campaign out to as many voters as possible, POW leveraged its superpower: alliance members. In total, 147 alliance members — athletes, creatives, and business leaders who support POW's mission — amplified their civic engagement messaging via social media, earned media, events, and direct voter contact.
Their strategic campaign paid off. Alliance members amassed 145,000 engagements and 3.3 million impressions across social media. On the ground, they met with 2,116 voters during alliance-led Shop Talk Tours, where they set up events in book shops, climbing gyms, and gear shops in key locations, industry talks, and the first-ever Stokefest in Bozeman and Reno. Alliance members also sent out 7,100 handwritten postcards and directly called 7,000 voters.
As a result, in 2022 POW's Stoke The Vote campaign reached 2.3 million low- and mid-propensity (unlikely) voters in the five priority states they targeted. In that year's midterms, 7.3 million people voted across those key geographies.
Read more: How Protect Our Winters Is Saving the Outdoors
"It's really about authentic messaging," says Gubits. "The advantage of influencers in terms of the athletes and brand partners is they have incredible reach and authenticity. When people look at a get-out-the-vote ad or social content and see a landscape or a face they recognize, they can relate more. We really wanted to connect people and place, to motivate voters with similar interests to protect the places they love to play."
Campaigns like Stoke The Vote are laying the groundwork for a culture of voting in the outdoor industry. It's also an essential part of fighting climate change and preserving our democracy. But POW isn't stopping with the midterms. The organization plans to continue to rally the Outdoor State through creative and strategic get-out-the-vote campaigns. Next up, the 2024 presidential election.
"We're seeing an uptick in civic engagement and a lot of that is due to campaigns like Stoke The Vote where the overall message is extremely positive," says Gubits. "There's a message to join the team so people feel part of something bigger than themselves and contribute to something meaningful."
Getting voters excited to exercise their civic duty in midterms isn't about a single election — the idea is to plant a seed so voters understand the importance of casting a ballot in local, state, and presidential elections, too.
The work isn't done when an election cycle ends. In between voting campaigns, POW amplifies its message with initiatives like its recently launched eight-part educational series Finding Common Ground: How to Be a Climate Advocate in partnership with Crux Academy. The online video course offers in-depth advice, analysis, and stories from the advocacy trail with POW Alliance members and provides a jumping-off point for climate advocacy work like calling local and state lawmakers.
In March, POW Athlete Alliance member and world-class climber Sasha Digiulian joined Vice President Kamala Harris and U.S. Congresswoman Brittany Pettersen for a Women in Climate panel discussion about climate solutions and how the climate crisis impacts women involved in the outdoor industry. Meanwhile, in Aspen, POW Athlete Alliance member and Olympic ski racer Travis Ganong spotlighted POW's work on the global stage during a climate panel at the Climate World Cup.
Whether or not you're an outdoor adventurist, climate change impacts everyone. That's why making your voice heard and ensuring your elected representatives are acting on climate is so critical. Together, we can preserve our planet for future generations.
Read more: Your Vote Is Essential
Have feedback on our story? Email [email protected] to let us know what you think!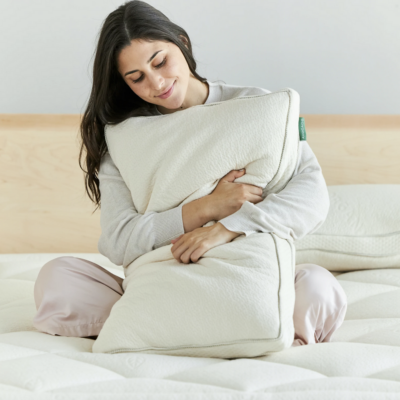 Shop Pillows
The Essential Organic Pillow Collection
Gentle, breathable, non-toxic support.
Buy Now