From lobbying on Capitol Hill to phone banking during elections and using their social media platforms for good, Athlete Alliance members like Matt Lieto are an integral part of Protect Our Winters.
This is the third article in our Earth Month series offering an in-depth look at our 1% For the Planet partner, Protect Our Winters, and how they're leveraging the outdoor industry to protect the outdoors. Read our first two articles: How Protect Our Winters Became a Force in D.C. and The Nonprofit That Gets the Outdoor Industry to the Polls. 
One of the main ingredients of Protect Our Winters' secret sauce is its Athlete Alliance. A collective of professional rock climbers, Olympic and backcountry skiers, mountain bikers, fly fishers, trail runners, and snowboarders, these members use their platforms to raise awareness about the climate crisis and get fellow outdoor enthusiasts involved in POW's mission to protect the outdoor playgrounds we love.
To get a better understanding of how POW's Athlete Alliance members help the organization move the needle on climate change, we caught up with Matt Lieto, a professional triathlete and cyclist based in Bend, Oregon. Matt has competed in several Ironman World Championships, Unbound 200, and countless other races.
When he's not sweating it out on a bike or shredding on a pair of skis, you can find him coaching, chatting it up on a podcast, serving as a commentator for Ironman and gravel races, and amplifying Protect Our Winters' message any way he can.
Read more: How Protect Our Winters Is Saving The Outdoors
What are you up to these days?
Winter in Bend is the offseason for me as far as the majority of my work goes, so I'm skiing in the mountains as much as possible. This year, I've also been doing a fair bit of cycling adventures in different locales. I went to Spain and did some bike-packing there for a week — tried to be a human-powered tourist, and it was pretty fun.
Why did you become involved as an Athlete Alliance member?
When I learned that POW was opening up its alliance to athletes in summer sports like cycling, I was all in. The amount of people involved in cycling is huge and equates to even more people to spread POW's message. And because they offer actionable ways to engage during an election cycle, that got me excited to join. Joining as an Athlete Alliance member was an opportunity to spread the word about climate change and be more involved in making an impact. I want to feel like I'm invested, and POW certainly gives us the tools to feel like we can make a change with our voice.
I'm not just putting a sticker on my car and sending in a membership fee. For me, that's always important.
Why did you join Protect Our Winters on Capitol Hill on Lobby Day in 2022?
I've gotten to where I am in life by doing shit that scares me. I'm a professional commentator. I talk about things in front of millions of people, most things don't intimidate me. But the opportunity to go to Capitol Hill and talk to people that are driving the course of our country did. So I jumped at it because it was something that put me out of my comfort zone.
Going to Capitol Hill was an overwhelmingly positive experience. It was a whirlwind trip, but it was rad. When I left I thought, POW has this dialed.
The experience on Capitol Hill made me want to go back. It also gave me confidence that it's possible to make a change and affect the thoughts of people and leaders, which is important because in the climate we're in now, people think that someone's mindset is just going to be their mindset, and that's not necessarily the case.  
Have you joined in on any other on-the-ground initiatives?
I've done some phone banking, which was great. That's the thing about politics — you have to meet people where they're at, and everyone has their own point of view. Our mission was just to make sure people had a plan to vote — I wasn't trying to tell them how to vote.
In general, everyone was super positive. Of course, I talked to people who I knew weren't going to vote like I was going to vote, but it was still positive to have conversations about their plans. 
I also sent emails to representatives right before the climate bill went through to have an impact on the vote, which was super cool. Before POW, I never would have thought that was something I could do. But they give you all these tools and support.
How is POW's work a critical piece of combating the climate crisis?
There's only so much I can do as an individual. For instance, I recently bought an electric car. It checks a lot of boxes for me, it makes me feel better, I'll feel a little less bad about throwing stuff into the air. But in the end, it's immeasurable when it comes to fixing our problem. But I wouldn't be doing that if it wasn't for the IRA — the government is saying let's work on getting everyone in electric vehicles.
Not that electric vehicles are the end-all-be-all, but it's an example of bigger change. If you multiply me by a million, that's a measurable change. That's the whole point of POW. That's why there are the memberships and the Alliance members so we can show, hey, there's this big community standing behind us. 
The fact that we and POW can get in a room with the people that are pushing the buttons on climate innovations and spread a huge net that's going to make a bigger change, that's what POW does really well — and why I'll continue to support what they're doing.
What would you say to an athlete or outdoor enthusiast who is interested in joining POW but hasn't become a member?
It's not that hard. And, in the end, there's no downside to being part of something that will continue to give you information about how you can protect the areas we recreate in and that a lot of us base our lifestyles and communities around. If you can help, that's huge.
It's also rewarding being exposed to what POW is doing and finding ways to be part of their impact — knowing that you're part of something that is moving us forward.
This interview has been edited and condensed.
Avocado is proud to donate one percent of revenues to Protect Our Winters through our partnership with 1% For the Planet.
Have feedback on our story? Email [email protected] to let us know what you think!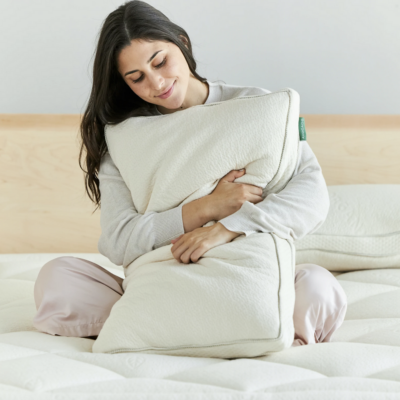 Shop Pillows
The Essential Organic Pillow Collection
Gentle, breathable, non-toxic support.
Buy Now