For environmental advocates, the message around PFAS chemicals, or toxic "forever chemicals," is one of hope, but also of urgency.
In January 2023, headlines broke that popular period underwear company Thinx paid a $5 million dollar settlement in a class action suit for including PFAS chemicals, or per- and polyfluoroalkyl substances, in their products. They aren't alone. 
Previously, in October 2022, a class action lawsuit was filed against outdoor apparel and equipment brand REI due to alleged PFAS content in its waterproof clothing. (REI has since released new product standards that require its suppliers to eliminate PFAS chemicals from products like hiking packs and professional-grade raincoats.) Similar suits have also been filed against cosmetic brands Cover Girl, L'Oréal, Almay, and Burts Bees because of the presence of PFAS in their products.    
Often called "forever chemicals," PFAS are a class of more than 5,000 industrial chemicals that don't break down in the environment. In wildlife, they can biomagnify, increasing in concentration up the food chain (consumption advisories for fish and deer are becoming more common due to environmental contamination). Similar to the effects seen in humans, PFAS are linked to tumors, lower reproductive success, and liver, kidney, and immunological effects in animals. Researchers at Oxford University recently released the results of a study that noted a "doubling up effect" on animals like polar bears, who now face the stress of both exposure to man-made toxins and a rapidly changing habitat.
PFAS also bioaccumulate in the human body, building up over a lifetime. Exposure is particularly dangerous for women. PFAS disrupt hormonal functions, which may affect breastfeeding, menopause, blood pressure, fetal development, and ovarian disorders. In general, PFAS have been linked to cancers and heightened cholesterol. And according to the CDC, some PFAS can also negatively affect growth and development, reproduction, thyroid function, the immune system, and liver and kidney function.
In 2022, the EPA determined that even trace levels of the most commonly used PFAS are unsafe for humans. To sound the alarm, the agency announced a new advisory around the chemicals, drastically reducing the health advisory level from 70 parts per trillion to a nearly undetectable 0.0004 parts per trillion.
The problem is these particular chemicals repel water and are often used to create water-resistant clothing and nonstick surfaces, so PFAS are found everywhere from drinking water and toilet paper to food packaging and nonstick pans. Today, most Americans have detectable concentrations of PFAS in their blood.
To figure out why PFAs are suddenly in the spotlight, what we can do to limit exposure, and if there's hope for long-term solutions, we talked with Sarah Doll, national director of the environmental advocacy group Safer States.
Here's what we learned.
Read more: Why EWG Verified Products Matter
What's causing increased coverage of PFAS?
SD: PFAS emerged on the scene in relation to places like Hoosick Falls, New York, where high concentrations of the chemicals were found in the water systems. Other areas have just begun to catch on.
Firefighters were also a major source of momentum because they began pushing for PFAS-free foam — if it was contaminating the water, it was probably contaminating them. They didn't want that exposure. With this has come heightened recognition that it's being brought into our homes in all kinds of ways, from compostable food packaging to air fresheners. Luckily, the science around PFAS is exponentially increasing, particularly around potential negative health outcomes.
What's being done about it?
SD: Five years ago, there were no existing policies around PFAS. Today, there are 30-plus states with PFAS regulations in place, and 17 state attorneys general litigating to secure resources and funds to treat contaminated water.
Individual states are leading the way by trying to get the thousands of different PFAS treated as a class to avoid a substitution that technically isn't any better, which is a tendency in the industry. But it's great that the federal government has prioritized PFAS and is creating a roadmap to try to move into a more regulatory space. Luckily, the new bipartisan infrastructure law includes money for states to address PFAS contamination.
But we can't put all our energy into cleanup. We also need to focus on setting up a system that designs for the better. One that takes into consideration what we know about which chemicals don't require toxic additives, and takes the lessons from this situation to create an infrastructure that requires us to know how hazardous a chemical is before it enters the marketplace.
Read more: What's Really in Your Water Bottle?
What is the cost of cleanup?
SD: It's astronomical. But the idea is to stop the problem so we don't have to keep spending money to clean it up.
That said, "cleanup" is relative. We can use massive filters with activated carbon, kind of like a giant Brita, but it then goes to a landfill. (When rainwater filters through waste it results in leachate, which can then re-contaminate soil and water sources.) There's huge pressure to figure out destructive solutions that actually break the bond in these chemicals — it's the strongest bond in chemistry — and allow them to be removed, rather than just reduced.
Filters containing activated carbon or reverse osmosis membranes have been shown to be effective at removing PFAS from water. Look for products certified to NSF/ANSI 53 (for filters) or NSF/ANSI 58 (reverse osmosis).
How can we mitigate day-to-day exposure to PFAS?
SD: People make assumptions that because a product is in the marketplace it must be safe to use; this is evidence that's not the case. But there are companies that are moving away from or have already stopped using PFAS. So consumers should look for options that use intentional, transparent language around PFAS. Ultimately, we need a systemic shift. You shouldn't have to be a chemist to figure out what to buy or use.
What is one thing you want people to know about PFAS?
SD: It's a systemic failure, and there's only so much you can do as an individual. You can test your water, but determining the source of the contamination is another story. We could move away from using PFAS tomorrow; there are already solutions in the market. Some alternatives are hard to find, but that's why we need an essential use framework or federal recommendations.
The European Union just released a PFAS restriction proposal that includes directives to use alternatives if they are available, and if not, allows a limited timeframe for entities to find alternate solutions.
I see it as a message of hope, but also of urgency. There are things to be aware of in our own lives, but there are even more opportunities to plug into work with states fighting to get better products on the market.
Read more: Why the MADE SAFE® Logo Matters
Have feedback on our story? Email [email protected] to let us know what you think!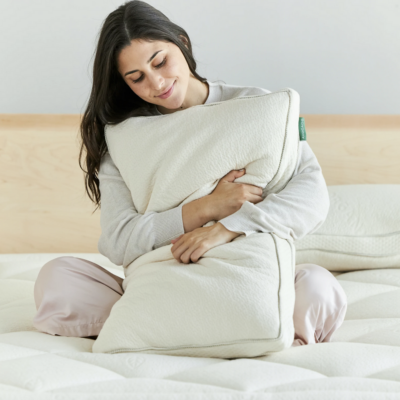 Shop Pillows
The Essential Organic Pillow Collection
Gentle, breathable, non-toxic support.
Buy Now