Do you carry a water bottle? Chances are, you do. With awareness of the impact we as individuals—and our habits—have on the environment is growing, it's not uncommon to carry a water bottle with us beyond the gym or our running routine—maybe you even have more than one.
Yes, an eco-friendly, reusable water bottle is as synonymous with environmentally-friendly products as metal straws and reusable coffee cups, but have you ever considered the water you're actually filling that bottle with? Sure, some of us are lucky to have access to fresh, clean water from a bubbling spring – but that luxury is becoming increasingly rare. So if your answer to "what's in your water bottle" is "uh, water?" you might want to take a closer look. The truth is, what's really in that bottle is a little more complicated.
What's lurking in your reusable water bottle?
Be honest, how often do you really clean that reusable water bottle of yours? Daily? Weekly? Can't remember? If only water is going into it… do you really need to clean it? The answer is a resounding YES, but if you've ever attempted to actually clean a reusable water bottle, you know how difficult it can be. While the cap and opening are easy to wipe clean, actually getting the inside wiped clean can be darn near impossible. But turns out, what's on the inside of that bottle counts—and could even make you sick. A test conducted by Runner's World revealed that 83% of the bottles used in the test contained harmful bacteria, including Staphylococcus aureus and E.Coli and a test conducted by Treadmill Reviews revealed that your traditional refillable water bottle could contain up to 300,000 colony-forming units (or bacteria cells)—for reference, your pet's favorite toy averages around 2,937 CFUs. Of course, regular washing can help rid your bottle of most of that bad bacteria—but a dirty bottle is just half the problem (and bacteria can double every twenty minutes!). What about the water you're filling it with?

While we're lucky that most tap water in the Western world is safe to drink—though it's important to note many communities still lack safe drinking water – you never know what might be lurking in the water from a public fountain or when you're traveling. Of course, you could purchase bottled water, but with more than 1 million plastic bottles being added to landfills every minute, we don't blame you for looking for a more sustainable option. But if your conventional water bottle could be riddled with germs, even after washing and single-use plastic bottles are quickly destroying the planet – what options are left?
Meet LARQ, the world's first portable water purification system powered by UV-C LED technology—all wrapped up in a handy, sleekly-designed bottle.

To put it simply: LARQ is a self-cleaning and self-purifying water bottle. Essentially, the answer to your gym, travel, on-the-go prayers for a reliable and healthier water bottle.

Your traditional refillable bottle is smelly, often dirty (and really hard to clean), and doesn't purify your water. This is where you'd typically turn to a single use plastic bottle, right? But with the LARQ bottle you get clean, pure water every time thanks to the same technology that many hospitals use to effectively and efficiently sterilize operating rooms: UV light.

How does LARQ work?
LARQ's cleansing power is housed in its cap, where a rechargeable battery powers UV-C LEDs that last 40x longer than conventional mercury-based UV technology, like UV pens. This means a single charge can last up to a month with no replacement filters to have to worry about. The 280 nanometer UV light eradicates germs by triggering a photochemical response that breaks up and destroys germs DNA. When the germs absorb the UV light, the chemical bonds of its DNA are broken and the bacteria or virus is killed. With a single press of a button, your LARQ bottle purifies the water within – or cleans the interior of the bottle—and even runs in the background when in 'Adventure Mode', activating automatically 6 times a day to ensure your water stays clean—leaving no chance for bacteria to multiply! What's 'Adventure Mode' you ask? The LARQ bottle features two modes: Normal Mode, which runs for 60 seconds for everyday purification (think: water from the water fountain in the park or in an airport) and Adventure Mode, which runs longer and delivers 3x the dosage of UV-C light for times when your water needs a little extra attention (think: Water from a tap while traveling abroad or even from a stream in a pinch while camping or hiking. At a minimum, the water you fill your LARQ bottle with should be clear and free from particulates.

Yes, you really can fill it with water from a stream.
How effective is the LARQ bottle?
You're probably thinking, ok—but does it really work? While LARQ can't remove heavy metals or fluoride from water, it does eradicate 99.999% of harmful bacteria. Understandably, it's natural to be a little skeptical when hearing you can actually drink from streams with the LARQ, which is why they've made information on studies done with the bottle readily available. Tap here to read about the antimicrobial efficacy of the LARQ bottle against E.Coli. Read more about the science behind LARQ here.

Truly travel-friendly, the LARQ bottle is safe to bring on planes and through TSA and features a lock for when the bottle is empty and not in use. And rest assured, there's a safety mechanism in place that prevents the light from being activated when the cap is off the bottle—phew! LARQ can hold hot or cold liquids, and it's even safe to add fruit to your water for a spa experience on the go.

You might be wondering, "Is it really all that great? Is LARQ worth it?" To those questions, your author gives an enthusiastic YES. Having the ability to fill up anywhere ensures you'll always stay hydrated while keeping healthy and happy and eliminates the need (or excuse) to use a single-use bottle of water. In the long run, you'll save money too, by carrying your LARQ—you can truly fill up anywhere.

LARQ gives back
But LARQ isn't just creating useful, disruptive products, they're working for change too. The company contributes 1% of sales to 1% For The Planet, contributing to six core environmentally focused nonprofit sectors: climate, food, pollution, water, and wildlife. Founded in 2002 by Patagonia founder, Yvon Chouinard, and Craig Matthews, founder of Blue Ribbon Flies, 1% For The Planet connects companies with nonprofits who are working globally to combat major environmental issues—like clean drinking water.
Learn more about LARQ by visiting their website and be sure to visit the FAQ page to have all your pressing questions answered.
Have you tried a LARQ bottle? Let us know what you think by sharing with us on social at @AvocadoMattress and #AvocadoGreenMagazine!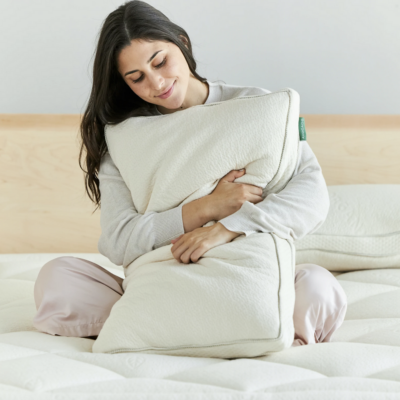 Shop Pillows
The Essential Organic Pillow Collection
Gentle, breathable, non-toxic support.
Buy Now