To celebrate National Avocado Day, we're working with the Fruit Tree Planting Foundation to plant 5,000 avocado trees.
Read more: 7 Fun Ways to Celebrate National Avocado Day
Since 2018, the Fruit Tree Planting Foundation has improved food security and economic stability for low-income families in the Peruvian Amazon by planting native trees. Avocado is proud to support the nonprofit and its essential work.
Each year, the FTPF team, volunteers, and its partner CONAPAC — a Peru-based nonprofit focused on conserving the rainforest — work with locals in the area to plant native fruit trees throughout communities around the Amazon rainforest. These trees include avocado, cacao, mango, camu camu, aguaje, and husai, and each one provides economic, nutritional, and cultural value.
In communities where these fruit trees are planted, families become economically independent through sustainable agriculture. They gain access to a reliable food source and generate income by selling the fruit at area markets.
"For me, for my family, for my neighbors … Sincerely, I'm so grateful for this project because people have been cutting down trees but not replanting them," says a past project participant. "But here today, we are reforesting with cacao, uvilla, aguaje … fruits that you don't see here anymore but have been important for us in the past. This support is absolutely necessary!"
After consulting with communities to determine the best region-appropriate, high-yield, and marketable varieties for the area, humanitarians distribute the trees to local farms, youth groups, and schools in some of the most impoverished regions of the country.
For this project, all sales during our National Avocado Day Sale support the Fruit Tree Planting Foundation's goal to plant 5,000 fruit trees in December 2022. The effort will positively impact 33 households among six villages located along the Amazon and Napo Rivers of northeastern Peru and within the Amazon rainforest.
"The lives and livelihoods of those we work with in the Amazon rainforest of Peru depend on healthy foods, forests, and incomes — all of which are positively impacted by planting fruit trees," says Lizzy Rainey, development manager at the Fruit Tree Planting Foundation. "Each tree that is planted — including native varieties that only grow in this region and have long histories and cultural importance for the local Indigenous people — is a step toward a healthier and more abundant future for Amazonian families."
Read more: Avocado Team Joins National CleanUp Day
Have feedback on our story? Email [email protected] to let us know what you think!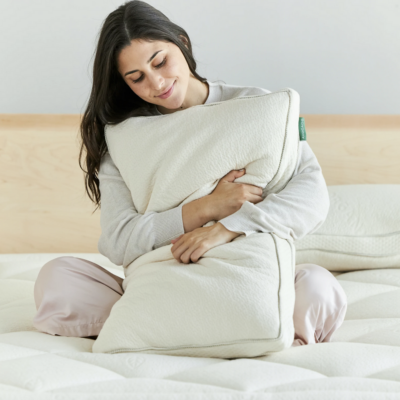 Shop Pillows
The Essential Organic Pillow Collection
Gentle, breathable, non-toxic support.
Buy Now