To help you celebrate the greatest day of the year, we're sharing our favorite recipes and crafts for National Avocado Day.
Avocado is literally in our name. So we couldn't let National Avocado Day pass us by. Here's an ode to everyone's favorite healthy breakfast staple, burger topping, and chip dip — and all the things you never knew you could do with this humble green fruit.
I have tried this a few times on my own with little success. But thanks to tools like this terrazzo-style propagation cone — there are multiple colors — something tells me I'll be growing a tree in no time. The best part? You can just use the seed from an avocado you bought at the store. Here's the key, though. Before you place your seed on the propagation holder, use warm water to gently peel the outer layer of skin off the seed.
Nope, avocados will not dye your clothes green. Instead, the skins and pits actually result in a lovely light pink hue that's perfect for dying bags, silk scarves, linen tops, and whatever else your heart desires. Doing so is easy, too. Simply wash and dry three to four seeds and skins (the more you use the more vibrant the color). Chop everything up, place them in a pot with water, and simmer on low heat for an hour or so. Strain out the chopped-up bits, put your fabric in the dye water, and let it sit until it's turned into your desired color. Voilà!
Read More: Your DIY Guide to Naturally Dying Your Clothes
3.
Whip up a Healthier Margarita
Can a margarita be guilt-free? Maybe not 100 percent but this recipe comes close. It includes all your classic marg ingredients but adds half an avocado to the shaker. The result is a deliciously creamy concoction that's sure to become your new favorite. This cocktail is best enjoyed on a hot summer day with chips and guac.
Coconut milk. Avocados. Local honey. Sounds like a match made in heaven! Even better, when you blend these three ingredients together, they combine to make rich, silky smooth, delectable ice cream. Just follow this simple recipe and you'll have a few homemade scoops in no time.
Read More: DIY Non-Dairy Ice Cream Sandwiches
5.
Create a Hydrating Face Mask
Show yourself some love with a replenishing face mask made with an antioxidant- and vitamin-rich avocado. In addition to avocado, all you need is ⅓ cup plain yogurt, two teaspoons of honey, and a tablespoon of lemon juice. Blend them together, let sit for 20 minutes, then slather on your face and relax for an at-home spa day.
6.
Make a Soothing Body Butter
This recipe is more complicated than the face mask, but it's well worth it. And, full-disclosure, you'll be using avocado butter instead of the fruit, but we'll let this one pass. Once you've created your luxurious concoction, store it in a jar and use daily for soft, supple skin.
Read More: 3 DIY Face Masks to Soothe End-of-Summer Skin
7.
Help Us Plant Avocado Trees In The Peruvian Amazon
In honor of National Avocado Day, we've partnered with The Fruit Tree Planting Foundation to work with small-scale farmers in low-income areas of Peruv. With every purchase from Friday, July 29 to August 1, we'll support the planting of avocado trees — a sustainable source of food and income. Shop the sale here.
Share your favorite way to use avocados by tagging us with @avocadomattress on Instagram and Facebook.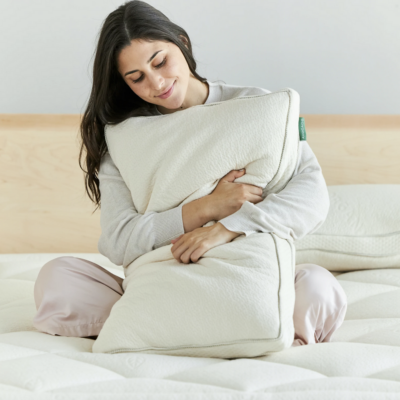 Shop Pillows
The Essential Organic Pillow Collection
Gentle, breathable, non-toxic support.
Buy Now